Olympic Games, Day One
Darcis d. (6) Berdych, 6/4 6/4
Giraldo d. Harrison, 7/5 6/3
It didn't take long for my contention that Tomas Berdych is currently vulnerable in early rounds to be proved correct, although my equally assured conviction that Ryan Harrison would be the one to demonstrate it turned out to be less accurate.
The new universe we now inhabit isn't precisely like the old one – Karl Pilkington's once-conjoined twin has been separated and now dates a golfer – but nor is it totally different. Ryan Harrison remains perfectly capable of losing any tennis match for any reason he deems fit, and then throwing a big tantrum about it.
Some described Harrison's performance as indifferent, which is either inaccurate, or else provides us with some sense of how terrifying he must be when fully engaged. Even indifferent, he is an implacable enemy of his own equipment, and like others before him is determined to execute a private war against the elusive mole folk who dwell under SW19, presumably distant kin of those who inconveniently raised that mound in the Olympic Stadium during the opening ceremony. Harrison's racquet closed the match with a double fault, the third, for which it was immediately and violently punished by having its brains dashed out on the grass. He has been roundly taken to editorial task over this. Within minutes his Wikipedia entry had been updated by a fan whose righteous indignation easily overreached his or her grammatical skill.†
Setting aside the apparently important problem of Harrison murdering the odd tennis racquet – everyone has glossed over how much more taxing this is on grass than on hardcourt – there is the minor issue of what this might do to the surface. It's less a case of 'won't somebody pleased think of the children', than 'won't somebody please think of the court', although our thoughts of course remain with any injured or traumatised mole children.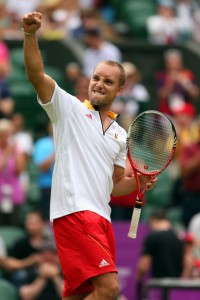 It was precisely the kind of attention the newly-reseeded Wimbledon courts don't need. Prior to the commencement of play, everyone had marvelled at how marvellous the courts looked just weeks after The Championships concluded. The hitherto scarred, embrowned baselines were once again verdant and lush. After barely an hour of Berdych skidding and sprawling all over them, they looked ploughed once more. Of course, the early rounds of Wimbledon are always quite slippery, but this seemed worse. The surface was disintegrating before our eyes.
It partially explains how Berdych lost to Steve Darcis in straight sets, although for the full explanation one shouldn't ignore the quality of play, which from the Belgian was very high, and highly astute. Berdych did fall over a lot, but Darcis was adept at facilitating this, endlessly varying his pace, direction and length, constantly slicing low to the Czech, and giving Berdych little to swing at. It worked beautifully. Tellingly, Darcis struck over twice as many winners as his opponent (27 to 13 in two sets). He was helped by some surprisingly non-penetrative serving from Berdych, which is an issue on grass when you're 6'5''. Penetrating is something you'd prefer your serve to do, all else being equal.
(1) Federer d. Falla, 6/3 5/7 6/3
This was later an issue for Roger Federer, whose first delivery had proved so integral to his Wimbledon triumph earlier in the month. Today he faced Alejandro Falla, who was in rare form on return. For some reason the sight of Federer across the net sometimes transfigures the Columbian from a merely capable grass court player into an inspired one. Much reference has of course been made to this pair's first round match at Wimbledon a few years ago, in which Falla led Federer by a couple of sets to none, and later served for the match.
Few mention their match from two weeks before that, when Federer had thrashed him on the way to the Halle final. Initially, today's encounter seemed closer to that one.
Falla was playing well, but Federer was too. The Swiss took the first set 6/3. He broke and moved ahead 5/3 in the second. Falla slumped to 0-40 on his next service game. Three match points. Easy enough: perfunctory, even. Falla saved them all, without doing anything truly spectacular, although he seems to have a delightful gift for wrong-footing the world No.1. The Columbian doesn't hit the ball especially hard, but he has a solid, low base, sturdy pins, and he can drive through the ball in such a way that it shoots through the grass. Federer was often caught out. Nevertheless, the top seed stepped up to serve for the match, but was broken when a forehand winner was deemed to have missed the court, thereby debarring it from authentic winner status. Federer found another three consecutive breakpoints on Falla's next service game, but again couldn't take any of them. Then he was broken again to lose the set.
Social media erupted with puns. Suddenly the Columbian was 'on Falla', and tireless variations thereof. Some, adopting a more prosaic approach to pronunciation, remarked that 'this Falla can really play.' The real shame is that Federer's name doesn't lend itself so well to this type of virtuoso wordplay, thus forestalling the sadly unforgettable malarkey that followed Mardy Fish's loss to Falla back in Melbourne. Federer broke to open the deciding set – remember it's best-of-three, which is some kind of code for 'anything-can-happen' – but it didn't take. Falla, who was still on himself, broke back. Then he wasn't. A range of errors, some quite inventive and almost all of them Columbian, saw Federer break again, then hold, and then move once more to three match points. He took it, finally. It was a tremendous fight from Falla, and a legitimate scare for Federer, who'll next face Julien Benneteau.
In other news, Robin Haase has defended his maiden title in Kitzbühel, defeating Philipp Kohlschreiber in the final. Both are due to play on grass in London tomorrow, although the German has since withdrawn with an adductor strain. He has entered the top twenty for the first time in his career, but he won't be representing his country at the Olympic Games. Cold comfort, especially considering his generous draw, and that anything can happen in a best-of-three match on grass. All around, a shame.
† Editorial indignation reached typically comical levels the following morning, inspiring Harrison to front up on NBC and offer a full and unreserved apology for his behaviour. There was, sadly, no apology forthcoming for the mole people, which left the whole thing sounding a little hollow.