The first thing to be said about the draw for the Men's Singles event at the 2012 London Olympics is that Roger Federer and Novak Djokovic have not been drawn in the same half. This is in direct contravention of all known laws, whether contingent or immutable, physical or celestial.
As a consequence, the second thing to be said is that at about a quarter past eleven in the morning (Greenwich Mean Time) on the twenty-sixth of July, the entire universe winked instantly out of existence, only to be replaced immediately by a nearly perfect copy of itself. Some of you might have experienced a slight jolt. That's normal.
Cults both apocalyptic and millenarian are united in their triumph at this turn of events – which they have since claimed was anticipated – although the former type has expressed some disappointment that it all went by with so little fanfare. (Was a little brimstone too much to expect? Brimstone had been promised, after all. And there were supposed to be virgins.) Anyway, as I say the new universe is an almost perfect copy of the old one. Discerning folks might notice that a few things have changed. Justin Bieber has been replaced as Secretary-General of the United Nations. Croissants are no longer confusingly star-shaped. Tommy Robredo isn't world No.1 anymore. And apparently the colour scheme at the Olympic tennis event has been revised. Only in an alternate universe could Wimbledon look like this.
In any case, there is a very good reason that Federer and Djokovic find themselves on opposing sides of the draw, even though the old universe lacked the operating software to handle it. They are ranked first and second, which from memory has never before been the case. The real issue therefore wasn't going to be that they wouldn't get to face off in the semifinals of a significant tournament. The real issue was which of the two will have to play Andy Murray (the answer is Djokovic), and who will Andy Murray have to play in order for this even to happen (the answer is everyone). As it was at The Championships, Murray's draw is a humdinger. He faces Stan Wawrinka first up, which should be almost as winnable as the second round match against Jarkko Nieminen.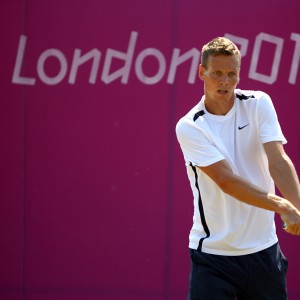 Then he'll likely take on Richard Gasquet and Tomas Berdych in order to get a crack at Djokovic. For British fans, disoriented by the overwhelming superiority of their cycling team, this is a welcome return to gloom. If only in the tennis event, the entire British Isles gets to be an apocalyptic cult. Doom is certain.
Djokovic himself has no good reason to be thrilled with the new universe. Firstly, Belgrade's homeless are no longer legally obliged to wear Srdjan's old t-shirts, each bearing an airbrushed image of Novak's face. Secondly, Djokovic's Olympics draw reflects a degree of difficulty almost equal to Murray's. He'll presumably have no trouble dispatching Fabio Fognini in the opening round, although knowing The Fog, if there is trouble, it'll be big trouble, roughly on par with that which Kurt Russell so famously visited on Little China. Assuming he survives this, Djokovic will probably face Andy Roddick, potentially one of the few men in the draw who can match the Serb for sheer patriotism. Then his path towards Murray will probably involve some unholy combination of Lleyton Hewitt, Marin Cilic, Milos Raonic, and Jo-Wilfried Tsonga. Or someone else.
The corollary to all of this is that Federer's draw is utterly benign. This is of course something of a problem for his fans, who have once more been compelled to yield up the coveted underdog status before a ball has even been thwacked. Of course, it is only a few weeks since Federer proved to everyone's satisfaction that he can survive even easy draws. Nonetheless, some consolation can be found in the realisation that he faces Alejandro Falla in the first round, a man who two years held a two set to love lead over the great Swiss on Centre Court, and whose complexion will benefit enormously from the new colour scheme. Federer may face Julien Benneteau in the second round, who had him two sets to love down just weeks ago. Alternatively he might discover Mikhail Youzhny, who took five games from him in the Wimbledon quarterfinal. From there it actually gets easier. If one really must find something to worry about, then there's always the time-honoured convention that anything can happen in a best-of-three match on grass. Indeed it can. The top seed can even make it to the final.
Which brings me neatly to the question of how the other players will fare, those for whom the concept 'anything can happen' is intended to provide a measure of comfort. Astute draw analysts will recognise this as Stage Three in the standard model of any draw dissection. It's a nice, if potentially arousing question to ask who will penetrate farthest? As ever, the smart money is on Philipp Kohlschreiber, although I could have told you that without even seeing the draw, based entirely on his masterful preparation, which consists entirely of playing on clay in Austria. Now that I have seen the draw, I can say he will most likely face the fourth seeded David Ferrer in the second round, but don't believe an upset is entirely beyond reason.
This is a new universe, you will recall (or you won't, as the case may be). Pencil the depressingly lone German in for a quarterfinal. He's good for it. I also have a feeling Berdych is vulnerable in early rounds right now, and that Ryan Harrison is the type to take advantage of this for precisely as long as he doesn't quite realise what's happening. He won't get past Murray in the quarterfinals, but he'll cause a frightful row on the way there.
There are several opening round matches worth perusing, for the ambling ticket-holder given to idle flânerie, or to their fidgety online counterpart. Janko Tipsarevic and David Nalbandian didn't quite produce a classic in the first round at Wimbledon earlier in the month. With all of existence being reset earlier today, they've been gifted another crack at it. Bernard Tomic and Kei Nishikori will be intriguing, if only to see whether the Tomic's avowed commitment to doing hard work has translated into Tomic actually working hard.
Youzhny and Benneteau will, as mentioned, duel for the honour of stressing out a few Federer fans in the second round, but I suspect their match could be excellent in its own right. John Isner will attempt to break the ace record for a best-of-three match against Olivier Rochus – from memory it's 44 or 50 – although given his results on grass he should be happy merely to win, especially over a player as wily and stylish as the Belgian. Those who somehow dimly recall yesterday's old universe will be shocked to learn that Rochus is no longer 6'9'', meaning his Belgian team uniform looks absurdly oversized. Watching him stumbling about in it should be a highlight of the opening ceremony.
The full draw can be found here.