Australian Open, Days 1 -3
The persistent theme through the first three days of the 2014 Australian Open was heat, evident in the desperate struggles of all players to complete their assigned matches, and the even mightier struggle of the attendant press corps to come up with more evocative descriptions for the conditions than 'brutal' and 'searing'.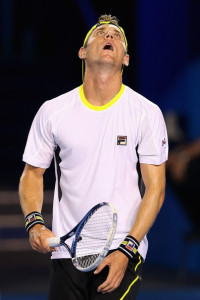 Mercifully Bernard Tomic was on hand, permitting the assembled hacks to deploy other cherished adjectives such as 'un-Australian' and 'disappointing'.
So far ten matches have concluded in retirement, including nine in the first round, which equalled the record set at the US Open in 2011. Unfortunately for the prevailing narrative, few of the retirements occurred due to the heat, the brutality of which has, to be sure, been searing. Ivan Dodig is probably the only one: today he retired from cramps against Damir Dzumhur while leading two sets to one, and afterwards proposed a revised schedule for the tournament, which shockingly didn't set aside its existing protocols on the suggestion of one ailing journeyman. Dzumhur may well have voiced similar complaints, but they were drowned out by his Bosnian supporters, who'd earlier celebrated each won game with closely harmonised chanting, and his lone victorious set with a passionate accordion solo. Frank Dancevic yesterday passed out from heat stroke, but soon came round, although not round far enough to elude imminent defeat. It was worth pushing on, however; if anyone could manage to lose from two sets up to a semi-comatose opponent, Benoit Paire is the one.
Aside from Dodig, the men who did retire were Alex Bogomolov Jr, Andrei Golubev, Tommy Haas, John Isner, Julian Reister, Radek Stepanek, Tomic, and Robin Haase. (Philipp Kohlschreiber also withdrew before his first round match, replaced by Lucky Loser Stephane Robert, who celebrated his good fortune by submitting Aljaz Bedene to one of the more comprehensive hidings of the opening round.) The real wonder is that Gilles Simon isn't among them. Having seriously injured his foot at Kooyong the other day, he was instructed by his doctor not to play for four to six weeks, though he apparently failed to hear, or at any rate heed, the word 'not'. He instead scampered about for four to six hours yesterday, eventually finishing off Daniel Brands 16/14 in the fifth set. He'll next face Marin Cilic, who tarried barely three hours in divesting the singles draw of Marcel Granollers. Meanwhile the only five setter today was Florian Mayer's serpentine defeat of Mikhail Youzhny. Simon Briggs in The Telegraph slyly wondered whether today's lack of five-setters was down to the searingly brutal heat: 'could players be folding, even subconsciously, rather than fighting to stay out in the heat for another 40 minutes?' It's clearly a statement masquerading as a question – a hack journalist staple as tiresome as the meaningless phrases 'questions have been asked' and 'officials have not ruled out' – but let's answer it anyway: No. Yesterday was if anything hotter, and there were plenty of five set matches. (Tomorrow, incidentally, will be hotter still. I suspect the Extreme Heat Policy will be enforced.)
The most widely anticipated match of the first round was between Tomic and Rafael Nadal, or as Channel 7 billed it, a showdown between the world's best twenty-one year old and the world's best player. Would Tomic's first round record remain intact, they demanded breathlessly. (The Australian, you see, had never lost in the first round in Melbourne, which is commendable, but largely speaks to his good fortune. He has never run afoul of a truly elite player first up, unlike, say, Ryan Harrison, who lost handily yesterday to Gael Monfils.) As it happened, Tomic pulled out after a reasonable first set, instantly transforming it into the most disappointing match of the round, and damning himself for eternity. He ill-deserved the opprobrium the Rod Laver Arena crowd flung his way, or perhaps he did deserve it, but not for judiciously retiring with a legitimate and pre-existing injury. The crowd probably just hoped for a better spectacle, or at any rate a longer one. Nadal looked suitably crestfallen that he wouldn't have to spend a few more hours toiling in the apocalyptic heat.
Public excoriation of Tomic is a thriving industry here in Australia, and no one has ever lost followers by lashing into him on social media, including semi-literate fuckwits from the AFL. We'd earlier been informed that Tomic's performance last night was 'a moratorium' on Australia's collective attitude to the world's best twenty-one year old tennis player. A determined effort would ensure all prior transgressions were forgiven. Anything less would be the final nail in the cliché's coffin, the straw that broke its hackneyed back. He retired, and that was that. The Herald Sun summarily declared that he has at last 'wasted the nation's goodwill'. (Back broken and buried alive, Tomic presumably ignored some good advice to lay low, and instead called a press conference today to explain that he'd been misunderstood. It turned out he is injured: scans confirmed a groin tear. Expert medical advice vindicated his decision to retire by concurring that his injury might have been exacerbated had he continued. The Herald Sun's response was a typically garbled disaster, going to tortuous lengths not to admit it had been wrong: 'The most unfortunate aspect of Tomic's latest faux pas is that he was legitimately injured.')†
Tomic's retirement brought to a close a sorry yesterday for the locals on Rod Laver Arena, the dramatic centrepiece of which was Lleyton Hewitt's five-set defeat to Andreas Seppi. Being Hewitt, it unfolded almost exactly how you'd expect it to: a stirring scrabble out of a two set pit, a recovered break in each of the last three sets, a match point on the Italian's serve, saved, then a weak late game to be broken. Hewitt has lately enjoyed his finest form for half a decade, yet in the tournament that matters most he still managed to eke out a heroic loss more or less indistinguishable from all the others. Seppi, however, deserved nothing less than victory, especially given his execrable recent form. His reward is a soft second round against Donald Young, who progressed when Haase retired. Earlier Roger Federer wasted neither energy nor time beating James Duckworth, though he took a while to work out why Duckworth kept serving from the doubles alley. There was undoubtedly a plan, but it was a bad plan.
There'll come a day when Nick Kyrgios and Thanasi Kokkinakis aren't mentioned in the same breath, but, as Aragorn reminds us, it is not this day. Scheduled consecutively on Court 3, both teenagers assembled tremendous four set victories against experienced professionals in Benjamin Becker and Igor Sijsling respectively. Channel 7 immediately anointed them 'Greek gods in the making'. Tomorrow the younger of the Greek gods, Kokkinakis, gets to face Nadal in the savage immensity of mid-afternoon. Whatever happens, you can bet he won't retire. Not if he knows what's good for him. If he wins a set, he'll be fast-tracked into the Pantheon.
On Monday Matt Ebden expertly manoeuvred himself into a two set lead, a position in which he often finds himself in the Australian Open's first round, invariably as a prelude to losing in five. He lost the next two sets, as per the script, but then startled everyone by comprehensively outplaying Nicolas Mahut in the fifth. The heat was already apocalyptic, but this portended doom. As I write Ebden is headlining the least thrilling prime time line up on Rod Laver Arena in living memory – in keeping with the tournament's policy to limit the viewing public's exposure to David Ferrer – although the kinds of Australians who use the term 'un-Australian' without blushing in shame are no doubt thrilled. Perhaps they'd be even more thrilled to discover that the regular season affords many more opportunities to watch Ebden. They were probably less pleased by the result, which was that their man contrived somehow to lose to Vasek Pospisil, who for extended periods in the match could barely move. It only gradually dawned on the commentators that Ebden wouldn't win by default, and even longer to sink in that he might not win at all. In the end his defeat was a testament to his incapacity to seize an opportunity that had been carefully affixed to his hands with industrial adhesive, a monument to tactical ineptitude. But no one has ever been called un-Australian for playing a stupid match, and Pospisil, who ignored every opportunity to quit, showed us that no match is truly unwinnable.
† The Herald Sun enjoys the highest circulation of any newspaper in Australia, providing a useful corrective to the view that Australia is some kind of journalism nirvana. Their tennis correspondent is Leo Schlink. This sentence is representative of his usual standard: 'Invaiarably, Bernie Tomic is regarded lowly by many.' You can correct the typo, but nothing short of amputation will fix a tin ear.