Australian Open, Fourth Round
The first week of the 2014 Australian Open was feverishly warm, generating liquid quick conditions that caused results to flow in all directions, and ensuring that reporters who'd spent too little of their off-season toiling on Agassi's magic mountain could remain an appropriately high simmer.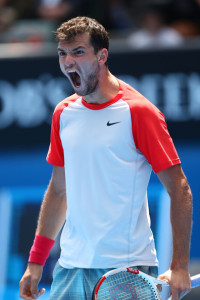 The cool change that swept through Melbourne late on Friday night wrought a dramatic change, bringing kinder conditions, an abrupt lessening in the number of self-righteous articles about the tournament's heat policy, and the return of Lleyton Hewitt to the Channel 7 commentary booth. On balance, I declare it a net positive.
Hewitt took longer than usual to turn up. Usually he turns up after a couple of days spent processing his latest early-round loss, but this year he tarried for almost a week. It's conceivable he got lost, since Channel 7's commentary booth has been relocated, and renamed. The previous iteration was known as the 'bunker', and consisted of a low wooden structure placed out on the court surface, just to the side of the entrance tunnel. It was cunningly painted the same blue as the surface, yet somehow failed to blend in, probably because it was still a shack on a tennis court. The new arrangement is more traditional, consisting of a booth partly recessed behind the back of the court, permitting commentators an unparalleled view of the linesman's buttocks. The voices emanating from within this enclosure, you'll be relieved to hear, have not changed. Channel 7's commentary remains a special brand of magnificent.
Scornful of Tommy Robredo's remote court positioning, Jim Courier remarked with a tone of faux-wonder that the Spaniard 'was intentionally giving up geometry'. I once gave up physics for an afternoon, and can attest to the risks involved. Courier of course hails from a culture in which the right to maintain geometry is constitutionally enshrined, in which lunatic lobby groups famously insist that their beloved set-squares and protractors will have to be pried from their cold dead hands. Having forsaken geometry, Robredo lost to a rampant Stan Wawrinka, whom Channel 7 has cruelly nicknamed 'The Stanimal'. Robredo mastered the heat for a while, but he's cold news now. Hewitt's return was accompanied by a sharp upswing in the use of the word 'tremendous' and the phrase 'extremely well'. He can be an ornery character on court, but in commentary his contribution is invariably positive. Marvelling at Roger Federer's continued excellence, he took care to highlight 'the self-belief he has, not only in himself, but in his racquet as well.' High praise, indeed. Bruce McAveny, famously so thorough in his research, persists in pronouncing David Ferrer as David Fer-ur, as in 'urn'. He's either incorrect, or knows something the rest of us don't, including David Fer-ur.
It is generally the case that the narratives which consume the first week of a Major burn out by the second. Wimbledon has a rest day on its middle Sunday to ensure the break is literal, while the US Open starts to crank up its trusty hurricane machine, affectionately known as 'Bessie'. The first week of this year's Australian Open was clangourous with sound and fury, but ultimately it signified little. There were intriguing upsets, and new stars, fistfuls of retirements and Ivan Dodig's assertion that he thought he would die (no article attacking the tournament organisers failed to include Dodig's expert self-diagnosis, although they were reluctant to point out that he demonstrably did not die, and two days later won a doubles match). There was Tomic dragging down the host nation's spirits, and Kyrgios and Kokkinakis to buoy them up again. Damir Dzumhur was the first Bosnian man to enter any main draw. Donald Young was the last American man to leave this particular main draw. Philipp Kohlschreiber's withdrawal from the main draw provided an opening for Stephane Robert. He entered the main draw as a Lucky Loser, but left it as a kind of folk hero, and spent long minutes after his defeat to Andy Murray absorbing the admiration of the Hisense crowd.
Indeed, the Hisense crowd itself deserves a mention, since it is entirely a first week phenomenon. While it lasts, no crowd at Melbourne Park cheers louder and longer, its appreciation fuelled by a heartfelt sense of gratitude whenever a truly big name drops by. A ticket to Rod Laver Arena rarely represents a smart investment in the first week, unless you're eager to witness elite players mete out rough justice on journeymen. You can watch the same spectacle on Hisense for considerably less money, but as often you'll see a close match, or even an upset. Mostly, however, a simple grounds pass is all the average punter requires, especially in the early rounds. Holders of such tickets were privileged to watch Roberto Bautista-Agut tear through the draw, until he was halted yesterday by Grigor Dimitrov. Those same fans, or ones like them, were permitted to enjoy Dimitrov's sterling victory over Milos Raonic the round before.
Aided by cooler conditions, the fourth round admirably served its intended purpose of bringing the hothouse lunacy to an abrupt halt, freezing in place a draw that had threatened perpetually to burst apart. Whereas early on men who knew no better conducted marathon contests in gruelling heat, no match in the fourth round lasted five sets, and few reached four. Players like Robert and Bautista-Agut set the first week alight, but none of them survived the round of sixteen. Indeed, for just the second time in the Open Era, the Australian Open men's quarterfinals are comprised by seven of the eight top seeds. The sole exception is Dimitrov, the twenty-second seed, who gambolled through Juan Martin del Potro's vacant section.
His gambolling days might well be done, however: he next faces Rafael Nadal, whose first week was mainly remarkable for how extravagantly its difficulty was overestimated by his fans. Tomic naturally helped matters by retiring wounded after a set, as did Gael Monfils by playing one of the least tactically astute matches imaginable; of all the dense particles in this year's draw, Monfils was arguably the densest. Nadal's sternest test came in the unlikely form of Kei Nishikori, who arrived equipped with a precise template of how to play the world number one, which was to never permit the Spaniard a forehand unless he was stretched or surprised. Nishikori's eventual loss was as gallant and honourable as a straight sets loss can be, and an indirect rebuke to all those who've prematurely given up. Nadal's victory was a testament to the fact that he is quite a lot better at tennis than his opponent. A good player can play him exactly the right way and still not win a set. Yesterday he was pressed, but always came up with precisely the right shot when it mattered, and closed the match with, of all things, a dominant serving display.
Kevin Anderson, for his sins, was obliged to face Tomas Berdych yet again. Two years ago they had never faced each other. Perhaps they'd never even met socially. They've now played ten times, and Anderson is yet to win. Sunday's loss was among the most comprehensive. Berdych was superb, and has reached the quarterfinals of this tournament for the fourth straight year, this time without dropping serve. In previous quarterfinals he faced Djokovic twice and Nadal once, and lost each time. This year he'll face Ferrer, a far more benign prospect. Ferrer's quarter was weak to begin with, and only grew weaker as the rounds melted away. Berdych will be his first legitimate test. Channel 7's helpful 'Things You May Not Know' box told us that Berdych has dated Lucie Safarova since 2011.
The most eagerly anticipated fourth round match was between Jo-Wilfried Tsonga and Federer, which Channel 7, tireless in pursuit of an angle, billed as a grudge match. Their logic, to use the term generously, was that Federer defeated Tsonga in five sets here last year, though you'd imagine Tsonga's straight sets dismissal of the Swiss at Roland Garros eased his pain somewhat. Whatever the case, Federer repaid the treatment last night, inflicting a comprehensive shellacking that one could term clinical, depending on the clinic. I'm partial to Tsonga, and had thus hoped for more, but Federer in this form – torrents of winners and enterprising net play – is as hard to begrudge as he was hard to gainsay. There were, as Robbie Koenig would say, innumerable oil painting forehands. Indeed, it was an oil painting of a match, and Tsonga shouldn't be disparaged because he seemed resigned merely to stretch the canvas. He made too little of the few chances he had, but it wasn't really his fault that those chances seldom came round. Undoubtedly Murray will create more chances in the next round, but it's pointless to blame Tsonga for not being Murray. The Frenchman surged to life late in the third set, saving three break points in a manner that only he can, but alas it was too late. Federer was unstoppable by this time, brimming with self-belief for himself, at one with his vintage game, and his brand new frame.