Olympic Games, Day Three
My patriotic commitment to follow the planet's least understated sporting festival in real time was always going to result in total exhaustion eventually, given the cruel decision to stage it ten time zones in the past. I'd known I was due to collapse at some point, but had nonetheless felt confident that more than three days would pass before I was reduced to a yawning and gibbering wreck. I was wrong. This morning I stirred from a pitifully abbreviated slumber to the news that my compatriot William Henzell had been narrowly defeated in the third round of the men's table tennis by the giant Belarusian Vladimir Samsonov. My eyes rapidly misted over at this discovery, as they had twenty-four hours earlier when my television first informed me that Henzell had reached the third round.
I'd never heard of Henzell before, and immediately forgot his name. It was enough to know he was doing it for Australia, or 'Straya as it is known locally. At sufficient intensities, the Olympic spirit is indistinguishable from exhaustion.
(For the record, Samsonov later gave a great account of himself in going down to the prodigious and top-seeded Jike Zhang. Other table tennis players you may have heard of include the veteran Zoran Primorac, who has played in every Olympic table tennis event since 1988 – the year Zhang was born – and Timo Boll, who was upset today.†)
The irony, if we can even call it that, was that I'd been determined to have an early night. The fault mainly lies with Victoria Azarenka, who tarried far too long in seeing off Irina-Camelia Begu, fatally delaying Julien Benneteau's arrival on Centre Court. The Frenchman was due to face Roger Federer, whose vast fan-base now included a marginal but vocal doomsday sect devoted entirely to the belief that Benneteau would finish the job he'd started at Wimbledon some weeks ago. Back then he'd led Federer by two sets to love, and several times hove to within a couple of points of the match. Alejando Falla had already demonstrated that Federer's draw wasn't merely easy. It was too easy.
As it happened, it was all too easy for Federer, who permitted Benneteau just four games in a touch under an hour, and faced no breakpoints. To be fair, Benneteau was far from his best, whereas he'd been close to it during The Championships. He looked physically inhibited throughout the second set, which from memory lasted less time than Azarenka earlier took to enquire loudly and querulously whether the umpire was conversant with all the rules.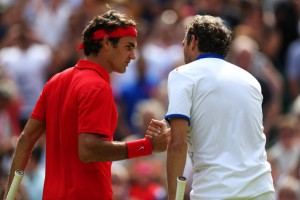 Federer had no compunction about exploiting Benneteau's injury, throwing in drop shots off returns, stretching him wide with serves, and forcing him to get out of his own way with hard groundstrokes at the body. Federer next faces Denis Istomin. Surprises happen, and the top seed may well lose, but I can't see it meriting the formation of another cult.
A glance up from my monitor revealed Channel Nine entering its third straight hour of women's synchronised diving, a stately event that boasts undeniable allure, although even this had worn thin some time earlier. I almost longed for them to cut back to the equestrian cross country, until they actually did, and I was reminded how stressful it is to watch large animals make constant leaps of faith over topiary. Earlier, during the first hour of synchronised diving, I'd watched Andy Roddick deliver a masterclass in how to blow breakpoints, especially during the second set, when he went a heroic one from nine. Luckily his own serve was unassailable, and well beyond anything Martin Klizan's adventures in Kitzbuhel last week prepared him for. The Slovakian won 17% of his receiving points, and did not gain a break point. Roddick will next face Novak Djokovic, and therefore won't enjoy the same advantage. Serves will come back, and flabbily-wafted groundstrokes will be dealt with. Brad Gilbert has predicted an upset. That is either the Olympic spirit talking, or a bad night's sleep.
The longest break from the diving – one of the Australians was called Sharleen, since 'Charlene' is presumably too exotic for suburban 'Strayans – came as Lleyton (Layt'n) Hewitt beat Sergiy Stakhovsky in three high quality and highly aggressive sets. Hewitt was magnificent through the early going, although the Ukrainian lifted and broke late to grab the second set.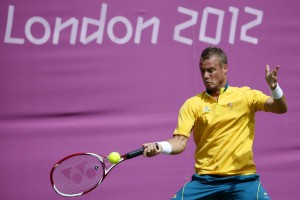 Hewitt returned the favour in the third, and as victory darted eagerly into view, Our Lleyton grew so overcome that he began to supplement his 'come-ons' with the odd 'vamos', which I found a little confusing, if not downright unpatriotic. It didn't seem to hurt, and he served out the match with considerable poise – unreturnable, forehand winner, ace. Greg Norman was watching. That didn't seem to hurt either.
By now it was apparent that synchronised diving is really a species of marathon, which is fitting since it also dates from 490BC. It commemorates the practice whereby Athenian soldiers would leap in graceful tandem from the cliffs of Marathon onto the Persian ships below, a largely symbolic gesture, as the boats sustained little damage. With this connection to antiquity in mind, I grew predictably choked up as Sharleen (nickname: 'Shaz') and partner soared like stones to fifth place. Vamos, indeed. It was time for bed.
† For anyone interested, here are some highlights of Zhang's five set final against Boll at the World Team Table Tennis Championships earlier this year, including Boll's stirring recovery from two sets down.