Vina del Mar, Semifinals and Final
By defeating his compatriot Carlos Berlocq in straight sets in Vina del Mar, Horacio Zeballos moved through to his first tour-level final in three years. He made sure the enormity of the moment was lost on no one: firstly by failing to serve for the match twice, then by blowing three consecutive match points in the ensuing tiebreaker, and lastly with the sustained embrace he bestowed upon his opponent in lieu of a handshake, and the slick sheen in his eyes afterwards.
Even for disinterested onlookers, it proved a relief when a hitherto fine performance wasn't vitiated by an extravagant choke. Zeballos was clearly the superior player through the first set and until reaching 5/4 in the second, whereupon he stpped up to serve for the match. From that moment on he appeared less interested in winning than in paying homage to Nicolas Almagro's award-winning performance from the Australian Open, when the Spaniard went to extraordinary lengths to ensure defeat against David Ferrer.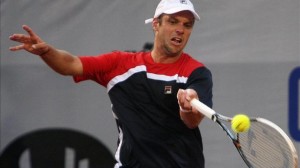 Alas, Zeballos miscalculated by gaining an entire handful of match points in the eventual tiebreaker. Carlos Berlocq clawed back three of these with clamorous abandon, but not the fourth. Zeballos was through. He had more than earned the right to play off for his first career title. Unfortunately he'd earned the right to do so against Rafael Nadal.
If Zeballos was ever going to defeat Nadal, this would probably be the moment, with the Spaniard barely five days along his allegedly arduous comeback trail. But deriving hope from such a consideration entails the tacit assumption that Zeballos was ever going to defeat Nadal. It was far more likely that he wasn't going to, notwithstanding the usual proviso that this is sport, and that anything can happen. (The truth is we're constrained by the rules of good taste to say that, even if we don't quite believe it.)
Jeremy Chardy certainly hadn't looked like beating Nadal in their semifinal. The Frenchman's only hope was for the majority of his groundstrokes to be forehands, for him to hit almost all of them as hard as he could, and for none of them to miss. This tactic – and I employ the term generously – worked against Juan Martin del Potro last month, but the Argentine had been complicit in allowing it to. Nadal, even in the early stages of his thousand mile journey, was never going to be so enabling. Chardy was forced to protect his own backhand, which meant his forehand wing went untended, except by Nadal, who made hay there. The farming metaphor is appropriate, since Chardy, especially on clay, has the turning radius of a combine harvester. He was wrong-footed by balls that almost hit him in the leg.
The world has been painstakingly instructed to keep its expectations modest when it comes to Nadal. We were admonished that he wouldn't reascend immediately to his earlier stratospheric level. It will take time. Del Potro spent 2011 proving just how long and winding the road back from injury can be. On the other hand, and meaning no disrespect to the many worthy players out of whose biomass the Vina del Mar draw was fashioned, there was no good reason to think Nadal wouldn't win his first title back. There was even a distinct likelihood, arrived at statistically and intuitively, that he'd do so without dropping a set. Despite having been broken in his opening game of the tournament, he hadn't dropped serve since. A blowout was widely anticipated.
Of course, a blowout was not delivered. Through a tight first set, Zeballos served superbly, and Nadal returned poorly, earning no break points. But it is under high pressure that we see how structurally sound a player is, and the first set tiebreaker seemed to prove a sneaking belief that the Argentine's armature wasn't especially sturdy. It cracked, he slumped, and Nadal took the breaker seven points to two. I doubt whether anyone was particularly surprised. The pattern in matches such as these is that a tight first set will give way to a perfunctory second one. The negative buoyancy of inexperience generally guarantees that a lower-ranked journeyman must return to earth. Having played out of his skin to make the first set close, losing it will remind him of his flawed corporeality, and then his mortality. Consequently, the assembled experts revised their prediction to the effect that the match wouldn't be a blowout, but that the second set would be.
As Andy Roddick once noted, sooner or later you'll discover why a certain player is ranked where he is. It's a clever and seductive line, glib in the way that Roddick's lines are, and broadly true up to a point. It is seductive because it invites the avowed expert to look prescient, thereby providing an opportunity to impress the lay-person, which is an invitation few experts can forgo. However, the point beyond which it ceases to be true is the point at which a player illustrates that rankings aren't stable, but are constantly shifting, and that a player on the rise won't necessarily thud back to earth immediately. They must eventually – even the greatest do – but any tennis career is really an exercise in seeing how long you might defy gravity.
Zeballos defied it a little longer throughout the second set, withstanding Nadal's best efforts to attach a guy rope and drag him down. Zeballos was now obliged to save break points, which he did. A second tiebreak ensued. Obscure statistics began to appear, a trickle at first. The last time Nadal had played consecutive tiebreaks in a clay court match was against John Isner at Roland Garros in 2011. The trickle increased as Zeballos moved to 6-4, and gained a pair of set points. Nadal saved both. Then the Argentine launched a ferocious backhand return winner up the line, and sealed the set a point later. This wasn't defiance of gravity, but mockery.
So the second set wouldn't be a blowout, either. The legion of smug pundits who'd predicted an easy victory for the Spaniard – I was right in there among them – were running out of opportunities in which to be right. Then Nadal opened the third set by breaking at love, and order appeared to be restored. But then Zeballos broke back, as Nadal netted a simple drop volley into an open court. From there the Argentine somehow grew stronger – he didn't face another break point – and Nadal became meek, directing his groundstrokes safely up the middle of the court. It was tempting to think that he too believed his lower-ranked opponent couldn't possibly go on playing so well, that he would inevitably crack again as the pressure mounted. Realistically, this was the first tight situation Nadal had found himself in this week, and although there are plenty of skills one might usefully work on during a seven month lay-off, there are certain things that only come with match-play. This wasn't Nadal at his best.
Of course, this isn't to say that Nadal wasn't still the favourite as the service games ticked away through that third set. There were surely reasons Zeballos had never won a tour-level title, and even more to declare that if and when he did, it wouldn't be against the king of clay on his preferred surface. Nonetheless, the trickle of allegedly relevant statistics had by now broadened into a rivulet. We were reminded that only Roger Federer and Novak Djokovic have defeated Nadal in a final on this surface (each has done it twice), and that Zeballos was riding a fourteen match winning streak on clay. No left-hander had ever defeated Nadal on red clay. Nadal had lost his last seven finals outside of continental Europe. More than anything, this increased flow reflected a deepening belief that Zeballos might pull off the upset.
The moment these stats all changed came with Nadal serving to stay in the match at 4/5. Zeballos, who yesterday was almost crippled by doubt when finishing off Berlocq, was suddenly grinning and loose, swinging his racquet without a care. He moved to love-30 with a delicate drop shot that left Nadal on his heels, then to match point with a crosscourt forehand winner. On the next point he again moved Nadal wide. Nadal pulled the trigger up the line, and found the net.
Zeballos thrust his arms to the sky as he collapsed onto his back, overwhelmed. He'd done the impossible, except of course he hadn't. He'd really shown us how lazy we've grown about what impossible means, and that when we'd trotted out the hackneyed phrase 'anything can happen in sport', we'd done so with a knowing smile to suggest that it almost certainly would not. But all swans were white until they discovered a black one. And you'll always find out why a guy is ranked where he is, until one day you don't, and instead discover he isn't ranked there anymore.
By winning Vina del Mar, Zeballos moves from No.73 up to No.43, and he played well above that today. As for Nadal, he definitely looked disappointed afterwards as he waited for the trophy ceremony to be set up. I suspect – without any way of knowing  for sure – that as the week wore on his erstwhile insistence that we shouldn't expect too much in his first tournament back gave way, as it did for most others, to the realistic belief that he could win the whole thing. If nothing else, this loss will ensure that he arrives in Sao Paulo with his expectations calibrated suitably low. He has demonstrated throughout his career that these are his optimal operating conditions. By that reasoning, it probably helps that a short while later he returned to the court with Juan Monaco and lost the doubles final.