Rotterdam, Quarterfinals
Momentous events are unfolding, at least as the term 'momentous' is understood within the constricting parameters of men's professional tennis in February. Of the three events being conducted this week, two managed to lose their defending champions within a couple of hours. Fortunately each man was located quickly; Roger Federer had wandered distractedly into a broom closet, curious to know what it was, while Nicolas Almagro had fallen into a yawning crevasse in the Brasil Open playing surface.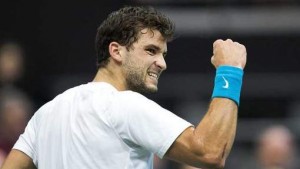 Having been rescued, both men were immediately ushered onto their respective tennis court, whereupon both lost.
Meanwhile, at a secret US government facility in San Jose, there are reports that Milos Raonic remains on course to claim his third and final SAP Open title. These reports are unconfirmed, since, based on all available footage, this Gitmo-style facility is far too restricted to allow public access, and so far Amnesty International's demands for entry have been rebuffed. I have requested my contact in the Bay Area to look into it. Expect her report within days. We demand the truth, whether or not we can handle it. At least President Obama is making good on his earlier promise to close the place down.
Benneteau d. (1) Federer, 6/3 7/5
Federer lost to Julien Benneteau. It isn't the first time this has happened, even within the Western European theatre of operations, and even if we confine our terms of reference to fast indoor hardcourts. Benneteau also beat him at Bercy in 2008. He is now at serious risk of becoming the only man to defeat Federer twice without ever claiming a tour title. His place in later versions of Trivial Pursuit (Obscure Edition) would therefore be assured.
Which isn't to say that Federer's loss is a trivial matter, for either man. Benneteau played beautifully throughout the match. This proved a simple enough matter in the first set, given Federer, by Mark Petchey's scathing assessment, had played the worst set of his career, or words to that effect. This is probably unfair, since he used to put together some pretty woeful sets before 2003, but the broad point can be conceded.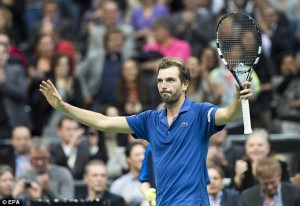 He was unusually sluggish, both in his reactions and his footwork, while his serve lacked penetration and his forehand lacked endeavour. Perhaps he'd inhaled some ammonia in that broom closet.
The true wonder was that Benneteau continued to play well even into the second set, after his opponent had finally relocated his game, notwithstanding a weak effort to be broken back to love. The tightest moments came at the end, at 5/5, when the Frenchman fended off three break points with positive play, and by landing first serves. The Sky commentators essayed the confident prediction that if Federer stole the set – he later admitted he wouldn't have deserved it – he'd go on to take the match. The more superstitiously inclined among Federer's fan-base, who subscribe to the idea of 'jinxing', undoubtedly wished the commentators would just shut-up, especially when the defending champion's subsequent service game was disastrous. After struggling to 30-30 he double-faulted. Benneteau took the match on first match point, again by playing assertively, and charging to the net behind some strong groundstrokes. Federer missed the backhand pass, challenged the clearly out-ball, and that was that. Benneteau afterwards revealed that he'd immediately apologised to Richard Krajicek for beating his star attraction. 'That's okay,' Krajicek (apparently) replied. 'It's sport'.
Speaking of obscure trivia (and the pursuit thereof), this is the first time Federer has lost to a player outside the top twenty who isn't an ex-No.1 since May 2010, when he fell to Albert Montañés in Estoril. He has now gone without winning a title since the Cincinnati Masters last August, in contrast to a year ago, when we was in the midst of his most lucrative title-spree in years. In this period he has failed to defend four events (Basel, Paris, London and now Rotterdam). Having ceded the No.1 ranking to Novak Djokovic in the last week of last season, he is now over 3,000 points adrift of the Serb at No.2 (and about 1,300 points clear of Andy Murray). Federer's next event is Dubai, starting in ten days, and after that the Indian Wells Masters. He is the reigning champion at both. But that's okay. It is just sport, and some fans would do well to remember it.
Benneteau will face Gilles Simon in the semifinals. Simon's opponent Martin Klizan retired with cramps in the third set. It is hard to see that that these reflected any excess of physical toil, since it was an indoor hardcourt match played at night, although it is, as ever, easy to say that they were instead the corporeal manifestation of the soul-crushing ennui experienced by most of Simon's opponents at one time or another. I confess I'm surprised Simon is playing in Rotterdam at all. I imagine the US military could have put his abilities to good use in San Jose.
Dimitrov d. Baghdatis, 6/7 7/6 6/3
The other semifinal will see Juan Martin del Potro take on Grigor Dimitrov, who earlier defeated Marcos Baghdatis in the finest match of the day, and arguably the best match so far this week. It was a bruising, exciting, high-quality, all-court encounter between two gifted shotmakers making shots, conducted in an excellent spirit. Dimitrov vaulted the net upon claiming the final point, and delivered a heartfelt embrace to his opponent.
This is the third time Dimitrov has defeated Baghdatis in four attempts (with the latter's only win coming when Dimitrov retired early in their match at Wimbledon last year). One hesitates to call it a match-up issue. In all three losses the Cypriot came very close to winning. Today the moment came late in the second set. The first time they met, in Munich a couple of years ago, Baghdatis held two match points in the second set tiebreaker, and after blowing them gave up almost entirely.
Earlier this year in the Brisbane semifinal their match was mainly notable for the putatively crucial moment in the final set tiebreak in which the older player had suffered a time violation, although this had less bearing on the outcome than many vehemently declared. They play tight, thrilling matches, and somehow the Bulgarian seems to win them.
Today's match was decided by its least thrilling passage, a ten minute period in which Baghdatis was suddenly unable to hit the tennis ball onto those parts of the tennis court mandated by the rules. This unfortunately coincided with a patch of fine form from Dimitrov, and covered the second set tiebreaker (which Dimitrov won 7-0), and the start of the third set. Thereafter Baghdatis apparently eradicated whatever gremlins had tinkered with his range-finder, but the damage had largely been done. Dimitrov was pushed and stretched on serve throughout the third set – it was, as I say, sometimes thrilling – but held commendably firm, and his commitment to attack and probe never once faltered, even when Baghdatis saved a match point at 2/5, and forced the youngster to serve for it.
A semifinal at an ATP500 event is among the biggest results of Dimitrov's career, and even if he loses he'll move to a career-best ranking of No.33. There is therefore every chance he'll be seeded at the upcoming Masters events in the US, which will grant him the (dubious) comfort of a first round bye. Those who take inordinate pleasure in admonishing Dimitrov for slow progress bear reminding that this time last year he was losing tight matches in shady US facilities, and his ranking was spiralling back out beyond the top hundred.