Vina del Mar, Second Round
Montpellier, Second Round
Hajek d. (7) Troicki, 6/0 4/2 ret.
My tennis day began boisterously on a sun-mottled clay court in coastal Chile and concluded in the electric shadows of Montpellier's whimsically titled Arena. Diana Ross was harrying a wounded Viktor Troicki from the court with the soulful admonition that love don't come easy, and that, furthermore, it's a game of give and take. Throughout a first set bagel the Serb had repeatedly proved that love comes pretty easily if you can't win points, but Ms Ross's broader point remained. He hadn't given his all, and then took a retirement package while trailing a break in the second set. This elicited the most rousing applause of the match from the dozen or vagrants who'd wandered in seeking warmth. His opponent Jan Hajek acknowledged their approval, and then he too left. 'Love Don't Come Easy' gave way to 'Groove is in the Heart', and the scoreboard flicked over to warn me that Gilles Simon would soon be appearing.
My grooveless heart sank like a stone. No matter where it began, no journey that ends that way can be considered a happy one.
(1) Nadal d. Delbonis, 6/3 6/2
It began, of course, with the exuberant return of Rafael Nadal to professional tennis, an event that was feverishly anticipated in certain areas, and amply discussed even where temperatures remained mild. What was said was largely speculative, and most of that became redundant the moment the Spaniard found the court and struck his first ball in anger. Nadal was broken to open the match, inspiring a strained edge to the Spanish commentators' otherwise breathless encomiums. He struck his first ball angrily a few games later, a running forehand pass up the line, and unleashed the first fist pump of his comeback. The technique on both forehand and pump appeared unaltered from their previous incarnations, which is encouraging. The modern fist-pump is generally performed with an open-stance, with most of the player's weight borne by the left leg (in the case of a left-hander). Even at that early stage we can confidently declare that Nadal is indeed back.
He broke back before too long, found the range on his groundstrokes, spanked a few winners, landed a few serves, perspired freely, and otherwise cruised to the kind of early round victory that would have seemed unremarkable had it not followed a seven month sojourn. I was left to wonder just how long a break he'd need to take in order for Frank Delbonis to have a chance. Years, probably. I could say that tougher tests await Nadal, but if they do it won't be this week. The same question was pertinent to Juan Monaco, and whether Nadal's inevitable rust would provide the Argentine's best chance at finally claiming a win. It's a question that will remain purely academic, since Monaco, who was defending champion, managed to lose his opening match. Between Nadal's return and Monaco's loss the number of notable things happening in men's tennis this week now sits at two. This is a tally I suspect won't be augmented elsewhere.
Fifteen hours later in Montpellier the inter-match entertainment had taken on a decidedly surreal turn. The court was invaded by five . . . let's call them dancers, in curly haired wigs and garish attire. Their loosely choreographed moves were set to the title theme from Rocky ('Gonna Fly Now').
This mighty handful in turn gave way to five new dancers – or perhaps the same five; my brain had entirely forsaken its groove by now – performing synchronised swimming manoeuvres over a moodily sax-ridden masterpiece that made liberal use of whale song.  I could probably make this up, but I'd be insulting your intelligence to try.
As evidence of where a grooveless mind strays when left ungoverned, I idly wondered how many of the dancers had hoped that this would be their big break – a paid gig at the Open Sud de France! It was, admittedly, a depressing line of speculation. By now they'd acquired some kind of ball-gun, and were firing tennis balls into the stands. These projectiles would occasionally strike the slumbering homeless, eliciting dull groans and raging tirades. Perhaps they were a troupe, and this was how they earned a crust. Perhaps it was a court-invasion, and no one could summon the energy to stop them.
I perused the Montpellier website, hoping to discover some explanation for this lunacy, or at least a playlist for the changeovers, but to no avail. (The sit-down after the first set between Troicki and Hajek was extended, putatively so that the Serb could consult with the trainer, but really so that Madonna's 'Gimme All Your Lovin' could be enjoyed in its full dark glory.) I did however find some evidence that the insanity prevailing on court was merely one thrust along a broad front. After discussing Gael Monfils victory over Ruben Bemelmans, the article's writer asserted that:
'The next step will be another story, this time not Belgian. In a shock fratricide, Gaël found in his way Richard Gasquet, native son #10' .
Perhaps something was lost in translation. I checked up the original French version, and discovered that 'fratricide' was a direct rendering of 'fratricide'. It could be that the term is employed colloquially in France, or it could be that Nadal and Monaco won't be the only notable things to happen this week. As it happened, Gasquet subsequently prevailed over Monfils, and although it was long, reports are that it was mostly bloodless. Indeed, it was noteworthy only in that it was a rare Monfils match that didn't end with him injured.
(4) Simon d. Brugues-Davi, 7/6 6/2
But this lay in the future, which is now the past. Further in the past, in the narrative present, I flicked back to the Montpellier stream, to discover Simon, native son #14, putting away a crisp smash at the net. Hope flared briefly. About once per year, Simon will emerge and, as if from nowhere, play adventurous, attacking tennis, striking winners and venturing forward to knock off volleys. My momentary hope that today was that day was quashed when I realised it was merely the hit-up.
The match proper followed a familiar, flaccidly sagging arc, whereby the lower-ranked player – in this case qualifier Arnau Brugues-Davi – gained an early break, rode it almost to the end of the set, was broken back, lost the tiebreak, and then performed closer to his ranking in the second set.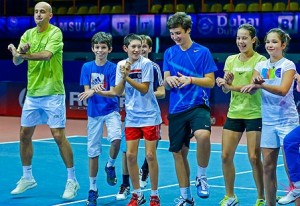 At least it didn't take too long, unlike Simon's week-long victory last month against Monfils in Melbourne, which was not merely fratricidal, but suicidal, too.
Zagreb, Second Round
I realise I haven't mentioned Zagreb, but there's a reason for this. Despite my latent affection for any event at which Mikhail Youzhny is defending champion in both singles and doubles, there are certain boundaries beyond which no tennis tournament can venture and still be taken seriously. Sadly, the PBZ Zagreb Indoors is now tainted after a Gangnam outbreak was witnessed on its centre court. Ivan Ljubicic was the perpetrator. At his age he should know better. The only mitigating factor was that it didn't occur during match-play. Nevertheless, the whole enterprise will need to be quarantined, and comprehensively audited. Zagreb is in lock-down.