Davis Cup, First Round
There is little that has transpired over the first Davis Cup weekend of the 2013 season that hasn't been seen before, but I cannot recall that I've ever seen it happen everywhere all at once. In just three and a half days, we've nearly had the lot: predictable and unfathomable blow-outs, desperate saves, impossible and obvious upsets, injuries, sprints and marathons, heaving sobs and beaming grins, packed stadiums in Buenos Aires and soulless barns in Jacksonville, forty-six game final sets in Geneva, dodgy clay, slick hardcourts, the greatest day of doubles in living memory, and Marcel Granollers copping a hiding in Vancouver.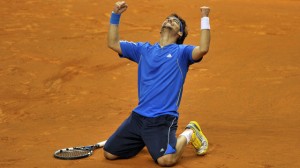 This first round has been a concentration of what makes the format great, distilled to a proof sufficient to render any viewer insensate.
After such a prolonged, globe-straddling bender, I presume I'm not alone in feeling mentally despoiled by the Davis Cup. By the time Sam Querrey eventually saw off Thiago Alves in Florida, some seventy-six hours after play had commenced in Auckland, I was barely coherent. Like a drinking game designed by Brecht, it's interesting to discover whether the brain or liver gives up first. I confess I was unprepared. It is rare for the competition to get going this early in the year, at least in its uppermost tier. The zonal ties are often fraught and lurching affairs, but the World Group rarely attains a full stride before the quarterfinals. But, for whatever reason, this has been a first round we won't forget, even if the general fog of inebriation makes it impossible to remember.
Italy d. Croatia, 3-2
Speaking of fog, the most stirring result was surely Italy's victory against Croatia, secured by Fabio Fognini over Ivan Dodig in a fifth rubber so live it fairly twanged and hummed, as nervous energy heightened the sense of theatre even as it depressed the standard of play. This was Fognini in his preferred element, and at his histrionic best, mocking the very gods before a thunderously punch-drunk crowd in Turin. Italy returns to the quarterfinal stage for the first time since 1998.
Marin Cilic was earlier superb in levelling the tie, defeating Andreas Seppi in reasonably straight sets (the Italian served for the third, but not well). The Croat had already contested the opening singles and the doubles, recalling the doomed heroics of weekends past. The Czech Republic proved last year (and this weekend) that a two-man team can go all the way. The Croatian squad was, sadly, a man short.
Canada d. Spain, 3-2
The tie between Canada and Spain generated the most acute historical angles. To start with, Canada has progressed to the quarterfinals for the first time in the competition's history. In 1992 they narrowly failed to do so against Sweden, when victory had depended on just one more hold of serve. The man who failed to secure that singles rubber twenty-one years ago was Daniel Nestor, who this weekend represented his nation in doubles (he is currently ranked No.4 in that discipline). Nestor thus represents a historical angle all on his own. Nestor's younger version was understandably distraught after that Swedish tie, though he would presumably have found solace from knowing that the man who would finally push his nation past the first round was at present a Montenegrin infant named Milos.
If only there'd been a prophet on hand to let him know. As it happened, the doubles was the only live rubber Canada lost this weekend (of course in five sets). Nestor's compatriot Alanis Morissette might term this ironic, but probably not within his earshot.
In the quarterfinals, Canada will host Italy, a tie that both nations must believe is eminently winnable. Seppi has won titles on every surface, while Fognini has given characteristically whimsical runner-up efforts on both clay and indoor hardcourt, which is presumably the surface the Canadians will stick with. It's the same hardcourt Premier surface used in San Jose, meaning that Raonic is apparently invincible on it. Nevertheless, the whole thing might yet hinge on Nestor.
Meanwhile, Spain's loss relegates them to the play-off round for the first time in well over a decade. This creates a problem for whoever they meet in that round, since it is unlikely that the premiere tennis nation on earth will spearhead another assault with Albert Ramos and Granollers. For those nations who this weekend won their Group 1 zone tie, the feeling is akin to that of the toiling qualifiers who know that one of their number has been drawn to meet Novak Djokovic in the first round of a Major. There are excellent reasons to fight on, tempered by a lurking dread that the reward might be a trip to the abattoir.
Australia d. Chinese Taipei, 5-0
Here in Australia the mordant assumption is that, having seen off Chinese Taipei in the weekend's least intriguing tie, our local heroes have done little more than shuffle onto a conveyor belt leading to Rafael Nadal and David Ferrer. Australia's bid to re-enter the world group has met with repeated frustration in recent times. Some blame bad draws. The realistic response to this is that any team mostly comprised of players outside the top hundred will find generous draws hard to come by.
Australia last year played-off against Germany in Hamburg. It was a German team lacking its putatively best players, although I doubt whether anyone could have performed better than Florian Mayer did. Australia lost, and the whole tie predictably devolved into an excuse to lay the boot into Bernard Tomic, notwithstanding that he, unlike Lleyton Hewitt, actually won a singles rubber. Tomic did not travel to Taipei this weekend, having been disciplined by Pat Rafter. Tomic stayed home, and Australia won 5-0 without dropping a set. I'm sure everyone learned a lesson.
In order to progress to their inevitable and fatal pas de deux with Spain, Australia will have to overcome Denis Istomin, who with some assistance beat China 4-1. The odds are that Australia, even if it gets by Uzbekistan, won't face Spain at all. Indeed, they might well play Germany again. If so, neither prophecy nor sobriety is required to tell you they'll need Tomic for that.