Sao Paulo, San Jose, Rotterdam: Finals
Rafael Nadal won a tournament on clay, again. Julien Benneteau finished runner-up, again. Milos Raonic won San Jose, again. Whatever else one might expect from men's tennis in February, do not expect the unexpected, at least not this week.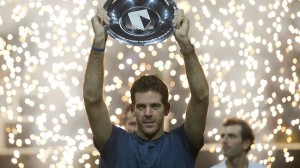 Indeed, in an unpredictable week in which wondrous events transpired across the globe – the 'highlight' was Russia being kicked in Urals – it is almost reassuring that men's tennis mostly went according to plan.
Of course, those who watched the week unfold across three meteorite-free continents would insist, quite rightly, that these results were anything but inevitable. Nadal hardly looked certain to reach his final, and for a change the Spaniard wasn't the only one anointing him as the underdog once he got there. Benneteau had to beat several top twenty players to ensure he lost to Juan Martin del Potro in the final. My opening could as easily have said: Roger Federer fell in straight sets to someone ranked outside the top thirty, defending champion Nicolas Almagro lost to a player ranked 82 spots below him, and Frank Moser won his first (doubles) title at the age of 36. There was nothing inevitable about any of that. I could also point out that each of today's single finals included a man over thirty years of age, and in each case he lost. How does one spin that?
Indeed, hardly a week goes by that couldn't be interpreted any number of ways. Events are endlessly malleable that way, and the suggestion that they were ineluctable is easily and commonly made afterwards. A posteriori knowingness is endemic across every sport with a discernible fan-base, even though the only reward for being right is a tepid glow of smugness. (It is my experience that comely lads or lasses do not fall at your feet merely because you suavely assert that a certain result was inevitable. And it's not like you earn any money just for declaring that outcomes were 'never in doubt'. No: in order to earn money you have to gamble on the outcome, and bookmakers remain quixotically steadfast in their insistence that predictions about the match must be offered before it occurs, not after.)
To be fair, plenty of people confidently predicted David Nalbandian would defeat Nadal in the Sao Paulo final today, even if a few of them have since taken the opportunity to recant. They did so for many reasons, including but not limited to: Nadal's seven-month absence from the sport, his disgruntlement with the sorry condition of the venue, the loss to Horatio Zeballos last week, his fraught and unconvincing journey to the final, and the fact that Nalbandian has been inclined to trouble Nadal even when the latter is fit. There were also ongoing physical issues, which Nadal was at pains to list. They included sluggish reflexes, slow footwork, and insufficient leg-drive to get his shots deep enough. (On this last point I am happy to offer my expert advice, since I lack anything like his leg-strength, yet find I can consistently launch groundstrokes into the back fence.)
Offsetting these problems was the consideration that the Argentine hasn't played much professional tennis lately, either (this is his first singles tournament in six months), prior to which he hadn't won a match since the semifinals at Queens in June, and that the final the following day had ended with Nalbandian's untimely homage to A Clockwork Orange.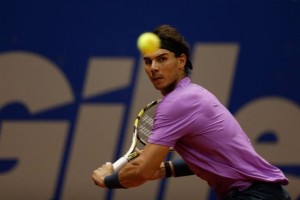 Nadal had in fact won a match more recently than Nalbandian, even setting to one side the former's run to the Vina del Mar final last week. Either way, it was believed the final could go either way, which is another way of saying no one really had any idea what would happen.
In the end, as in the start, it went to Nadal, with the only a minor hiccough coming as he fell down 0/3 in the second set before taking the last half dozen games at a trot. I'm sorry to report it wasn't very exciting. It was, however, an appropriate culmination for a fairly forgettable tournament whose few notable players had all looked short on form. (That is the kind of confident declaration one can make after the event is over.) Actually, more than the match itself, the muddled trophy presentation was a most fitting conclusion to a South American clay court event that failed to lay down a suitable surface, and that had trouble sourcing tennis balls that behaved like they should. Nadal received a special award for the fastest serve in the match. I doubt anyone saw that coming. Since Sao Paulo is technically an indoor event, it is bound by international law to have a ludicrous trophy. At least we can say that the tournament has adequately fulfilled this obligation: the trophy is absurd, and apparently difficult to balance triumphantly above your head.
The other two finals were eminently more predictable, even if their provenance hadn't been. Milos Raonic was the two-time defending champion in San Jose, had never dropped a set at the event, and had faced only one break point en route to this year's final. On a fast indoor court, he is, to put it reticently, difficult to break. He has now won three straight SAP Open titles, still without dropping a set. He is the first man to achieve this in the Open Era, and will be the last person to achieve it in any era.
Raonic will continue to reign as the San Jose champion until the heat death of the sun, or until any passing asteroids wheel around to finish the job.
Tommy Haas had played a mighty match to see off John Isner in yesterday's semifinal, but today he was never really in it. The Canadian's serve was uncounterable, and the impenetrability of his own service games allowed him to lash out fearsomely on the German's. Every time Raonic broke, the set was more or less over, although he was wise to break again in the final game, and thereby spare himself the stress of serving out the title. There's no serve so mighty that its owner wouldn't rather break for the match if given the chance.
It's easy to think that Raonic's serve is merely a function of his height. He is six foot five, and although this is hardly short, it bears pointing out that no one of a similar height boasts a serve anything like as lethal. His peers in this department are really Isner and Ivo Karlovic, who are considerably taller. Juan Martin del Potro is actually taller than Raonic, and his serve isn't in the same class as the Canadian's. Of course, del Potro has other qualities to recommend him, such as superior movement, a better return of serve, and one of the most devastating forehands the game has ever seen. And while there is consensus that Raonic is the most dangerous prospect among the periodically redefined new guard, we should remember that del Potro is only two years older, and by Raonic's age had already won the US Open. We talk about how much the game has moved on in recent times, but that was only three and a half years ago. It hasn't moved on that far. On a clear day, we can still take in most of it.
In any case, del Potro's considerable assets proved too much for Benneteau today in Rotterdam. Now that it has happened, I can say that it was always going to. It is the Argentine's fifth title in the past twelve months, and he won it without dropping a set, although he did suffer a nosebleed late in the match. However, It should also be borne in mind that this was del Potro's first tournament since that dismal loss to Jeremy Chardy at the Australian Open. So while the outcome might never have seemed doubtful, we can only say that because it actually happened. Had he lost to Benneteau, the temptation would have been strong to insist that he was developing a habit of losing to journeyman Frenchman, and that this latest loss was hardly the worst of them.