Australian Open, Day Two
The first round of the 2013 Australian Open is complete, and inevitably the results for the host nation are mixed. On the one hand, disappointment prevails for those Australians whose interest in the event is largely predicated on the continued presence of other Australians. Assuming the television coverage reflects some level of market research, this group is the majority.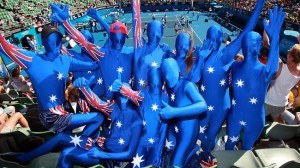 On the other hand, there exists a minority for whom the early exodus of compatriots is but a necessary first step in being able to watch superior players ply their trade, even though some of them are, strictly speaking, foreigners.
Having absorbed the lessons of years past, true patriots thus know to focus their efforts in the first two days, in order that they might cheer on those countrymen whom they apparently love unreservedly, even if they don't love them quite enough to provide support for the other eleven months of the year. They were there yesterday, green and gold sombreros jauntily aslant before the lowering sun, as Matthew Ebden conducted his annual demonstration that two sets is too few to win a round at a Major. They were there last night, sheathed in blue spandex jumpsuits that left no doubt as to nationalistic leanings or genital arrangement, as John Millman battled valiantly to a five set loss. They were there today, swaddled in the nation's flag, as Marinko Matosevic lost hope to Marin Cilic. (I was there, too, although my relatively staid attire laid my questionable loyalties bare.) They'll be heavily reduced in number tomorrow, though, since only three Australians remain in the draw. For a wonder, two of them are men, although these aren't playing again until Thursday.
The foremost Australian man is Bernard Tomic, who was tonight accused of being un-Australian by Australia's previous Davis Cup captain John Fitzgerald, who believes himself a qualified arbiter of such matters. 'Un-Australian', for those of you so irredeemably un-Australian that you're actually not Australian, is a catch-all epithet readily levelled at anyone who fails to uphold the nation's core values. These core values are nowhere officially summarised, but can include anything from providing free tomato sauce on meat pies, to the right to bankrupt your family via a gambling addiction, to the ungovernable urge to represent your country in sport. This last was the core value that Tomic has failed adequately to embody.
To his list of unpatriotic accomplishments I suppose we can add winning his first round comfortably. He wasn't even broken back while serving for it; that's un-Australian. He thoroughly outclassed his opponent Leonardo Mayer, who by playing with a burned and bandaged right hand reduced his already meagre chances to nearly zero. Tomic's superiority on this surface and in this form was such that that the commentators found it difficult to maintain focus. With Fitzgerald and Jim Courier on hand it was inevitable that Davis Cup would come up. Courier was diplomatic and earnest, Fitzgerald was ornery and offended, and the redoubtable Bruce McAveney was left to make some sense of it on the viewer's behalf, and to guide the discussion into less fraught regions. The overall mood was wearisomely paternalistic. It seems we all know what's best for Bernie.
The second Australian man standing is James Duckworth, who defeated Benjamin Mitchell, yet another Australian. Given that they were playing each other, it was therefore inevitable that one of them had to progress, although for a shade over four hours they set about defying that assumption. Eventually Duckworth was forced into victory, 8/6 in the fifth set. I don't wish to convey that it was a bad match: it was fine. The capacity crowd was certainly excited, although one imagines this excitement was tempered by regret that they'd forgotten to watch the same pair contest the first round of the Burnie Challenger last year. For the record, Mitchell won that previous match in three sets. Today was thus sweet revenge for Duckworth.
Speaking of revenge, or Revenge, Channel 7 is up to its old tricks, one of which is to cut away to a network promo between games, which the commentators are then obliged to blather about afterwards. Sandy Roberts has seemingly wearied of the whole exercise. To the astonishing news that a new season of Revenge is imminent, Roberts could muster little more than: 'Some people really can hold a grudge, can't they?' Another old Channel 7 trick is to run too many commercials at the change of ends, in order that viewers are assured of missing the first point of each game, and the first game of each set.
I'm told Channel 7's coverage today remained with Duckworth vs Mitchell for its entire duration, even as Jo-Wilfried Tsonga and Michael Llodra took to Hisense, and Roger Federer and Benoit Paire briefly detained the ticket-holders in Rod Laver Arena. Periodically the coverage would cross 'live' to these marquee matches, and show footage from about five minutes earlier. It was technically live in that no one had died, but really, do they imagine their viewers cannot access the internet?
(It happened again tonight, when they insisted on showing Jarmila Gajdošová losing to Yanina Wickmayer instead of Gael Monfils and Alex Dolgopolov's superb encounter on Margaret Court Arena. Every so often the television would display the same images I'd seen on my monitor a short while earlier, the only difference being that my TV contained a demented Henri Leconte: 'Oh yes! What the guts he has!' Leconte was of course speaking of Monfils, who did indeed have the guts, and soon afterwards had a glorious victory. Channel 7 has previously adopted Dolgopolov – 'Aussie Alexandr' – due to his connection with Jack Reader. Now that the connection has been severed, Dolgo is on his own.)
But, as I say, that's what the first round of the Australian Open is all about. Judging by the endless lines of nationally-branded teenagers seeking entrance to the Duckworth-Mitchell epic – it sounds like an intrepid early expedition to the South Pole – the broadcaster wasn't wrong to focus its attention there. For those of us whose interest in the sport doesn't so perfectly align with our passports, it's a mercy that the Australian Open's first round only takes two days. American fans at Flushing Meadows are obliged to endure a three day first round, as are French fans at Roland Garros.
It's not that I have anything against the Australian journeymen. I wish them every success. In fact I did so in person at the wildcard playoffs in December, where it was wall-to-wall Australians, except in the stands, which were conspicuously free of green and gold sombreros, Southern Cross tattoos, and blue spandex bodysuits. John Fitzgerald, a renowned expert on constitutional matters, will be able to tell me if that's un-Australian or not.
I realise I'm using the word Australian a lot. Like the tournament itself, I suppose I'm getting it out of my system.
My astoundingly fantastic write-up of the first day's play can be found over on Tennis Grandstand. Incidentally, I should mention that if there's a strange gap in my posting routine here on The Next Point, it will often be because there's an article over on Tennis Grandstand, especially early in the week. Updates as to that are always posted on Twitter, so if you wish to be kept abreast, please follow me.