Auckland, Final
(1) Ferrer d. (2) Kohlschreiber, 7/6 6/1
A long Saturday kicked off tamely enough as David Ferrer secured his fourth Auckland title, defeating second seeded Philipp Kohlschreiber in an uneven yet entirely indicative pair of sets. The score-line of 7/6 6/1 is a common one when a flashy player succumbs to a superior, solid one, and suggests that the well of inspiration is never quite deep enough, and that those who rely on it too much will struggle once the supply has been exhausted.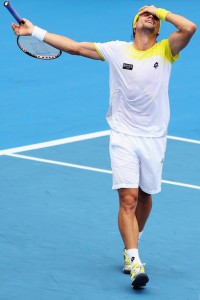 I assume the reader won't be surprised to learn that Kohlschreiber was brilliant early, held several leads in the first set, served for it, gained a set point, but was broken back after fatally hesitating on a forehand volley. From there the traffic flowed in one direction only, its progress growing ever smoother as the German's resistance was gradually pulverised.
Still, while it remained close, the tennis was excellent. One wouldn't necessarily hold Kohlschreiber's backhand to be the apogee of technical perfection – hurling his body into the air precludes keeping his head still – but a more orthodox stroke probably wouldn't deliver the same penetration, given his slight dimensions. Alas, that wing also contributed its share to his extravagant tally of errors. It must be said that Ferrer was also quite error-prone through the early going, and unusually vocal about it to boot. But an expertly wrought tiebreak put things to rights, and from one-all in the second set it was barely a contest at all.
Kohlschreiber was as affable and charming as always afterwards, and pointed that as far as he was concerned the only shortcoming of the Auckland tournament was Ferrer's tendency to show up, eliciting general laughter. Ferrer graciously apologised.
Australian Open, Qualifying Third Round
By this stage the third and final round of Qualifying had commenced at Melbourne Park, and the trickle of results was deepening into a torrent. Most notably, Amir Weintraub will be contesting his first Major main draw, a tremendous and deserved accomplishment for a player who has done much to evoke life for the sport's perennial journeymen. Although admitting to it would be injudicious, I suspect he is thrilled to have drawn world No.96 Guido Pella in the first round. Given that he might have drawn Juan Martin del Potro or Nicolas Almagro instead, it certainly could have been much worse.
Weintraub (or Windthrob, as he was called by the announcer) will be joined by Davis Cup teammate Dudi Sela, who recovered a one set deficit to see off Michael Berrer (whose apparently unsayable foreign name was variously mangled as Bela and Derrer by the otherwise fine commentators). Sela will face Nikolay Davydenko, so anything might happen. If the Israeli wins he'll probably face Roger Federer, in which case only one thing will happen.
Kooyong, Final
Hewitt d. del Potro, 6/1 6/4
Del Potro – my dark horse pick to reach the semifinals – will face qualifier Adrian Mannarino Tuesday. In order to adequately prepare for this titanic assignment he yesterday faced Lleyton Hewitt in the final of the AAMI Classic in Kooyong, although I'm never sure what 'final' really means in this context, and never know who'll be contesting it until Channel 7 breathlessly tells me. Hewitt and del Potro were, as far as I can ascertain, the only two of the original entrants who didn't pull out with a worrying niggle. 
Hardly a racy field to begin with – a far cry from the days when Sampras, Agassi or Federer bestrode Kooyong's hallowed rebound ace – it became a decidedly pedestrian one as the precautionary withdrawals mounted.
All of which is to say one is disinclined to take Kooyong very seriously, and that this reluctance extends to the final, for all that a serious tone was diligently adhered to throughout, on court and in the commentary box. It's hard to believe del Potro was anything like as committed as he will be in a few days' time, although Hewitt characteristically toiled as though it was the Australian Open final. The Australian won nine of the first ten games, and was striking the ball as well as he has for years. Del Potro broke back, but was broken again, and that was very much that.
Hewitt is once again the champion at Kooyong. What this mean for his Australian Open campaign is a nice question; he won Kooyong two years ago but then fell to David Nalbandian in a five set opening round classic in a heavily-hyped Rod Laver Arena night session. It's a question that will be answered tomorrow night in a heavily-hyped Rod Laver Arena first round with Janko Tipsarevic. Regardless of the measured gravity of proceedings, we are also forbidden to take them seriously since the tournament is still serving a two-year ban following Bernard Tomic's antics in last year's final. Even though this year's event would have otherwise ranked acceptably on the Gangnam Scale, rules are rules.
Over at Melbourne Park Kid's Day was by this point well under way. Sadly, but to no one's astonishment, Djokovic could not resist Gangnam's allure, thus entirely invalidating the victory of Team Spongebob over Team Dora.
Sydney, Final
Tomic d. Anderson, 6/3 6/7 6/3
Gratifyingly for local fans who appreciate a dramatic arc, the day's climax came at the end, as Bernard Tomic captured his first career title in Sydney, defeating Kevin Anderson in tight close sets.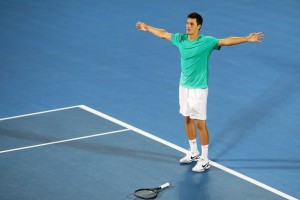 The Australian's odds to win his home Major immediately shortened to $26 – placing him as fifth favourite behind the top three and del Potro – proving once more patriotism is a form of insanity, or that gambling can be an effective tax on idiocy.
Tomic was impressive through the first set, breaking Anderson early and proving far superior whenever a sufficiently probing return enabled a baseline exchange. Having captured the opener, Tomic then unaccountably retreated from the baseline, and regressed to the style of passive noodling that is only effective against juniors, Feliciano Lopez and Fernando Verdasco. Todd Woodbridge – who'd been joined by John Newcombe, ostensibly a 'treat' – delivered a useful reminder that despite Tomic's air of impenetrable composure he was still a young player in his first tour final, and that all players when nervous have a tendency to revert to type. Anderson rightly read Tomic's retreat as an invitation to attack, and so did with great force and consistency. The South African lost only two points on serve in the second set, although his returns remained inadequate enough that a tiebreak was required.
The story of the match was ultimately Tomic's determination not to yield the baseline unfought in the third set, for all that his instincts, forged through long easy years in the juniors, must have been screaming at him to take to his heels. It is to his credit that he stayed up and resumed pummelling his forehands. Thus pressed, it was Anderson who lost shape, compiling a disastrous game late in the set to get broken. Tomic served out the match with suave ease, spread his arms, dropped his racquet, and knelt down to kiss the court.
Anderson, naturally, was disappointed, although he was also impish in reminding the crowd about the cricket. Winning Sydney would have meant a great deal. It would have been just his third title. (That 'just' is the giveaway that I believe Anderson to be a finer player than his results attest, and that he is under-ranked.) Indeed, Sydney would have been his biggest title, since his others are Delray Beach and the now-vanished Johannesburg. Injury was crushed beneath insult when the APIA spokesperson congratulated him as Ken Anderson. Presumably Ken Rosewall's proximity had scrambled her brain. (It was a fine day for wrong names, and we haven't even made it to the Australian Open, and thus are yet to witness Joanna Grigg's latest doomed attempt to pronounce Anastasia Pavlyuchenkova.)
Tomic subsequently extracted a measure of vengeance on his opponent's behalf by leaving APIA out as he thanked the sponsors. He also left Tennis Australia out when he thanked everyone else, which may or may not have been a deliberate omission. With him it's hard to tell. He included his father, however, whose eyes were sheened, one hopes with pride. With him, it's also hard to tell.