Australian Open, Second Round
(1) Djokovic d. Harrison, 6/1 6/2 6/3
Novak Djokovic tonight defeated Ryan Harrison in a featured night match that was almost precisely as uncompetitive as everyone besides Ryan Harrison expected it to be. The first time I wrote Harrison in the previous sentence I wrote 'Harrion' by mistake. Microsoft Word, as per its mandate, duly highlighted my mistake with a corrugated red underline. Right-clicking on the offending word revealed a range of ways I could make things right, including a couple of educated guesses at the word I'd intended but failed to write the first time.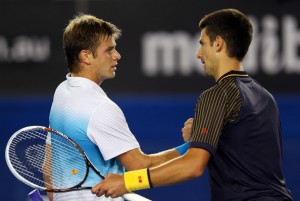 The first of these was 'Harrison', which had the advantage of being correct. The second was 'Carrion', which had the advantage of being poetic, if not true. I admit I hesitated.
For all that Harrison's mind often appears too pure for doubt, I question whether he truly believed he would beat Djokovic tonight. I suspect – or at any rate hope – that those headlines proclaiming otherwise had been crudely extracted from their context, as with Bernard Tomic's comments regarding Roger Federer's doubtful presence in the third round. Of all the barrows the media likes to push, disunity remains the most cherished, and the temptation to play upon Harrison's native brashness is generally irresistible. It's an angle that works whether he wins or loses. A loss can be written up as hubristic comeuppance; impudence punished always plays well. A win . . . well, he really wasn't going to win.
Other narratives have by now congealed, the most prominent being that Djokovic was especially intent on putting the upstart in his place. The top seed certainly played as though he had a point to prove. But the real point is that he's the world No.1 and two-time defending champion, credentials that he seems eager to demonstrate in nearly all of his matches. I'm not convinced he would have played any worse had Harrison sounded more diffident before the match. As good as Djokovic is – and tonight he was exceptional – he isn't so good that can decide when and where he'll play out of his mind. Tonight he played out of this world.
Nevertheless, the idea that he was deliberately putting Harrison in his place boasts an undeniable allure. It was an idea with which even Darren Cahill flirted, although in his case the opinion was buttressed as ever by crucial detail. Queried by John Fitzgerald, whom Channel 7 had once more exiled to the stands, Cahill didn't just say that Djokovic was narrow-casting a message to a presumptuous young challenger. He added that it recalled a similar match at the 2007 Australian Open, when Federer delivered a pointed beating on Djokovic. The detail provided context, and a seductive sense of continuity was thereby established. But seductive or not, I'm unconvinced it's entirely accurate.
Djokovic was quizzed about this specifically in his press conference afterwards, but emphatically refused to be drawn. Having commenced graciously by saying generous things about the young American, he wasn't going to be deflected easily. What he wasn't saying was that this match probably meant a great deal more to Harrison than it did to him. For Djokovic it was just another second round at a Major. If it endures in his memory at all, it will be because he played magnificently even by his standards (and even then he qualified this by adding that the quality was unusual due to the earliness of the round). But Harrison's lurching journey towards greatness, vitally fascinating to American fans and journalists, probably doesn't really resonate with Djokovic all that much.
The comparison to be drawn is with Federer's dismissal of Tomic in the fourth round here last year. To the Australian press and the native fans, this match was of world-historical importance. To Federer it was just another round-of-sixteen at a Major, of which he'd won over thirty in a row. Naturally he'd been aware of the hype surrounding the encounter, and afterwards he was diligent in projecting a bright future for the local boy, but in the scheme of his tournament, let alone his career, it hardly factored. I suspect his projected third-round meeting with Tomic this year is not dissimilar. The chance to play Federer doesn't come around every day for young players. On the other hand, nearly every time Federer steps on court he's faced with someone desperate to prove his mettle, and this is really no different. But it wouldn't do for him to say that. An overlooked aspect of the top four's job is the requirement continually to massage the egos of the various news outlets, especially those outlets representing nations with a proud history in the sport.
It isn't an easy job, since they invariably have to execute it best precisely when they have more important things to be doing. Djokovic should have been recovering from the match, resting, and turning his mind to his third round, but instead was obliged to linger in a windowless room and pretend he's as interested in Ryan Harrison as the American journalists are. Djokovic was naturally quizzed about Harrison's prospects, given that the youngster has for some time 'talked openly about wanting to win Grand Slams and be No. 1.' Djokovic's answer was perfectly modulated, especially when we consider that Harrison hasn't been saying these things in Serbia, but far away in the United States: 'I don't see anything wrong in having high ambitions and goals.  Why not?  I'm sure that a super majority of the players here in this Grand Slam or in the top 100, if not everybody, wants to be best in what they do.  Somebody admits it, somebody doesn't.'
Realistically, for all the talk of 'doing damage' Harrison probably wanted to see just how much nearer he'd grown to the elite players. No doubt he'd hoped he was closer than he turned out to be, which wasn't very close at all. His situation is therefore ironic, which isn't necessarily to say it is funny, though it does explain why ungenerous souls are laughing at him. He was reasonably candid about the gap between reality and his expectations in his press conference, and made all the appropriate commitments to working hard and doing the right things. He certainly didn't sound delusional, which is a depressingly common way for professional athletes to sound after suffering a consummate thrashing. (Sam Stosur often sounds that way after losing, although to her credit she was laudably blunt after yesterday's extravagant capitulation, which had bordered on performance art.)
Harrison revealed that he'd prepared for the match exhaustively, including an hour and a half spent poring over footage of his last loss to Djokovic. He'd come armed with a plan. But he was both honest and correct when he conceded that the result hadn't reflected a failure of tactical execution on his part. The problem was that the plan was predicated on the belief that he had any weapons with which to hurt the world No.1. Perhaps on a different night, against a more jaded Djokovic, he might have. But tonight, against this version, tactics were largely irrelevant. As the third set commenced with yet another masterful break to the Serbian, Jim Courier in commentary was transported to rhapsodic heights of allusion, even invoking the great philosopher Mike Tyson: everyone has a plan until he gets punched in the face.