Australian Open, Third Round
(2) Federer d. Tomic, 6/4 7/6 6/1
If the first week of a two week tennis tournament can be said to climax at all, then it climaxed tonight on Rod Laver Arena with the culmination of an eight-day story that featured no twists, few turns and little real interest. The potential third-round encounter between Bernard Tomic and Roger Federer had been noted the moment the Wayne McEwan unchained the men's draw, and led it blinking from its breeding pond. Tomic was playing well, although how well depended largely on one's esteem for Hopman Cup.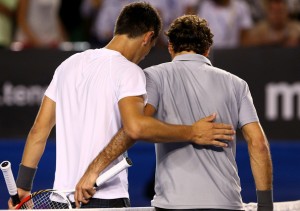 Federer, on the other hand, hadn't played at all, having been banned from Abu Dhabi's annual Champion of the Universe extravaganza due to lapsed IMG credentials. Divergent form and convergent trajectories combined to lend the potential encounter the suasive allure of destiny. It was meant to be.
Mild spice was added when Federer remarked that Tomic would have to reach the third round in order to play him. Tomic then said precisely the same thing about Federer. Rather than report these statements for what they were – disposable statements of the bleeding obvious – they were treated as the most incendiary lead-in to a sporting spectacle since the Rumble in the Jungle. When Federer and Tomic won their respective second rounds, Channel 7 ascended to an ecstasy of anticipation. Here was an opportunity to whip the viewers to a nationalist froth. Here was a chance to lure Lleyton Hewitt back into the commentary bunker. Here was a chance to show that cherished footage of the boastfully pre-teen Tomic yet again. The telecast commenced half an hour early, in order that these wonders might unfold at an appropriately tedious rate.
Channel 7's latest gimmick is an app called Fango, which aside from administering digital lobotomies on those who can least afford them, enables interested viewers to vote on issues raised by the commentary team, thereby fooling them into believing their opinions matter. The results of these polls are then displayed on screen, whereupon the commentators do their best to sound interested. Channel 7 put the question of who would win tonight's encounter to its audience, since sport results are apparently predicated on popular vote, like reality television. Still, the host sounded nonplussed when 55 per cent of the viewers who bothered to respond believed that Federer would win. It grew even more confusing when it transpired that even more of them wanted Federer to win.
Judging by the respective cheers when the players entered the stadium, a majority of those within Rod Laver Arena felt the same way. Tomic received a what sounded like a thunderous cheer, but it was easily eclipsed in volume and duration by the uproar that ushered in his opponent. The young Australian remarked afterwards that he'd sought to block out who he was playing before the match, but that it had come crashing in when Craig Willis mentioned those seventeen Majors. The swelling din that met his opponent can't have helped. You might recall the putatively deplorable scenes in the O2 Arena last November, when the crowd's slight preference for Federer over Andy Murray sent the local press into paroxysms of indignation. For all that I bemoan Australian patriotism, it seems we have a long way to fall before we can match the Mother Country. The local commentators barely felt it worth remarking on, and the reactions were less dismayed than merely surprised.
The scoreline of a tennis match rarely provides a useful guide for how it unfolded, although tonight's score at least points one in the right direction. Federer broke immediately, and dominated at the end. In the middle momentum staggered around, like that drunk lonely uncle at your sister's wedding, the one who cries onto your wife's shoulder so that he might better see down her dress. Tomic had held serve for 76 consecutive games coming into the match, stretching back to the Sydney quarterfinal, although it was worth bearing in mind that none of his opponents during that stretch were noted exponents of the returner's art (it says a lot that Andreas Seppi was easily the best of them).
Of course this detail was lost in the furious build up, and the question was posed as to how Federer might hope to manage the Tomic serve. It was a reasonable question to ask, although it was unreasonable to ask it with a straight face. In any case, it was answered immediately when Tomic won the toss, elected to serve, and was broken. The question of how Tomic might manage Federer's serve hadn't been adequately addressed by anyone, including Tomic's support team. Federer didn't face a break point until the start of the third set. Through the first set he served wide almost without relent, executing simple one-two combinations, which Tomic proved unable meaningfully to counter. The world No.2 rode his early break to the end.
The second set might well have reprised this pattern perfectly, had Federer taken any one of the early break points. In all Federer gained six such opportunities in the set, but failed to convert any, which is poor even by his standards. Tomic was unfailingly positive when facing these, but only once was Federer entirely shut out by a big serve. On most he had a play, but on few did he seek to force it. Indeed, as the second set wore on Federer seemed to give up on trying to expose Tomic's ponderous movement, and reverted to a fairly unremarkable up-and-down rallying-pattern, which in turn necessitated some often remarkable defence when Tomic gratefully seized the initiative. Tomic was bold throughout, and his forehand in particular, flat and hard, seemed to pose Federer no end of concern. You would think Federer would have played Tomic more like, say, Robin Soderling, and never allow the bigger man to set his feet, but that wasn't the case. Tomic set his feet, teed off, and Federer ran.
By the time the tiebreak arrived, and Tomic shot to an early lead, it looked very much like they were headed for a pivotal third set. Federer later admitted as much, confessing that he'd resigned himself to losing the tiebreaker having missed so many chances throughout the set. The key moment seemed to come at 4-1 to Tomic, as Federer executed yet another uncounterable wide serve-winner combination, driving the swinging volley home. The young Australian, who already used up all his regular challenges, now wasted his bonus one on a ball that had landed half a foot in, and the players changed ends. The mood had changed. The brave or deluded souls whose extravagant wagers had propelled Tomic's odds into $26 for the title probably felt it more acutely than the rest of us. It's debatable whether the 45 per cent of Fango users who backed Tomic tonight quite realised what was going on. Perhaps they still don't.
Tomic's odds lengthened rapidly once he'd fallen behind a couple of sets. The third set was about as perfunctory as you'd imagine, as Federer finally found his stride and Tomic's sure steps faltered. To his enormous credit, the Australian never once gave up, and of all the stories that survive the night, the most important one is that Tomic ultimately acquitted himself, as Hewitt would and did say constantly, 'extremely well'. Tomic had of course overstated his case by claiming that his previous opponent, Daniel Brands, had played like a top level opponent. Federer tonight demonstrated what a top level opponent really plays like, even if he was strangely reluctant to seize the initiative. But what he did illustrate, time and again, was just how difficult it is to put away a top player. If the lower-ranked player relents for a moment, the top ten player will take his chance, or at least that's how the truism runs. In reality this particular top player might take three of his sixteen chances, though these, in the end, will be enough, since on serve he'll give away almost nothing.
Federer was obliged by Jim Courier to talk almost exclusively about his opponent in the post-match interview, but the second seed didn't appear to mind. He mostly hit his marks, although he rather mangled the response when invited to compare this year's edition of Tomic with last year's. Federer was supposed to say that Tomic had improved out-of-sight, and was destined for a glorious career. He didn't. Channel 7 wasn't going to let that slide. As they crossed to the interminable Monfils- Simon match on Hisense, the host Hamish McLachlan remarked that Federer is 'one of the only men in the world who can live vicariously through himself'. Perhaps it made sense to the Fango users, but I must confess it left my brain reeling. I still don't know what it means. I half suspect it was supposed to be a compliment.
Edit: Corrected the number of break points Federer failed to take in set two. Thanks, Andrew, for that, and for the origin of the line 'one of the only men in the world who can live vicariously through himself'. That'll teach me to second guess Hamish McLachlan, who once convinced Federer to sign his shirt during an interview.