Australian Open, Day Seven
(1) Djokovic d. (15) Wawrinka, 1/6 7/5 6/4 6/7 12/10
The turning point came as Stanislas Wawrinka led 6/1 5/3 30-0, serving for a two sets to love lead over two-time defending champion, world No.1 and noted goat-cheese enthusiast Novak Djokovic. Until it turned, the match had been a sustained purple patch for the Swiss, as he clubbed the Serb's hitherto impenetrable serve into submission five times in a row. But from that moment the purple began to fade into greens and yellows. Djokovic broke back, then wrestled away the next three games and stole the set. The purple patch was clearly a bruise, and as Djokovic broke again to open the third set, it was obvious that it reached far below the skin.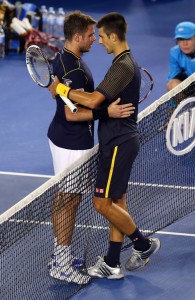 Something in Wawrinka's core had been damaged. It undoubtedly was a turning point. The miracle, however, was that it wasn't a decisive one.
The match had commenced at the weary end of an uninspiring day's play, in which every singles match in both the men's and women's draws had ended in straight sets. What resistance Kei Nishikori, Kevin Anderson and Janko Tipsarevic mustered was sporadic and inadequate, and initial hopes of a memorable fourth round were rapidly quashed, and soon forgotten. The day ticket to Rod Laver Arena had turned out to be a particularly poor investment, and those filing in for the evening session can't have fancied their prospects any better, particularly when Agnieszka Radwanska thrashed Ana Ivanovic in a one-sided match that was at least mercifully quick. Djokovic and Wawrinka were anticipated to produce the least competitive match of the lot. I'd resigned myself to it. Sometimes an early night is just the ticket, with a big week ahead.
The wonder of Wawrinka's fearsome and audacious opening was that he kept it up for so long. He went after everything, and missed nothing. Comparisons to Lukas Rosol's defeat of Rafael Nadal at Wimbledon didn't take long to surface. I didn't find them to be inappropriate, for all that some people went to great lengths to explain that such a comparison was unfair to a player of Wawrinka's stature. The comparison did not rely upon the magnitude of the potential upset, or in any equivalence between the two men. It reflected Wawrinka's commensurately reckless defiance of gravity. There was just that quality to it, as though a ball was thrown but didn't form a parabola and return to earth, but just kept hurtling upwards. Like Rosol, Wawrinka seemed to be in a trance.
The trance seemed to fissure on the very point that brought him to 30-0. He won it with a dead net cord off a backhand drive that dribbled over so flaccidly that even the freakishly spry Djokovic immediately gave up on it. Debate rages in some quarters over whether a player should apologise for dead let cord winners, in those places where people love to heatedly debate trivial matters (we collectively term this place 'the internet'). My feeling is that a gesture is simply good manners, and that it's wrong to think of it as an apology, but more as an acknowledgement to your opponent that chance played an undue role in the outcome of the point. If a player doesn't want to acknowledge that, no one is going to make them, although they'll doubtless have to endure the opprobrium typically hurled at any public lapse in manners. Either way, I think both sides of the debate would agree that whatever the player does, he should do it and move on. Wawrinka, sadly, looked almost stricken with contrition, and in his case I think the gesture he made to Djokovic was a genuine apology. From operating with crystalline purpose, he rapidly passed through disbelief at his own form – the downfall of many a stumbling journeyman, and dovetailing fatally with the certainty that it cannot continue – into the sorry state of doubting whether he deserved to be winning at all.
Djokovic long ago divested himself of such fancies. He dialled up his pace marginally, and, most crucially, stilled the flow of errors. Through the next four games he hit few winners, though the best of them was the backhand up the line to seal the set. But he knew as well as Wawrinka did that nothing more adventurous was required. Each Wawrinka error was like an act of atonement for the winners he'd presumed to inflict earlier. Had it been a clay court, he might have etched 'Sorri' into it with his toe.
The expectation from a set all and a break to the good was that Djokovic would be going on with it. However, while the Serb won the third set, Wawrinka did enough to stay close. Andy Murray discarded an easy set to Djokovic in last year's semifinal, and learned the hard way that momentum matters, even in a lost cause. You allow Djokovic a free rein at your peril: once he attains a full gallop, he becomes almost impossible to stop, and he can keep going for longer than you can believe. Wawrinka kept it close in the third, and closer still in the fourth. The match had indeed turned, but it had turned into a superb contest, delicately balanced and ferociously fought. Wawrinka sustained his endeavour through the tiebreak, beginning and concluding with two of his best shots of the night, especially the forehand that capped the savage rally on his third set point. Suddenly, somehow, it was two sets all.
Rosol's name rustled once more through Rod Laver Arena – the sibilance makes it easy to whisper – as Wawrinka initiated the fifth set with a roaring break. By this stage the Swiss was having his sturdy thighs kneaded by the trainer at every changeover, in a valiant and questionable attempt to stave off cramping. Djokovic broke straight back, and a series of tough holds followed. Then, suddenly, at 4/4 Djokovic slumped to 15-40 on serve. For the first time in over four hours, the realistic possibility of an upset took amorphous, monstrous shape in my mind. But both points were saved, then another. And then a fourth, the most controversial of the night, as a fierce Wawrinka return cleaned the baseline, only to be called out. He looked askance at umpire Enric Molina – who confirmed that it had been long – and so didn't challenge. Replays showed that it was in. It was undoubtedly a mistake on Molina's part – not to mention the linesperson – but the greater responsibility must fall to Wawrinka; the Hawkeye system exists so that players may dispute the official's opinion, not cede to it.
Had Wawrinka broken, he would have served for the match, a dicey prospect. Instead he was now obliged to serve to stay in the match, a tricky situation for a guy whose composure notoriously fractures under pressure, and whose legs had grown resistant to his bidding. The constant massages certainly helped, since Wawrinka served first after the changeover each time. The question of whether this violated the spirit of the rules is one worth posing. It probably did, but it's worth pointing out that Djokovic eventually won anyway, and that I cannot imagine anyone wanted to see so brilliant a spectacle end with Wawrinka retiring due to cramp. As it was the match continued on under life-support, but it was enough. The task of serving for survival seemed to trouble Wawrinka hardly at all, although he was helped by some uncharacteristically haggard returning from Djokovic.
Inevitably, as the score spiralled neatly upward, Rosol's name gave way to Isner's and Mahut's. Eurosport were quick off the mark, invoking the sport's longest match even as the score attained six all, and Molina bestowed additional challenges on each man. (Wawrinka added them to the pile he was uselessly hoarding.) Other broadcasters followed quickly. The games ticked by. One or the other player would occasionally claim the first point on their opponent's serve, but this never proved decisive. The key game was the last, as it often is. Djokovic limped to deuce (literally) after Wawrinka failed to convert game points. The first match point was saved with a first serve up the T. The second was as good as any in the match, Wawrinka transfigured desperate defence into extravagant offence, capped, as the clock cleared five hours, with his final backhand winner of the night. Game points tarried and fled, as did a handful of deuces. The match ended on the third match point, fittingly with a superb all-court rally; desperate, courageous and scrambling from both, and concluding with a perfect crosscourt Djokovic backhand pass, and Wawrinka on his knees.
The two men embraced at the net, and Djokovic recreated his victory celebration from last year's final almost gesture-for-gesture, as the Steadycam operator swooped in obligingly. He has changed clothing sponsors in the interim, but the shirts supplied by Uniqlo seem no sturdier than Sergio Tacchini's when Djokovic is intent on shredding them. Wawrinka gathered up his unrent gear numbly, briefly turning to acknowledge the endless cheers of a crowd that had, against the odds, obtained exceptional value for the cost of their tickets. Djokovic was clapping too as his opponent departed the arena, tears spilling over.
It was the equal of any match I've seen at the Australian Open, up there with Nadal and Verdasco's 2009 semifinal, and Roddick and El Aynaoui's 2003 quarterfinal. If it doesn't end up as match of the year, then we are either in for a truly stellar season, or there's no justice. What it will mean for either player is an interesting question, one that in Djokovic's case will be answered tomorrow as he faces Tomas Berdych in the quarterfinals. The world No.1 has long since proved his capacity to recover from marathons, and I cannot imagine that Berdych's passage has grown one whit easier.
As for Wawrinka, time will tell if this was his master's piece or merely a masterpiece. If he can reproduce and sustain this form, then a return to the top ten is frankly too modest a goal. Of course, that 'if' in the previous sentence isn't the biggest word, but it is the one around which the future pivots. Anyway, it is an issue for another day. What matters is that he played like this once, last evening and into the morning, and in doing so combined with Novak Djokovic to produce an ideal advertisement for the sport, by providing a species of elevated drama that can be found nowhere else. Not only that, they completely ruined my plans for an early night.