It's that time again. The Australian Open is here. It is difficult to believe that anyone found their way onto a men's tennis website without being aware of that fact. Certainly no Melburnian with a television could realistically plead ignorance.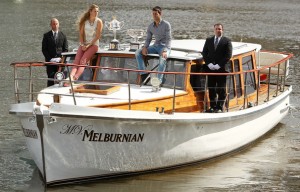 The signs are everywhere; around us, above us and drizzling down, darkening our clothes. We're saturated.
Associate sponsor Jacob's Creek, manufacturer of aspirant wines, has convinced Andre Agassi to reprise his advertising role from last year, which was to deliver trite faff at the pace of a crippled snail. Apparently the snail's condition has since worsened, so this year they've dialled back the intensity still further. Agassi's tone has grown somehow more portentous and somnolent, and his material even weaker. One ad consists of an extended comparison between tennis and boxing. Extended temporally that is, since it is as light on substance as it is glacial in delivery. Towards the end Gil Reyes appears, looking surprisingly old. Then I realised Reyes had probably spent the whole day watching the ad being filmed. I can feel myself age just seeing the finished product.
Meanwhile in the real world, unwary Melbourne shoppers stumbled across Lleyton Hewitt launching some new duds from his signature clothing line, that signature being the phrase 'Cmon' and a stylised version of the 'Vicht' salute he trademarked some years ago, unbeknownst to the gesture's creator. The hope, presumably, is that there's a hitherto untapped market of people who want to dress more like him, rather than less. Judging by the endless line snaking away from his table, the market is vast, and the hope well-founded. Hewitt, as ever, was exceptionally patient with those for whom dressing like their hero could only be topped by having him inscribe his name on them.
Nearby at Federation Square a vast blue Australian Open banner proclaims 'Ready? Play'. This is the tournament's motto, and a testament to how much marketing types love taking an innocuous phrase from whatever they're selling, and injecting it with another meaning, or in this case the same meaning. This campaign has marketing guy fingerprints all over it. It also has Nadal, Stosur, Federer, Serena Williams and Djokovic all over it. They weren't to know Nadal wouldn't be around. Based on history, they probably don't anticipate Stosur will be around for long, either. The others look like safer bets. Federer looks especially comfortable adorning Fed Square.
Beyond the banner, on the very stage upon which Andy Roddick last year unleashed his mohawk, Bruce McAveney and Craig Tiley this morning entertained the assembled media with their new, revised version of Waiting for Godot. The revisions were apparently informed by the belief that Beckett's original was overly short and too eventful, and that the urge to top oneself should extend to the audience, if only from boredom. It also proved to be a radical departure in that Godot eventually turned up, and that there were two of him, one of whom was a woman. These twin roles were successfully incarnated by Victoria Azarenka and Novak Djokovic. Apparently they had to arrive before the Australian Open draw could get under way, although why this might be so was never made clear.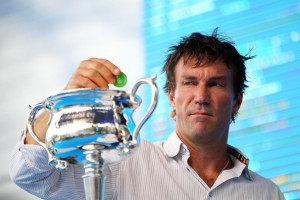 After a few minutes of forgettable badinage, they yielded the stage to Pat Cash, and were never heard from again. Does that mean Cash was really Godot? We were really waiting for him? Was the ending a twist? Everyone looked confused. Oh yes, the Australian Open has definitely begun.
Attentive readers will be aware that an imminent Major necessitates a new (fourth) edition of my seminal work: Bracketology, the Reading of Draws, and Why Men Have to Sleep Around. For those who are new, or who are old but inattentive, Bracketology is an indispensable text that combines the latest developments in evolutionary psychology and draw analysis with the kind of lavish illustrations that might be deemed pornographic in a smaller tome with a less ponderous title. As it is, Bracketology is still unobtainable in those American states that hold human genitalia to be more offensive than a gunshot wound, which seems to be most of them. Beyond these benighted regions, however, there is broad consensus that Bracketology provides the most comprehensive set of tools with which to analyse a tennis tournament's draw while staying faithful to the central aim of evolutionary psychology, which is to justify married men sowing their oats.
The analysis of a tennis draw is broken up into five stages, which pre-date written history:
Stage 1: Exultant Righteousness
The aim of this initial stage is to ascertain where the top seeds fall, in order that those given to elaborate conspiracy theories might successfully work themselves into a rich lather. The erstwhile assumption that Federer and Djokovic would always be drawn in the same half has by necessity lately given way to the assumption that Federer will draw Andy Murray in his half, leaving Djokovic with David Ferrer. (Everyone has given up pretending that the Spaniard isn't a far more benign prospect than the Scot, especially since the betting markets have Murray at shorter odds than Federer.) In any case, confirmation of this configuration enables the smug pundit to confirm that the draw has indeed been rigged, thereby releasing a potent cocktail of endorphins.
I can confirm that Federer has indeed drawn Murray, and that the furtive conspiracy nuts are now foaming with orgasmic self-satisfaction. Try to extirpate that image from your head.
Stage 2: Indignation
The goal now is to survey the rest of the draw, in order to ensure that your favourite player has the most difficult draw possible, and can thereby be accorded the treasured status of underdog. If, on the other hand, your favourite player has a regrettably easy draw, then you must work tirelessly and noisily to demonstrate to everyone unfortunate to be nearby that every upcoming molehill is in fact the Matterhorn. It is permissible at this stage to dismiss anyone who disagrees with you as a 'hater'. This is the internet, after all, and remaining reasonable gets you nowhere.
For what it's worth, I'd say Federer has the toughest early rounds, although I can't see that any of them are tough enough to stop him reaching a thirty-fifth straight Major quarterfinal. Meanwhile Murray has the most imposing quarterfinal opponent in Juan Martin del Potro (given that Tomas Berdych has displayed indifferent form, as has Jo-Wilfried Tsonga's hamstring). Make of that what you will.
Stage 3: Curiosity and Peckishness
This is where the knowledgeable fan begins to wonder aloud at the fortunes of those players who've opted to be ranked beyond the top ten. I note that Mikhail Youzhny has drawn Matt Ebden first up. This is not only eminently winnable for the Russian, but ensures him a showcourt. There is a dense concentration of wildcards in the draw's bottom half. James Duckworth and Ben Mitchell will face each other for the chance at a very generous second round against either Blaz Kavcic or Thomaz Bellucci. Gael Monfils was a trifle unlucky to draw Alex Dolgopolov, but probably more lucky he didn't draw anyone better. David Goffin will fancy his chances against Fernando Verdasco, while Jerzy Janowicz has been given every opportunity to get his bandwagon rolling again, after it unaccountably stalled in Auckland.
Stage 4: Sleepiness
The flagging draw analyst is now faced with the choice of teasing out the best early round match-ups, or of taking a nap. Sleep is certainly tempting, since this year's first round is dismally short on enticing matches. But forging on, I'd say the best of them are Hewitt v Tipsarevic, Monfils v Dolgopolov, Dimitrov v Benneteau, Harrison v Giraldo, Goffin v Verdasco and Haas v Nieminen. Sijsling and Istomin might put on a decent show, somewhere in the outer. Federer v Paire will be enjoyable, but based on their recent match in Basel I cannot imagine it being close. Murray will be even more curious than me to see which version of Haase turns up.
Stage 5: Boredom
The days between the release of the draw and the beginning of the tournament provide adequate time and space for self-reflection, and hopefully for the realisation to sink in that none of this will matter very much once the tournament actually gets under way. Then again, it's not likely: best not gaze into that abyss. And so instead we wait, breath slow, eyes lidded, hands idle. There's nothing to be done. Godot just phoned: his riverboat is running late, but he'll be here shortly. Then we'll be saved.
The full draw is available here.
The full performance of the revised Waiting for Godot is viewable here.