Now that Bernard Tomic has attained twenty years of age – a milestone that was as restrained in its celebration as it was devoid of homoeroticism – there are once again no teenagers ranked within the ATP's top one hundred, a shortcoming that has proved quite popular in recent times.
Indeed besides Tomic there is only one twenty-year-old, although he doesn't share the Australian's penchant for canary yellow Ferraris.
Leaving one's taste in garish sports cars to the side, this remains a serious problem. The age at which a player first ascends to the top hundred correlates strongly to their future success. As this article by Jeff Sackmann reveals, of the 25 players who broke into the top hundred between 2001 and 2011, 20 went on to reach the top twenty, while 17 reached the top ten. Of course attaining the top hundred so young is no guarantee that you'll one day reach No.1, but failing to do so makes it all but certain that you won't. Of all the No.1 players since the rankings began, only Patrick Rafter didn't reach the top hundred before his twentieth birthday, which explains why the party was a decidedly glum affair at which he refrained from stripping off and wrestling his mates. It's enough to make one wonder where the next top players are actually going to come from, or if they've even left the Juniors (there are some especially promising prospects in the class of '96).
In the meantime I'll confine my gaze to the youths who've already ensconced themselves in the top hundred. Given that an article summarising only Tomic and Ryan Harrison would be either too short or provide me with too much space in which to poke fun at them, I'll expand the selection to those young men who are old enough to purchase alcohol in the United States. I can justify this by saying that in the current climate twenty-one still looks very young. In David Goffin's case it looks downright embryonic. But it is still a largely arbitrary restriction, and I don't mean to imply that the most notable twenty-two-year-olds – Jerzy Janowicz, Guido Pella and Evgeny Donsky – aren't worth discussing. The number in brackets is each player's ranking at the start of the season.
Milos Raonic
Current Ranking: 13 (31)
Milos Raonic barely qualifies for inclusion in this survey insofar as his birthday falls only two days after Jesus', which will thereby propel him to the advanced age of twenty-two before the year is quite spent.
He also stands out from this crowd for his tangible accomplishments, and for the way that in discussing him one isn't obliged to deploy a term like 'potential', let alone precede it with 'wasted'. This season he compiled a respectable 8-8 record against opponents ranked above him, and 37-12 against those below.
He has already won three tour titles, including two this year, reached several finals at 500 level, and beaten various top ten players, including a hobbled Andy Murray in Barcelona and a perfectly fine Murray in Tokyo. He saw off Tomas Berdych on a fast hardcourt, and Nicolas Almagro on clay. He also faced Roger Federer three times on three different surfaces, and on each occasion acquitted himself well in a narrow three-set defeat. There was also that marathon loss to Jo-Wilfried Tsonga at the Olympics, 23/25 in the final set.
His strengths and weakness are easily grasped. His impenetrable serve is ably supported by a commensurate forehand, and he generally remains undaunted under pressure. On the other hand his movement is poor, his backhand can't do the things he tries to make it do, and his returning is of a standard that makes tiebreaks feel inevitable. More subtly, I suspect he still hasn't quite worked out how to prepare for really big occasions in a really big venue. But he will. On the other hand, he won't convince me that anyone besides the French should wear Lacoste.
David Goffin
Current Ranking: 46 (174)
David Goffin has been kicking around for a couple of years, but it was during his excellent run to the fourth round at this year's Roland Garros that he established a broader appeal, first as he ended the career of Arnaud Clement, and then as he pushed Federer to four sets. While this provided Federer's innumerable fans with a measure of unwelcome anxiety – traditionally grounds for excommunication – all was forgiven when Goffin professed himself to be among his opponent's more ardent admirers, which earned him a hug at the net.
Although Goffin went 17-14 at ATP level, including a win over John Isner en route to the Valencia quarterfinals, he compiled a fairly healthy 44-25 record across all levels, including a pair of Challenger titles in Le Gosier and Orleans over a strong field. His game is built around light feet and great hands, offset by tremendously fine bone structure and a hairstyle straight out of That '70s Show, or contemporary Belgium. He rose almost 130 places over the course of this season, and it's a reasonably secure bet that he'll rise higher yet.
Grigor Dimitrov
Current Ranking: 48 (76)
Grigor Dimitrov remains tantalisingly close to a definitive breakthrough, as he has for several years now, although he continues to defy expectations that it will ever come all in one go. His biggest win this year came over Berdych in Miami, although he'd already acquitted himself well in Melbourne, taking Almagro to five sets. There was also that savage drubbing of Mardy Fish at the Hopman Cup, a few highly entertaining wins over Kevin Anderson in England, and over Julien Benneteau indoors. His best result came at Queens, where he fell in the semifinal to David Nalbandian in abhorrent conditions (and luckily before the blood rage took hold of the Argentine). He also reached the quarterfinals in Basel in fine style, especially in his straight sets victory over Viktor Troicki, which featured the officially endorsed shot of the year.
A blessed side-effect of Dimitrov's more regular appearances at the business end of tournaments is that we're increasingly spared the unrelenting comparisons to Federer. Apparently even commentators can tire of saying the same thing over and over. I'm as surprised as you are.
It feels like Dimitrov now succeeds or fails more or less on his own merits, and references to 'Baby Federer' sound jarring and extraneous.
Bernard Tomic
Current Ranking: 52 (42)
It was always a long shot that Tomic would replicate his results from 2011, though there nonetheless remained a measured hope that he might compensate by playing well elsewhere, or at least by displaying some evidence of progress. What was a surprise was the extent to which his game stagnated, and how desultory he grew once the results ceased to flow. After January he did not beat a player ranked above him (0-14), and he is the only player on this list whose ranking failed to improve.
There was also confirmation of something many had suspected, which is that for all his undeniable talent, and immense racquet skills, his game will only trouble good players when they're having an off day, and that the very top players would need to suffer a catastrophic day indeed, which by definition they almost never do. There has been endless talk about his poor application in New York and Shanghai, as well as his more spirited efforts in Gold Coast rooftop spas, but for me the definitive moment came in Miami when he faced David Ferrer. Given the gap in experience between the two men, there was no shame in it being a mismatch. But the gap between them was a chasm, and it wasn't clear how Tomic might ever hope to bridge it.
Ryan Harrison
Current Ranking: 69 (79)
The first time I watched Ryan Harrison this year was from close range as he lost a practice set to Alex Bogomolov Jr the day before the Australian Open commenced. I next saw him the following afternoon as he wrenched a tough set from Murray in crippling heat, and looked for all the world like a different player, not merely from 2011 but from the day before.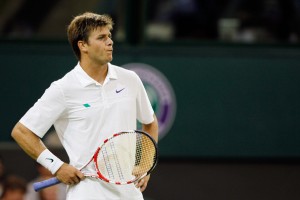 There was a maturity and boldness to his play that left everyone present in no doubt that he might have contrived a longer stay in Melbourne, had he only chosen his first-round opponent more wisely.
It would be unfair to say that the remainder of Harrison's season was entirely disappointing, although it mostly was. Those of his fans with whom I'm personally acquainted have permitted their disappointment ample expression. Still, he reached three tour semifinals, although none occurred at an especially noteworthy event (San Jose, Eastbourne and Newport). More impressive was his run to the last sixteen in Indian Wells. All the same, Eastbourne forced him into the top fifty, while Newport pushed him to No.43, his highest ranking. Since then, however, he only won two matches, and they weren't consecutive. Interestingly, Harrison's overall record for the season stands at 23-25, but he is only 6-20 against players ranked higher than him, and 17-5 against those ranked lower. This suggests that, for now, his ranking looks about right.
He once insisted with special vehemence that he really hates to lose, with an earnestness that implied he'd invented the sentiment, as though no one had ever felt that strongly about it ever before. In other words, he sounded like a teenager. He has hopefully spent a year learning that the other guys don't enjoy losing any more than he does, and that those passions he'd assumed were unique are common. That's what growing up is.
Evgeny Kuznetsov
Current Ranking: 78 (222)
This time last year Evgeny Kuznetsov didn't attempt to qualify for the Australian Open, instead confining himself to Futures events in Russia and Egypt  two of which he won. This time round he will gain a comfortable direct entry into the year's first major. This is despite compiling a 2-5 record on the main tour (with both wins coming against lower-ranked opponents in Umag), and owing entirely to an outstanding season on the Challenger circuit. In all he won four Challenger events, for a record of 42-13 at that level. After winning three in a row in September, he steeled himself for an actual ATP tournament in Moscow, and promptly lost in the first round. It was a similar story at both Roland Garros and Wimbledon, where he fought through qualifying only to exit in the first round, although I can well recall how desperately contested the loss to Florent Serra in London was.
I have to wonder just long he can maintain a ranking of No.78 without starting to compile results on the main tour. We saw a similar story play out with Cedrik-Marcel Stebe, who roared into the top hundred after winning the Challenger finals last year, but subsequently found the transition to the main tour overwhelming, and then fitfully subsided.