Last year there were ten players (all men) who claimed their maiden titles on the ATP Tour, although history remains coy about what indignities they visited upon them after that. This year, in an outcome doubtless endorsed by immortal Scotsmen with suspiciously Continental accents, there has been only one. Ten to one is a precipitous drop, and as ever the temptation is not inconsequential to tease out an explanation.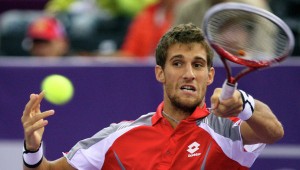 I'm certainly open to hearing one, especially if it hinges up a wild conspiracy, includes Sean Connery as an even less convincing Spaniard than Russel Crowe, and features a soundtrack by Queen.
Before I launch myself into a full-blown rhapsody on a theme of Highlander – ignoring the fact that this season's sole first-timer Martin Klizan hails from a part of Slovakia frustratingly near sea-level – I should indulge in some marginally more sane musings. If nothing else, it's worth mentioning that there were five first-time winners in 2010, and at the time this felt about right. Extending that, I can say that last year's ten felt like over-abundance – one handful too many. The paucity of new champions this season can be considered a correction of sorts. Next year we'll have five, mark my words.
It's also interesting to note what occurred this year at the tournaments that last year produced a first time winner. In three of the cases, the person who won their first title in 2011 came back to defend it, which piques my interest more than winning it in the first place did. For the record these events were San Jose (Milos Raonic), Kitzbühel (Robin Haase) and Casablanca (Pablo Andujar). In the case of Haase and Andujar these remain their only successful venues, while Raonic added Chennai back in January. Again, I can't think of a good reason why this should be so, besides the well-worn idea that returning to the scene of your initial triumph is inspiring enough to propel you across the line again. (But if that's true, then why doesn't it happen more often? And when it does happen, how does it ever stop?)
Among last year's fistfuls of first-timers were Janko Tipsarevic and Florian Mayer, both of whom had achieved a modest portion of notoriety as the best players yet to win a title. There are worse things to be best at, and less savoury ways to be notorious. Given this, it was always a dicey proposition whether either man would trade their fame for the cheap quick thrill of claiming an actual tournament. Garish trophies are lovely, and the pay-checks are obviously superior, but the mantle of the premier also-ran can be worn for ever. Sadly, Tipsarevic and Mayer took the quick gratification. They were the best players who hadn't won a title. Now they're just a couple more dudes who have. Ho hum.
Their mantles currently weigh down the able shoulders of Julien Benneteau, for whom 2012 proved to be a career year in this as well as so many other respects. This is the fifth consecutive season in which he has finished runner-up in an event, without winning any. Not only that, he did it twice this year – Sydney and Kuala Lumpur – his best such showing since 2008. Benneteau is now a tour-leading 0-7 in finals, a statistic that only grows more impressive when we consider that he hasn't managed it twice at the same event, and that he has failed to win titles across a variety of surfaces. That suggests a calibre of versatility and persistence second to, well, many. Benneteau will soon turn 31 (significantly his birthday is three days after Beethoven's and five days before Jesus')  and there is every chance that he'll be wearing that mantle forever. In his dotage it can be refashioned into a rather fetching knee-rug. It might calm his fevered bones as he reflects on the time he couldn't beat Jarkko Nieminen in Sydney, or the time he did beat Roger Federer in Bercy, but didn't at Wimbledon.
Nonetheless, at No.35 in the world Benneteau isn't the highest ranked man without a title. That honour currently falls to Jerzy Janowicz at No.26. However, Janowicz's ranking is brand-new, and heavily based on that audacious run to the Paris Indoors final a few weeks ago. He hasn't been around long enough to generate crippling expectations, or to develop a passion for nude spa-wrestling. He still has that new player aroma – car dealerships sell it in aerosol cans – and it'll be a few months before the internet learns to be disappointed in him. But Brian Baker can attest that the online community is nothing if not infinitely resourceful in its disapproval, and nothing at all like a community. Give it time.
The one man who did claim a maiden title in 2012 was Martin Klizan, who is also the first (lowland) Slovakian to do so since Dominik Hrbaty in 2004. Despite a patch of career-best form extending back to July – he knocked Tsonga out of New York on the way to the fourth round – Klizan had no real business taking the St Petersburg title given the effort he'd expended in the rather astonishing semifinal the day before, in which he eventually saw off Mikhail Youzhny over almost four hours.†
But in the final he encountered the equally title-less Fabio Fognini, who has never been one to permit a clear incentive to work hard get in the way of his preference not to. To be fair, Klizan seemed less exhausted than he afterwards claimed to be, although given that the match barely exceeded an hour it was hard to tell. The decisive shot was Klizan's forehand, which he hits with the left hand (this is normal for left-handers), and which he kept hitting past Fognini, which failed to lighten the Italian's mood. There could be only one, and it turned out Klizan was it.
† If I was inclined to redo my Match of the Post list, I'd be tempted to find room for this match, and not merely because it featured Youzhny.