I must confess I was late in learning to appreciate Juan Carlos Ferrero. I probably only really came to admire him in his career's long twilight, as a potent combination of injury, illness and a changing game lent the sun-washed years of his youth a sepia-tint. 'The days of our youth are the days of our glory' wrote Byron, somewhere between Florence and Pisa. But it took a while for me to appreciate the heroism of Ferrero's quiet toil once his youth was cut short. Eight years is long time in the life cycle of any professional tennis player.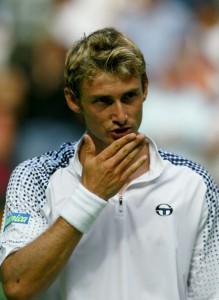 But for Ferrero it was the distance from dethroning Gustavo Kuerten in the Rome final, to failing to qualify for the same event. It was an eternity, and the days of glory must have felt terribly remote indeed.
For his fans it was an eternity of heartbreak, but the man himself hardly ever complained. Initially, as he tore up the rankings, he had nothing much to complain about, and I hardly saw him as Byroneseque. I found it easier to cast him as the villain, and I don't mind admitting that the manner and regularity with which he dispatched my favourite players worried me. Nonetheless, the seeds of sympathy were sown early, the year before he rose to the No.1 ranking, even if they only flowered years later.
The first time I really noticed Ferrero was in a jazz club in Hanoi's French Quarter in the year 2000, which I mostly mention in order to establish my credentials as an intrepid global traveller, and to invest the scene with a little millennial flair. I hasten to add that Ferrero himself was not actually present in the jazz club. (I'm not sure he even likes jazz, and at the time I was having a hard time deciding whether I did.) However, there was a miniature version of him darting about inside the establishment's dismally small television. Given the era and the region, this was a cheap CRT model of local provenance and unfaithful colour-reproduction. The sky above Ferrero was greenish. Squinting through a thickening haze wrought by cigarettes, finely-honed trumpet solos and criminally cheap Long Island Iced Teas, I watched the tiny figure of the young Spaniard push an equally diminished Kuerten to five sets in the semifinals at Roland Garros, which had apparently been relocated to a toxic dump in Lilliput.
This was Ferrero's debut at the event, which has since returned to Paris. Indeed, he'd only contested his first full scale tour event the year before. A few months after that he'd contested his fifth, and won it. Now he was in the last four in Paris, giving the tournament's pre-ordained winner all he could handle. Rafael Nadal would of course win the French Open on debut five years later, one of the many ways in which he would eclipse his senior compatriot's achievements, but at the time the tennis world was rightly impressed. I would have been more impressed had I liked Kuerten less. As it was, I was anxious.
Even miniaturised, Ferrero posed a clear threat to my favourites, who in addition to Kuerten consisted of Pat Rafter and Pete Sampras. As far as I could tell, Ferrero had no real weakness. He was exceptionally nimble, boasted a tremendous forehand, a backhand that clearly wouldn't break down, and a perfectly serviceable serve, especially the one up the T to the deuce court. Every shot was technically flawless, and it was hard to see what aspect of his game an enterprising opponent might hope to expose or molest. He was so smooth that even his errors looked deliberate, and he always appeared in control, even if the stats revealed he wasn't. He lost that day, but I had trouble seeing how anyone could reliably beat him. Months later in Paris, this time indoors, Marat Safin proved that Ferrero could be hit through given a sufficiently slick court, but Safin could do that to anyone anywhere, especially that year. 2000 was Ferrero's second full year on tour, and he ended it ranked No.12. Then he personally and comfortably defeated Australia to secure Spain's first ever Davis Cup title. These were the kind of things that twenty-year-olds accomplished back then, assuming they were as able as Ferrero.
Looking back, it was astonishing how quickly Ferrero insinuated himself among the elite. Suddenly, it was as though he was just there. (Seven years later I watched Novak Djokovic work a similar trick, and with a similarly impeccable technique, at least until Todd Martin so masterfully sabotaged his serve.) Kuerten and Safin ruled the rankings, while Sampras and Andre Agassi remained imposing. But if the former pair stumbled, or the later pair faded, Ferrero and Lleyton Hewitt were the next logical prospects, and the Australian's forehand was a liability. Ferrero, I predicted, would before long rule the sport. I wasn't pleased at this.
Ferrero's dominion didn't seem too far off when he actually beat Kuerten in the 2001 Rome final, again over five sets. Notwithstanding his inexplicable intervening loss to Albert Portas in Hamburg, it was clear to me that Ferrero would be the least surmountable obstacle to Kuerten's French Open defence. History shows that Michael Russel ultimately provided a sterner challenge than Ferrero did, but the Spaniard's straight sets loss in the semifinals did little to dampen expectations, even if, in hindsight, it did reveal a tendency for him to wilt when those expectations were highest. Still, two semifinals from two appearances: nothing in the sport was more certain than Ferrero one day winning a lot of French Opens. It was kismet.
Then Kuerten and Safin did stumble, thanks to their hip and brain respectively. Hewitt filled the breach, Sampras faded, though Agassi remained as good as ever. Ferrero percolated upwards, growing faster, smarter and more powerful. Whenever he won he looked unbeatable. Curiously, he looked equally infallible when he lost, which is to say that most of his losses felt like upsets, even though there were plenty of them. Everyone lost more back then. He reached the semifinals of the Masters Cup that year. The next year he reached the finals of the French Open. In the final Ferrero faced a seasoned clay-courter in Albert Costa, but he was still the overwhelming favourite. Kuerten had succumbed to the surgeon's knife, Rafter had retired, and Sampras was all but spent. Only Costa stood between Ferrero and global domination.
Unbelievably, the moment suffocated the young Spaniard, abetted by a malingering foot injury. Costa romped through in four. Again I was watching on a tiny, old television, but this time it was a cold night in Melbourne, and the haze was due to exhaustion. Suddenly the certainty of Ferrero claiming the French Open and pounding world tennis beneath his dancing feet looked less certain. He looked forlorn and fallible, even as he lost, but especially afterwards as the silverware was doled out. Suddenly he seemed young, and small, and human, and suddenly I felt a pang of sympathy.
A year later, in 2003, he did win the French Open, and after reaching the final in the US Open a few months later ascended to No.1, as had been long foretold. He won the Madrid Masters, on indoor hardcourt, proving himself worthy of his top ranking. But by then I was no longer concerned. In fact, I don't recall that I minded at all. Perhaps it was because so many of my favourite players had disappeared into retirement or the wilderness, but I could now appreciate Juan Carlos Ferrero for the gracious and accomplished young man he was, one who ill-deserved the hard road ahead, the road that stretched from Rome to Rome, but left glory behind.