Hamburg, 2001, Final
(Q) Portas d. (8) Ferrero, 4/6 6/2 0/6 7/6 7/5
There is a reasonable case to be made that Albert Portas' victory at the 2001 Hamburg Masters constituted the decade's most unexpected result, while the ATP's later decision to deprive the tournament of Masters status was its biggest shame. Eleven short years ago, it was, unquestionably, a different era. For one thing, Germany had not one, but two Masters events:  Hamburg on slow, low clay, and a slick indoor event in Stuttgart whose relocation I cannot recall lamenting when it moved to Madrid. For another, Masters titles were occasionally won by players ranked outside the top four. Very rarely they were won by Qualifiers. I realise this is hard to believe: there are now children speaking in complete sentences who were not alive the last time that happened.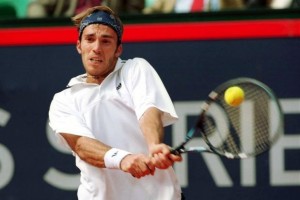 They stare at me with frank disbelief when I outline the magnitude of Portas' achievement, even as their parents hurriedly gather them up and explain why they must leave the park early.
In May 2001 Portas was 27 years old and had never won a tour-level title. A prestigious Masters event was a fairly outstanding way to start, and, as it turned out, finish. Hamburg was also his last title. His audacious title run was therefore categorically unlike, say, Goran Ivanisevic's as a wildcard a few weeks later at Wimbledon. Portas was a respectable tour player, and finished seven straight years in the top 100, but he'd never been enough of an also-ran to be considered a has-been. Upon claiming the Hamburg shield he lost in the first round in St. Poelten, and then fell in straight sets to the renowned claycourter Greg Rusedski first up at Roland Garros. He would follow this up by failing to win a match on grass. Indeed, he didn't win another match at Masters level until Monte Carlo 2003. This should give you some sense that Portas was far more practiced at losing handfuls of matches than winning them.
Nor were the six main draw matches Portas won in Hamburg in 2001 against minnows. By no means had the draw collapsed. He beat Magnus Norman in the second round, who was still ranked in the top ten, although the Swede was already afflicted by the hip injury that would curtail his career. Next he saw off Sebastien Grosjean, in what was the Frenchman's breakout year (he would go on to reach the French Open semifinals weeks later and would end the season ranked No.7). In the quarterfinals Portas dispatched a handy dirtballer in Alberto Martin, and then beat the ascendant Lleyton Hewitt – who was bound for No.1 – in the semifinals, despite failing to save a single break point.
This sequence seemed all the more improbable once it became clear that Portas' arsenal lacked any notable ordnance besides the drop shot, which he deployed with a relentlessness that was almost comical, but somehow no less effective for that.
In the final he defeated Juan Carlos Ferrero, arguably the most daunting task in tennis at that particular moment. Ferrero had overrun the reigning world No.1 Gustavo Kuerten in a five set classic in the Rome final some weeks earlier (there used to be a week's gap between the two events), and Carlos Moya in a monumental four hour tussle in Barcelona a few weeks before that. (Very young readers loitering in public play areas are often startled to learn that best of five set finals were once the norm. Hamburg was indirectly instrumental in ruining that for everyone. This occurred in 2006, after Rafael Nadal and Roger Federer thoroughly wrecked each other in Rome, and showed no inclination to front up in Germany the following morning. In their absence Tommy Robredo claimed the event, forcing the ATP to take appropriate measures to ensure that would never happen again. It worked: Federer and Nadal contested the next two Hamburg finals, and Robredo didn't.) Ferrero was consequently on a 16 match winning streak. I suppose the case could be made that he was tired, and Portas afterwards conceded that fatigue had indeed been a factor in the fifth set. So did Ferrero, who added an abductor strain for good measure. The fifth set was hell.
The fourth set was the key, however. After splitting the first two sets, Portas lost nine straight games to fall down 0/3 in the fourth. It looked like it would be one of those straight sets wins with a hiccup. Portas later admitted that he'd been mainly determined to avoid exiting with a double bagel. For his part, Ferrero confessed afterwards that he'd grown complacent at this moment, and assumed the title was already his. But then Portas held, and then he broke back. The Rothenbaum crowd grew thunderous, and most of them seemed to be for the older Spaniard. A small portion of them were especially rambunctious for Portas, and Ferrero began to remonstrate testily with them, further fissuring his concentration. Portas eventually took the fourth in a tiebreak, regularly catching his opponent (and viewers) off guard by playing shots other than drop shots.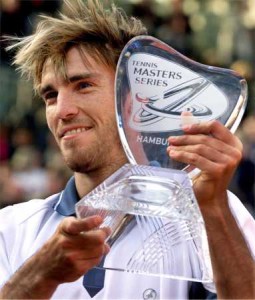 Ferrero's footspeed was already legendary, and he managed to run down a number of the actual drop shots, but, as the fifth set got underway he become increasingly timid in dealing with them, allowing Portas endless opportunities to pass, although he seemed disappointed to discover this required normal groundstrokes.
The standard – to be frank – plummeted in the fifth set. This final was not great because the quality of play was stratospheric, but because it amply compensated with drama. They muddled their way to 5/6, with Ferrero serving for the tiebreaker. Portas had already come within two points of the title, and looked terrified, with good reason. And yet, his nerve remained steady, as did his arm. He opened with yet another drop shot winner, arguably his finest of the afternoon. Even after three and a half hours, it was still good enough to elicit a shocked gasp from the commentators (in this footage it is the inimitable Frew McMillan). Somehow Ferrero still wasn't picking them. It was scrambling, it was tense. It wasn't especially good, but it was scrambling and tense. And then Ferrero, the model of consistency through the entire clay season, faltered on the second championship point, and pushed a final weary backhand wide. Portas collapsed on his back. It was the best day of his life. In the press conference afterwards the moderator announced him as the 'Drop Shot Dragon', which stuck, as clumsy nicknames have a habit of doing.
I congratulated the Drop Shot Dragon in person for his achievement at the Australian Open the following year. He was seated amongst a group of Spanish players, watching (I think) Albert Costa on Show Court One, which was later renamed Margaret Court Arena Stadium Venue, presumably by a committee with a sense of humour. I told him that I'd very much enjoyed his Hamburg triumph. Perhaps it was the word 'triumph', or perhaps it was the crowd noise, or that fact that there were about four people separating us, but he couldn't quite make out what it was I was trying to say. He turned to his neighbour for help. It was Juan Carlos Ferrero. To his credit, Ferrero graciously conveyed my best wishes. It wasn't the best day of my life.