World Tour Finals, Days One and Two
There is a certain satisfaction to be had when when things more or less turn out the way we said they would, and reality graciously yields to our preferred take on it. This is especially the case for those who essay predictions on professional sports. For the gambler this satisfaction translates into cash rewards. For the fan whose favourite has won this satisfaction can endure for some time, especially if the prediction was bold and the occasion significant, in some cases producing enough goodwill to drown a guinea pig. But for anyone purporting to write about sports, the satisfaction is more ephemeral, and rapidly subsumed by the realisation that your task has only grown harder. Put candidly, it's always simpler to be amusing about upsets and disasters, and the more extravagant they are, the easier it becomes. In all fields, cock-ups make for great copy.
All of which fails to bring me to the World Tour [Barclays] Finals, currently playing at London's O2 Arena. So far there have been four matches completed, and not one of them was an upset. Even the two that were close had been anticipated as such.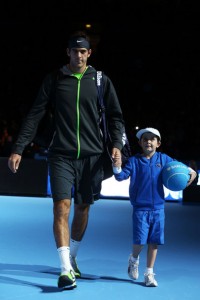 In most pundit's minds today's second match between David Ferrer and Juan Martin del Potro had probably seemed the least certain. I'll therefore start with that one, for no better reason than this being the point at which this paragraph has arrived, and I have to start somewhere. You'd probably be surprised how often that is the case. I'll try to invent a better justification for this later.
(4) Ferrer d. (6) del Potro, 6/3 3/6 6/4
Notwithstanding del Potro's pronounced advantages as a tennis player – or in brain-melting Roger Rasheed parlance, his 'upsides' – in hindsight it's tricky to justify why his first match with Ferrer was considered so dicey. (I'm not excusing myself from this.) The Spaniard is ranked higher, has won considerably more matches and tournaments each year, and was riding a winning-streak of ten matches, having secured his first Masters title in Paris just two days ago, and Valencia the week before that. He has also defeated the Argentinean three times in a row, across clay, grass and hard courts. On the other hand, he just secured his first Masters title in Paris just two days ago, and Valencia the week before that. Surely even his mighty legs must liquefy at some point.
But that in itself seems an ironic presumption, since Ferrer's transcendent fitness and determination are the only qualities he earns universal respect for (as well as his hair). His supreme conditioning is a given. I suspect, beyond the nebulous belief that he must be weary lurks the tacit assumption that del Potro is a fundamentally superior tennis player, and that he should be beating Ferrer.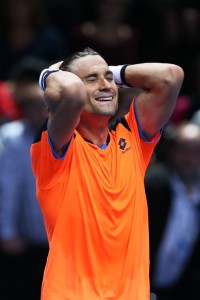 It's an assumption buttressed by a Major title, and an earth-rending forehand, and a recent victory over Roger Federer. But it is not an assumption necessarily grounded in the reality of the match-up, and it's certainly not an assumption that either player shares.
Nevertheless, it was a fine match, their finest since last year's Davis Cup final. When del Potro held serve under considerable pressure at the start of the second set, and then broke, momentum had definitively shifted. Where before he'd maintained a self-defeating restraint he now began to dictate more rallies, which in turn enabled that lovely drop shot winner on set point. The Spaniard's legs had formed a brown blur as he was sent scurrying, and the chatter in commentary turned once more to the leagues those legs had covered. The third set was excellent, with both men approaching their best, though this never quite occurred simultaneously. Ferrer broke early and well, then del Potro returned the favour with some force. Then, serving at 4/5, del Potro bestowed another favour, broke himself and lost the match.
Ferrer, who is at considerable risk of becoming an indoors specialist, was afterward ecstatic, and immensely charming when interviewed on court. He was reminded that is next opponent was Federer, and that his record against the Swiss in 0-13. Smiling, he replied, 'that is not good news. That is very bad news. How would you beat him?' No helpful answer was forthcoming, but the really good news is that by winning today, he might not have to beat Federer at all. Del Potro, on the other hand, probably will have to.
(1) Federer d. (8) Tipsarevic, 6/3 6/1
They'll have their work cut out. The day's earlier match had played out pretty much as expected. Conditions in the O2 suit Federer perfectly, and Tipsarevic was in poor form even before he retired fatigued in Paris last week. There was talk that he still hasn't recovered, although it was hard to tell. He actually saw out the match, so he must be feeling at least a little better. The defending champion broke the Serb in his opening service game, and probably could have broken him even more than he ended up doing, which was a lot. It was enough.
Tipsarevic, maintaining a healthy line in wry understatement and gentle self-pity, afterwards remarked that it hadn't been a great day, and thanked the few fans he had remaining to him. I actually have a feeling he'll be dangerous in his next match, which will be against del Potro on Thursday.
(2) Djokovic d. (7) Tsonga, 7/6 6/3
Jo-Wilfried Tsonga had been without a coach for a long time, and there was broad consensus that it had been too long, despite the fact that he has sustained a solid top ten ranking for well over a year. But his record against his peers is deplorable, and his form, to be exceedingly generous, has been patchy. He really needed an elite coach to help him rediscover the verve and panache that makes him dangerous to anyone, tempered by a greater appreciation of the game's subtleties.
Or so we'd all believed. Apparently what Tsonga himself felt he was missing was an ardent self-promoter with a penchant for semi-literate cliché. Luckily Roger Rasheed was available. One fervently hopes that, say, Darren Cahill wasn't, since he would have been an excellent fit. It's a baffling appointment.
All the same, it is far too early to blame Rasheed for Tsonga's enervated and muddled performance against Novak Djokovic on the first day. That was all Tsonga. He had many chances in the opening set, when Djokovic emerged nervous and flat, in that way he sometimes can for reasons that aren't entirely obvious. But the Frenchman failed to capitalise on any of them, and in the second set lapsed into despondency. 'He's just feeding balls to Djokovic,' remarked Petchey in commentary, evocatively. Upsides, sadly, were few.
(3) Murray d. (5) Berdych, 3/6 6/3 6/4
Local hearts fluttered as Andy Murray stepped onto a British court for the first time since he claimed the gold medal for Scotland and its affiliates back in August. Flutter gave way to lurching palpitation when he dropped the first set to Tomas Berdych, although it settled back into mild arrhythmia once he took the second and moved ahead in the third. It must be said, for those of us not deranged by patriotism or troubled by cardiac issues, that it wasn't a great match, and Berdych was rightfully irritated to have lost it.
Sky Sports, characteristically circumspect, ranked it slightly below the signing of the Magna Carta, the publication of Principia Mathematica, and the 2012 US Open final on the scale of inspiring world-historical events.
Sky is running a viewer poll asking which player will win this year's Barclays ATP World Tour Finals (they never, ever omit the sponsor's name). It turns out fifty per cent of their viewers have faith that Murray will win, while only eight per cent tip Djokovic . Federer, from memory, was somewhere in between. The other five players were collectively termed 'Other', whereupon they were placed in a sack and dumped into the Thames. Given that the vast majority of people watching Sky are British, and that among those of us who aren't very few are permitted to participate in this poll, the most astounding part of the whole exercise was that Marcus Buckland managed to look surprised at the result.