World Tour Finals, Days Three and Four
The World Tour Finals, still the most unfortunately acronymed tennis competition since the Surrey Hills Invitational Tournament made such a splash, has yet to break out of a lurching trot. This is through no fault of the tournament itself.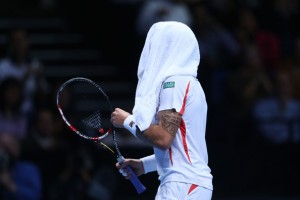 Even the comprehensively winless Janko Tipsarevic was happy to term it 'probably the best [Barclays] event of the year', although he may have been a trifle addled from absorbing one del Potro forehand too many. Sometimes it just happens.
Indeed, it is rare for the tour finals to reach a gallop before the semifinals. Even proverbial horses led to water don't necessarily drink (though it turns out real ones are more biddable once I'd figured out they prefer whisky and lead them to the pub instead). Similarly, you can muster eight of the world's best tennis players and confine them to the O2 Arena, but there's no guarantee they'll produce magic. Since my last post, in which I rather selfishly lamented the way predictable results are harder to write about, there have been four more singles matches played, and each of them was won by the higher ranked player. Back the underdog at your peril.
(2) Djokovic d. (3) Murray, 4/6 6/3 7/5
Of course, it would be a pretty rough task to convince most of the crowd in the O2, not to mention the gallant Sky Sports commentary team, that Andy Murray was an underdog against Novak Djokovic. Boris Becker briefly implied it, and thus risked public scourging. In a similar vein, it seems impossible to convey the idea that just because a tennis match was both long and close doesn't necessarily mean it was great. I think we can take it as read from now on that Djokovic and Murray cannot beat each other in under three and a half weeks. They've been proving it all year, Miami aside. They did it again on Wednesday.
But not all epics are the Odyssey. Sometimes they're merely Paradise Lost. Yesterday's match was nowhere near as good as their terrific Shanghai final from last month. It also seems to be the case that Djokovic and Murray cancel out each other's strengths so completely that headway is only made when one is playing well and the other isn't.
Even so, it is rare in their matches for the winner count to approach the error count, let alone surpass it. Murray was exceedingly sharp in the first set, but was inevitably blunted. In the end it largely came down to Djokovic's superior initiative, and willingness to press forward on points that otherwise might conceivably never end.
(5) Berdych d. (7) Tsonga, 7/5 3/6 6/1
The third set between Tomas Berdych and Jo-Wilfried Tsonga came down to a similar spirit of endeavour from the Czech player, dovetailing nicely with an apparently soul-deep ennui afflicting the Frenchman. Tsonga had briefly roused himself to win the second set, but then collapsed suddenly and fatally after he failed to capitalise on break points in the opening game of the third.
His new coach Roger Rasheed, interviewed mid-match by Sky, suggested that Tsonga's minor revival came after he (Rasheed) shouted at him. I'm not sure how true that is, given that Tsonga's first language isn't English, which is in turn only tangentially related to Rasheed's corporatised lingo. Perhaps in trying to puzzle it all out Tsonga was momentarily diverted from his existential malaise. Whatever the reason, for a time he successfully 'brought his assets', but then he exhausted them. He looked so sad. Berdych looked dangerous, and remains an outside chance to make the semifinals.
(6) del Potro d. (8) Tipsarevic, 6/0 6/4
My last post also included the bold prediction that Tipsarevic would assuredly bounce back from his abject loss to Roger Federer. Today he lost zero and four to Juan Martin del Potro, and afterwards expressed mordant pleasure that he'd stretched the match beyond an hour. Given he'd lost 6/3 6/1 to Federer, I'm not sure I can really sell this as 'bouncing back'. As a candid insight into where my brain goes of its own accord, I did spend some time considering which configuration of four games was worse. (In my defence, equine-themed pub-crawls and live tennis being played on Greenwich Mean Time leaves little time for sleep and its attendant pleasures.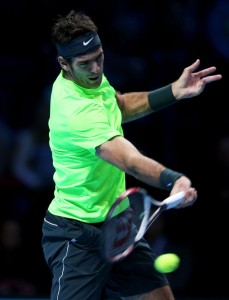 This morning I called my son by my dog's name. His loud indignation at this affront almost woke the horse, who is nursing a terrible hangover. I digress, though you might have to get used to that.) After only five minutes of furious internal debate I concluded that it didn't really matter. It was rather like having two circling seagulls dump Surrey Hills Invitational Tournaments onto your jacket, and debating which was less savoury. Sometimes it's best just to move on, and maybe change your jacket.
Tipsarevic afterward insisted that he'd felt physically fine, but that the ongoing duel with his own body had left him little time to practice. I'm not convinced it would have mattered much. Del Potro was in an imposing mood, especially in that first set when he made it clear to the Serb that missing a first serve was a certain prelude to a lost point. I can hardly recall Tipsarevic winning anything behind his second serve, although I do remember him running a lot. There was stiffer resistance in the second set, and he fought mightily to hold on for a few games, to the apparent ecstasy of the 17,000 fans who'd shelled out for the night session. But once the Argentine broke through in the fifth game it felt very much over. Tipsarevic now cannot qualify for the semifinals. Del Potro can, but will have to beat Federer.
(1) Federer d. (4) Ferrer, 6/4 7/6
Del Potro beating Federer is hardly beyond the realm of possibility, given that he did it the last time they played, and that Federer's form is no less skittish now than it was then. It's perhaps a backhanded judgement to deliver, given that the defending champion saw off David Ferrer in straight sets, thereby recording his fourteenth straight victory against him.
But as straight sets go, they were pretty wonky, and it would be untrue to say either man was at his best. Federer afterwards raised eyebrows by declaring that he'd played a great match. (For some, this was merely further proof of Federer's sly and underhanded lack of class. Simmering outrage at his alleged crapulence boiled over when he hoodwinked his peers into giving him the Stefan Edberg Sportsmanship Award again, and fooled so many fans into thinking he was their favourite player. It was all too much.)
The match-up between Federer and Ferrer usually comes down to the Swiss manhandling the Spaniard from the court, and then closing down the forecourt. Ferrer can defend against a lot, but he has never proven quite up to the task of defending against that. But today it didn't quite pan out that way. Federer's play was pensive, and many of the rallies saw the ostensibly defensive Ferrer pushing his opponent around. Of course, Ferrer's capacity to step in and play effective indoor hardcourt tennis should by now be beyond question. For much of the match he was the one dictating. Federer's effective recourse to the backhand error also played its part, as did some indifferent serving and Ferrer's ability to transition to offence via stinging crosscourt forehands.
Overall, it came out about even. Federer broke early, but was facing breakpoints in all his own service games, and he couldn't quite save them all. The difference came at the death of each set, when Ferrer was the one to crack, as is all too often the case when he faces a player ranked above him, especially Federer. Federer is through to the semifinals. Ferrer must beat Tipsarevic to book his own spot.