Paris Masters, Final
(4) Ferrer d. (Q) Janowicz, 6/4 6/3
David Ferrer has won his first Masters title, in, of all places, Paris. He is a small man, and grew smaller still as he collapsed onto his beaming face after winning today's final, but his sudden exultation was immense and irresistible. A Barcelona title might well mean the world, but winning Bercy was extraplanetary, which the Palais Omnisports helpfully illustrated by immediately transforming itself into a planetarium. They just can't leave those lights alone. This part of the planet being France, the crowd's reaction had been mixed during play, but was mostly rapturous now that it had concluded.
The Parisians had really taken to Jerzy Janowicz as the week wore on, and the camera, during those brief moments when the lighting permitted it, had no trouble picking out great red swatches of Polish support.
Those fans who'd feared, with some reason, that Ferrer might end his career without a Masters can finally know peace, or could if peace was a state that any sports fan can truly know for long. Meanwhile those who'd gleefully written Ferrer off as a jumped up journeyman are faced with the choice of whether to revise their low opinion upwards, or instead to denigrate his achievement. Predictably, this being the internet, the latter option has proven more attractive.
It doesn't help that the Paris Indoors boasts the most diverse winners list of all the Masters events. Firstly there is the minor quirk whereby no man has won it twice in a row since 1971, when Arthur Ashe successfully defended a strikingly different event held in a completely different location. This is somewhat surprising, since Bercy has for several decades represented the jewel in the weathered and unblushingly modernist crown of the European Indoors, and has boasted no shortage of multiple champions among the elite. Boris Becker won it three times, as did Marat Safin. Pete Sampras and Andre Agassi won a couple each. Roger Federer finally won it last year. Novak Djokovic claimed it in 2009. All of these men have been ranked No.1.
But, in the last fifteen years, Bercy has worked hard to cement its status as the Masters event of choice for those players who've never won one before, and may never win one again. Since 1997, it has provided the only Masters triumph for Greg Rusedski, Sebastien Grosjean, Tim Henman, Tomas Berdych, Jo-Wilfried Tsonga, Robin Soderling, and now Ferrer. (David Nalbandian's 2007 twin-Masters title run also falls vaguely into this category.) What is mainly striking about this list is the high quality of the players on it. These are men who at their best were (and still are) filling out the pointier end of Slam draws, and all of them qualified for the season-ending tour finals at least once.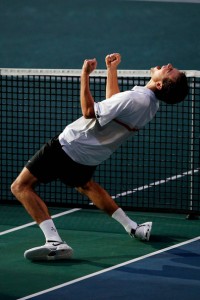 By those lights, it should have been obvious that the answer to the searing question of where Ferrer would win his first Masters title was Paris. It should have been, but it wasn't.
My money was on Shanghai, notwithstanding that clay is Ferrer's best surface. But implicit in any such selection was the realistic assessment that victory on any surface would require eluding the top four, unless he somehow managed to meet Andy Murray in a Rome or Monte Carlo final, which wasn't likely. In other words, if he was to win a Masters, he probably wouldn't do it by causing an upset. He was thus arguably lucky that Sam Querrey took out Djokovic, although there's no sound reason to believe the Serbian would have stuck around until the semifinals. As he always does, Ferrer kept his head down and dealt with those opponents he was supposed to beat. If he doesn't cause many upsets, nor does he suffer them very often, even faced with a recklessly inspired Michael Llodra. All the while he no doubt maintained an interested eye on the other half of the draw, through which Janowicz was progressing with the delicate grace of a M1 Abrams tank through an aged care facility.
It was the first time Ferrer had contested a Masters final as the favourite, and I was curious to see whether this new dynamic might rupture his equilibrium. He was supposed to beat Janowicz, but then so had all of the Pole's opponents this week. It was a difficult position, but one Ferrer managed well. He kept on doing what he always does, remaining largely unflappable even with the tension dialled all the way up. Perhaps he committed more errors than usual, but he made far fewer than his opponent. If he found the endless David and Goliath reference as deflating as I did, he didn't show it.
It's hard to say if the occasion got to Janowicz, since he's never found himself in that situation. (No Pole ever has.) It's hard to believe that playing so many fraught matches day after day hadn't taken its toll. He has redoubled his focus on fitness, but he's played a lot of tennis, and he was faced with a veteran world No.5 whose ranking is partly a testament to his capacity to run down very fits guys in fifth sets. More serves were coming back, and those audacious drop shots – one of the week's special treats – earned fewer cheap points.
Still, Janowicz forged chances in both sets – a break point at 4/4 in the first, and a break near the start of the second. But the sense was unavoidable that once Ferrer had dealt with these situations, by holding and breaking respectively, he would push on with it. And so it proved.
Given the thunderous emergence of Janowicz this week it is debatable whether Ferrer's maiden Masters title really qualifies as the premiere story of the week. I suppose it's lucky we're under no obligation to rank the achievements, notwithstanding that ranking things is intrinsic to the enterprise of sports, not to say culture. In any case, it is too early to tell. We'll have to wait and see precisely what this heralds for Janowicz, although one can confidently assert that you don't fluke five consecutive wins over top twenty opponents, not all of whom heard London calling (Janko Tipsarevic apparently found its allure irresistible). Indeed, by reaching the Bercy final Janowicz has himself almost risen to the top twenty. He gained 43 places this week, and landed on No.26. He'll be seeded at the Australian Open. Then we'll find out what he's made of.
Ferrer, on the other hand, has all of a day to savour his triumph, and play with his tree. He faces Juan Martin del Potro at the O2 Arena on Tuesday. As the only top man to have lingered in Paris, it will be fascinating to see just how weary even the putatively indestructible Ferrer will be. Certainly he'll be exhausted from the trophy presentation, the length of which was sufficiently heroic to give any watching CBS executives a stroke. Soon after the [Barclay's] ATP World Tour Finals he'll spearhead Spain's team in the Davis Cup final. With all this ahead of him, some prudent types have suggested he too should have fled Bercy early. But they're wrong. He has won his first Masters title, and I doubt he'd trade it for the world.