Having exhausted their supply of bombastic hullaballo the night before at the ominously-lit player's party, today's draw ceremony for the 2012 Barclays ATP World Tour Finals turned out to be a fairly muted affair. Juan Martin del Potro was on hand to ensure it was all above board.
Once it was released, the ramifications of the draw took all of three seconds to sink in. They were six-fold.
Firstly, it became immediately apparent that it is possible to divide up the world's top eight eligible players into two groups that are strikingly uneven. Secondly, Rafael Nadal's absence has a strong bearing on this. Thirdly, in downplaying this imbalance some commentators were obliged to take dramatic understatement to a truly transcendent level. Fourthly, del Potro has no patience for journalists who cannot remember his name. Fifthly, anyone who mentions the tour finals but forgets to include the title sponsor will have that sponsor's name inserted awkwardly into any quotable material. Sixthly, the special round robin format of the [Barclays] World Tour Finals requires a new appendix to Bracketology, the Reading of Draws, and Why Men Have to Sleep Around. The tour finals pose something of a problem for the professional Bracketologist, quite aside from the perennial concern of finding time for work amidst all the scientifically-mandated infidelity. A few of these six points will be addressed in due course, but certainly not in that order.
If the tour finals were to be staged elsewhere, the two groups of players would hopefully be given more evocative names, like Lotus and Moon or Lust and Envy, and the lads would be kitted out in some representative local duds. London really missed an opportunity to garb them all as chavs, instead opting for austere pinstriped suits. They looked uncannily like stockbrokers, especially Novak Djokovic in his spectacles. The groups were called Group A and Group B. They could more usefully have been called Bloodbath and Pillow Fight, respectively. Here is why:
Group A (Bloodbath)
1. Novak Djokovic
2. Andy Murray
3. Tomas Berdych
4. Jo-Wilfried Tsonga
Group B (Pillow Fight)
1. Roger Federer
2. David Ferrer
3. Juan Martin del Potro
4. Janko Tipsarevic
Federer is the two-time defending champion at the tour [Barclays] finals, and has won it a total of six times in the past decade. In this year's edition, he'll commence with a combined 30-3 against his group-mates, with all three of those losses coming to del Potro, but only one of those occurring in the last three years. Admittedly that loss came just two weeks ago in Basel, but Federer surely intends on playing better than that. I should mention that aside from Nikolay Davydenko, del Potro remains the only person to defeat Federer at this venue. But that was a long time ago, and this del Potro is surely fatigued, has just lost to Michael Llodra in Paris, and must face Ferrer first, a match-up that favours the Spaniard.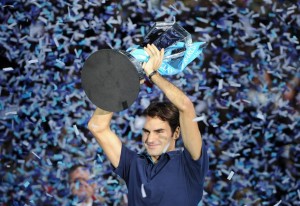 Then again, Ferrer still has a final to play in Paris. Federer meanwhile opens against Tipsarevic, who has been in quite terrible form of late, and who in any case hasn't looked much like beating the Swiss since January 2008. For Tipsarevic neither group was going to be easy. Federer will assuredly make the semifinals, but whether he is joined by Ferrer or del Potro will depend quite heavily on how that pair fare against each other.
Meanwhile over in the Meatgrinder section, Jo-Wilfried Tsonga must be wondering what he did to piss off that old gypsy woman. Like Tipsarevic, the Frenchman hasn't been at his best in recent months, and I sadly cannot imagine he'll repeat last year's run to the final. Admittedly given the season he's had, any configuration of available players would have been problematic. His record against the rest of the top ten is 1-11 in 2012, and he has fallen twice to Berdych in the last month. Berdych's recent record against Djokovic and Murray hasn't been especially good, and readers may recall how utterly blunted he was by Djokovic in Shanghai last month. Uncontroversially, I expect Murray and Djokovic to make it through the round robin, but I also think they'll be considerably more dinged up than Federer, and it'll be a nice question which of them gets to face him first. Those among their fans who'd so gleefully celebrated their favourite tanking in Paris might learn to be careful what they wish for.
The phrase 'a little bit' sees much use in sports commentary, which seems ironic given most commentator's tendency to soar into unfettered hyperbole given the merest opportunity. Cricket fans are perhaps familiar with Tony Greig's indefatigable recourse to the phrase. 'The pitch is opening up a little bit at the Paddington End' might be used to describe a crevasse into which the bowler has just lost his shoe. 'There's a little bit of swing out there' might fail to evoke a Waqar Younis yorker that was initially aimed at second slip. Shane Warne's famous deliveries to Andrew Strauss or Mike Gatting, by this definition, spun 'a little bit.' So when Peter Fleming remarked that the groups for the [Barclays] ATP World Tour Finals were 'a little bit' unbalanced, I assumed it was merely more of the same. He then went on to qualify this, however, by matching up each of the players, and concluded that Group A was 'marginally tougher' than Group B. I suppose it is, in the sense that patting a lone purring tabby is a marginally more agreeable feline experience than being set upon by a horde of them. With their tiny claws, and those cruel, cruel eyes . . .
It's a worthwhile thought experiment to see how this draw would have shaken out had Nadal turned up, and assuming he was in something approaching fighting trim. He would have been drawn in Federer's group, although it must be said that the O2 Arena is the court upon which Nadal troubles the Swiss the least. Rounding out Group B would have been Berdych and Tsonga, while Ferrer and del Potro would have moved over to Group A. Tipsarevic would have been the alternate. That's quite a different configuration, and, I would argue, a more balanced one. If nothing else, it suggests that the top four and the group of four players ranked below them complement each other quite well, and that draws can be thrown into minor disarray, even round robin draws.
Anyway, it is what it is, and each man can only make the best of the hand that was shakily thrust his way. I can't think of a much fairer way to conduct things, aside from having all eight players dropped into a narrow alleyway in Pamplona, and having Jerzy Janowicz released amongst them. Incidentally, the newly added appendix to Bracketology includes full colour illustrations of how this might look. Unfortunately, the graphic nature of these images has seen the book referred to the classification board.