Paris Masters, Days Three and Four
Querrey d. (2) Djokovic, 0/6 7/6 6/4
(Q) Janowicz d. (3) Murray, 5/7 7/6 6/2
For the first time in precisely two years, a Masters 1000 event will be won by a player outside of the top four. If it was going to happen anywhere, it was probably in Paris, and if it was going to happen any time, the chances are that it would happen this week.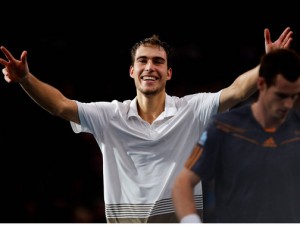 Two of the top four never showed up, and the other two have already left. If London wasn't on their mind already, it certainly is now.
Novak Djokovic was yesterday upset by Sam Querrey from a set and a break up, while today Andy Murray suffered a similar fate at the hands of Jerzy Janowicz, with the added twist that the Scot served for the match and even held a match point. In both cases the belief has rapidly disseminated that the higher ranked player would have taken a straight sets win, and did his utmost to achieve that. But when his hitherto over-matched opponent showed steely resolve to level the match, the choice became whether to fight out a tough three set win or to lose convincingly. The season has only a week and a half to go, and everyone's energy reserves have never felt more finite. In other words, the idea is that once they dropped the second set, Djokovic and Murray tanked. I will, for the moment, leave to one side the question of whether this is true or not.
There was a time when so serious an accusation would only have been levelled by a given player's detractors. After all, the accusation is one of bad sportsmanship, and the ATP has a rule imposing penalties for lack-of-best-effort, although in order to actually be charged a player must more or less recreate The Baumer's meltdown from The Royal Tenenbaums. However, what is most troubling is that we have reached a point at which it is the player's most ardent fanatics who are the first to cry 'tank', and invariably the loudest. They actually seem proud of it. In essence, they're implying that poor sportsmanship is preferable to the idea that your favourite lost to a 'lesser' player, and that they subsequently compounded this by casually lying to the media about it. I've never heard a player come out and immediately declare that they'd tanked.
Indeed, the sport's most famous such admission was Andre Agassi's in Open, which he made some 13 years after the event. Unfortunately, in confessing that he'd thrown the 1996 Australian Open semifinal to Michael Chang, Agassi has opened a floodgate. Sadly, it's a floodgate that sluices directly into a septic tank. When you're willing to make such assertions in defence of a player, be in no doubt that your regard for the player has exceeded your respect for tennis. Winning and ranking have come to mean more that the means by which those things are achieved, to the detriment of the sport's integrity. Of course tanking happens, but it is never the right thing to do. It is hardly defensible, let alone a worthwhile defence for losing.
Whether Murray or Djokovic tanked or not is, for me, a less interesting issue. I don't think they fought as hard as they might have in their respective third sets, but they'd looked pretty committed before that, and to make too much of such points to unfairly belittle the outstanding efforts of their opponents. Janowicz in particular grew into an almost unplayable colossus in the final set, and the comparisons to Lukaz Rosol at Wimbledon are as apt as they are obvious. A few years ago, I recall lamenting the way big men would once upon a time go ungovernably feral for a week or two, and tear draws to pieces, but that this no longer happened, since the top echelon was now so solid and all the big men were head cases.
(It was in the course of an initially inspired Robin Haase being ground painfully down by Andy Roddick.) Suddenly, the big men are back, and doing what they're supposed to do, especially indoors. They're playing first-strike tennis, and making their opponent's life miserable.
Murray has fallen to such a player twice in his last three tournaments, although I don't recall the roof being closed when he fell to Milos Raonic in Tokyo. It's also worth mentioning that his last three losses have come after he held a match points (in addition to Paris and Tokyo, there was the heartbreaking loss to Djokovic in the Shanghai final). I don't think this constitutes a meaningful pattern. Of slightly more concern to his fans, and not merely those commentating for Sky Sports, is that his US Open victory has proved less transfigurative than many had hoped it might be. Murray looks about the same as he did before. What this should tell us is that he was good enough to win a major before, but people will doubtless persist in the belief that becoming a Slam champion instils some ill-defined 'champion's mentality'. It also means that Murray will end his best season without a single Masters title, the first time he has failed to win one since 2007.
I first heard of Janowicz that year, when he finished runner-up in the Juniors at the US Open to Ricardas Berankis, an incipient David and Goliath tale that has failed to sustain itself on the professional tour, although there's still a chance if the Lithuanian can get his body in order. The next time I saw him was during a flailing five set loss to Amir Weintraub in Davis Cup (from memory this was the Israeli's first match for his nation). Unsurprisingly, my only real thoughts were that he was a big lad with a big serve. Like everyone else I saw no need to include him in the group of talented youngsters who for the sake of convenience and laziness are endlessly grouped together: Tomic, Harrison, Dimitrov etc. Even at this year's Wimbledon, when he reached the third round and fell to Florian Mayer in five sets, he didn't rise perceptibly in pundit's estimation. His defeat of Ernests Gulbis, accomplished though it was, was still held to be Gulbis' fault, as so much else is.
But beating Murray in Paris has been the result Janowicz needed. The bandwagon is now rolling. He is being compared to Raonic, who lost today. He's still a big lad with a big serve, but he moves particularly well for his size – he has said that fitness is now a major focus – and has decent touch around the court. Murray isn't the easiest player to out-fox, but time and again he was stranded on his heels while a Janowicz drop-shot perished beyond reach. That the world No.3 was already rocking backwards was a testament to the rest of the Pole's game, which is mostly a series of variations on lethal power, which is fearless even when erratic.
After winning Janowicz fell heavily to the court, and his smile was boundless. It was, by his own account, the 'most unbelievable day' of his life.
In other news from Bercy, both Jo-Wilfried Tsonga and Janko Tipsarevic have successfully qualified for next week's World Tour Finals by reaching the quarterfinals, defeating Nicolas Almagro and Juan Monaco respectively. I could say that no one had been in any real doubt that this would transpire, but that would be to insult those who spent considerable time thrashing out the mathematical scenarios whereby Gasquet, Isner or others might squeeze through. Juan Martin del Potro also lost, which is either a good or a bad thing depending on how you look at it. Good because he might be better prepared for London next week. Bad because this could have been a real chance for him to pick up his first Masters title. There's always next year.
For the record, of all the players remaining in the draw only Tsonga and Tomas Berdych, who earlier in the day survived a rampant big man in Kevin Anderson, have won a Masters event in their careers. Both men have one, and in both cases it came here at the Paris Indoors.