World Tour Finals, Semifinal
(1) Federer d. (3) Murray, 7/6 6/2
Roger Federer tonight defeated Andy Murray to move through to the deciding match of the World Tour Finals. Earlier today Novak Djokovic qualified for the final by beating Juan Martin del Potro. The world No.1 will therefore take on the world No.2 in the last match of the ATP season. Each man has won a Major and three Masters titles this year, and have split their encounters two apiece. While any other configuration of the four semifinalists would hardly have felt wrong, there is a sense that a finale between Djokovic and Federer is exactly right.
This, naturally, is a matter of personal perspective. Thankfully it wasn't quite a question of nationalist perspective, about which nothing is natural, although for too many it proved a close run thing.
While Federer and Murray busied themselves with tennis, there was a second contest being played out in the stadium, in commentary booths and across those forms of online miscommunication we ironically term social media. The fact that at least half the crowd weren't supporting Murray was taken by some to be a national disgrace. Swiss flags outnumbered the Union Jack, although I see no reason to think British citizens were waving them. The Times' Neil Harman, whose infatuation with Murray is so searingly pure that it almost rises beyond creepiness, although not beyond ridicule, was particularly incensed. He and ESPN's Brad Gilbert established a small echo chamber on Twitter in which they could lament the deplorable situation whereby some English people supported their favourite player over the guy who happened to be born in an adjacent country. The English, felt Harman, don't know a good thing when they saw it, even as they erupted when Federer won the first set. Afterwards it was implied by some that many of the English were deliberately cheering against the Scot, a clear sign that Great Britain's Olympic unity had fractured beyond repair. Lost in all this madness was the small voice suggesting that maybe nationalism had little to do with it. Maybe it was about tennis.
Someone else remarked that Federer's Facebook friends outnumbered the entire population of Switzerland, apparently as clear proof of traitors living elsewhere. Clearly thousands were infesting the O2 Arena tonight, and I hope the Home Office is maintaining files on all of them. One gained the impression that some of their compatriots would like to get a copy of those files, and visit each subject personally in the small hours. I imagine there's a bulging one on Sir Ian McKellan, who'd ensconced himself right by the Federers, and had been rather tardy in praising Murray earlier in the week. Kevin Spacey was there, as well. So much for the Special Relationship.
Over on Sky Sports the experts unanimously predicted a Murray victory, but they mostly did this for the best of reasons, which is to say realistic reasons relating to the sport that was being played. Plenty of impartial pundits backed Murray for the simple fact that he has looked much better than Federer this week, and rapidly dismantled the Swiss when last they met in Shanghai.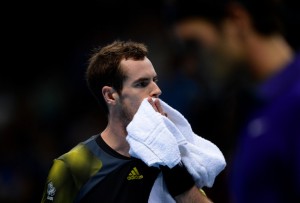 After Federer won, which I will come to shortly, the tune on Sky darkened abruptly. Opinions were revised sharply floorward. Suddenly there was talk of a 'wake-up call for Andy,' although this was from Boris Becker, who might well have been talking about the loss to Janowicz in Paris last week.
For the first half dozen games, it looked as though any prediction of a Murray victory was not only astute but obvious. The Scot was as sharp as hell, as sharp as in Shanghai, while Federer looked duller even than he had yesterday. A trio of forehands into the net, punctuated by a backhand shank, and Murray had an immediate break. The shift seemed to come in the seventh game, when Murray missed an exceptionally makeable running backhand pass – especially with his hands and leg-speed – and thereafter, and for no readily adequate reason, changed his tactics totally. Suddenly he was passive, diffident and sarcastic, excoriating himself both vocally and in his play. He almost entirely gave off attacking Federer's second serve, which had been such a feature in Shanghai. Federer, cordially invited to play better, began to. The tennis was not brilliant in any sustained sense, but there were still flashes of it. Federer earned his first break point with a chip-charge that should never had worked, and sealed it by rushing the net behind a scathing forehand.
It was in the tiebreak that the tide truly turned against Murray, both on court and elsewhere in the O2. When he lost the exchange to fall down set point, his racquet connected firmly and fatally with the court surface. He spent an age inspecting it for damage, before jogging over to grab another. The crowd booed, although hopefully a portion of the disapproval was directed at Steve Ulrich, who for some reason failed to issue a warning. When Federer subsequently took the set the roar was thunderous. After that the second set gambolled away from Murray with startling alacrity – Federer afterward confessed to be as surprised as anyone – especially when we consider that many of his victories against the Swiss have come from a set down.
But, from serving at 40-0 up in the third game, it was almost as though Murray was determined to lose, as he began to mix in awful drop shots with the other tactics destined to fail, although the worst of these came a game later, and barely troubled the net. Mark Petchey suggested that Murray may have run out of ideas.
Murray was broken again for 2/5, with Federer first executing a now-perfect chip charge, and then luring his opponent in to observe a savage backhand pass from closer range. The world No.2 served out the match with a blithe confidence almost entirely the opposite of how he'd commenced the match. The decisive stat for the day was Federer's perfect record on second serve returns: 34 from 34. He chipped almost every backhand return, but tore vehemently into his share of forehands, and overall won 63% of the ensuing points. However, he served poorly by his standards, at only 54% first serves and many of those at reduced pace. Murray's fans, including those Brits not currently being detained for suspected Swiss sympathies, will surely regret that their man didn't impose himself more forcefully on return. The opportunities were certainly there.
If the second set went by in a hurry it had nothing on the haste with which Murray departed the scene afterwards. I suppose he had no compelling reason to stick around, except to take down the details of those who'd failed the test of allegiance. But, interviewed later, he showed little inclination to be drawn on the crowd's questionable loyalties, merely suggesting that Federer always enjoys considerable support wherever he plays, due to having won so much. He also declared uncontroversially that it had been the best year of his career 'by a mile.' Meanwhile Federer afterwards admitted that he'd felt like today was going to be his last match of 2012, since Murray was playing so well at the beginning. It wasn't, but tomorrow's final will be, win or lose.
Comprehensive highlights of the first semifinal can be found here. Highlights of the Federer – Murray semifinal can be found here.