World Tour Finals, Final
(2) Djokovic d. (1) Federer, 7/6 7/5
Novak Djokovic has ended the frivolous debate over who should be considered the ATP's Player of the Year by defeating Roger Federer in the final of the World Tour Finals, which were hosted in London, sponsored by Barclays and over in a flash. I confess I was unaware that this debate was even being conducted until a few days ago, by which point it had moved beyond mere capitalisation into becoming a regrettable acronym – POTY – the inevitable fate of all such accolades. Any GOAT can tell you that. Anyway, the broad consensus among non-British interests was that Djokovic and Federer had been locked in a desperate race for the POTY.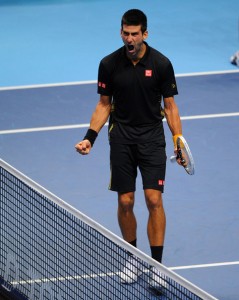 Each had won a Major and three Masters. Federer had won more titles and a silver medal, though Djokovic had gone further in tournaments that mattered more. Victory at the tour finals provided the necessary tiebreak, and now we can now sleep easy: Djokovic's claim to the POTY is beyond quibble. It's an accomplishment that would mean more if it actually meant anything.
By no means do I wish to belittle the many things that Djokovic actually has accomplished, which include finishing as the year end No.1 for the second season in a row, and winning the World Tour Finals for the second time over all, and undefeated at that. It was a week in which none of the top players were at their best, and he proved that his not-as-his-best is still the best. If that sounds backhanded, it isn't meant to. Anyone can win when they're playing well, but Djokovic ploughed unbeaten through a whole week of slow starts and minor slumps, and he did it again today. For his efforts he received a trophy with streamers attached to it, like the handlebars on my daughter's bicycle, a fat wad of cash, and a photo-op with the quicksilver Pippa Middleton, who'd apparently forsaken her erstwhile loyalty to his opponent.
Naturally no Tour Final can justify its status without an exhaustive array of disparate celebrities to keep the camera operators occupied, and I'll be damned if we weren't painstakingly shown them all. It wasn't enough to know that Britain's most nubile royal-in-law was in attendance – although even knowing that did rather tax my interest – the Sky Sports commentators were determined that no viewer should die wondering at the identities of those seated around her. Boris Becker reassured me that the fellow to Pippa's right was her brother, and that as far as he knew she was still single. Although I am generally disinclined to question Becker's knowledge of such things, would-be suitors should probably hold off pursuing Ms Middleton full throttle until they've had this confirmed by sources closer to the palace. The camera alighted randomly on various other notables, who were enthusiastically noted by Sky and immediately forgotten by me.
I don't recall seeing Ian McKellan or Kevin Spacey. (As far as star power went, it was a far cry from two years ago, when a cameraman was employed for the sole purpose of finding Diego Maradona in the crowd each day, although my proposal that this could be expanded into a permanent DiegoCam in the corner of the screen was rejected. It's all politics.)
Thankfully, even in the Sky Sports studio some interest remained focussed on the tennis match being played in the midst of the assembled luminaries and their unnamed (and presumably unwashed) vassals. And a strange match it was. Other than the beginning, when Federer looked unstoppable, it hardly seemed as though either player ever had momentum for longer than a few points at a time. It was tight and tough, and the vast majority of points, long and short, were decided by an error one way or another. In all Djokovic won 96 points to Federer's 95. This would be sufficient to tell you the match was close even if the remainder of the statistical and anecdotal evidence wasn't overwhelming.
Federer came out maniacally determined not to repeat his deplorably slow start from the semifinal – he won twelve of the first fourteen points – though he wasn't to know that doing so also required forgoing yesterday's masterful finish. It turns out it's one or the other. Djokovic, on the other hand, wisely emerged tense and wayward. It wasn't long before both players found their range; Djokovic's range was mostly just inside his opponent's baseline, and Federer's appeared to be just beyond it. Federer was broken back, and then broken again a few games later. That mighty forehand just wasn't firing, and the Serbian's preternatural athleticism was blunting his first serve. But then Djokovic stepped up to serve for the first set, made it to set point, and thought better of it. He too was broken back, and tempted the crowd's proven wrath by belting his racquet into the court.
As the tiebreaker lurched drunkenly into view, neither player seemed to have much faith in any groundstroke struck harder than three-quarter pace. Time and again, the first man to pull the trigger missed the target, even though it was precisely half the size of a tennis court.
The point of the match, and surely of the tournament given the situation, came with Federer serving at 5-6 in the breaker, which ended when the world No.2 found the target on a hooked forehand pass hit from behind him while scrambling backward. Djokovic turned and stared in disbelief at his player's box, then came around and won the tiebreaker anyway. There was a time when he would have let it get to him, but that was years ago.
If this final was won anywhere, it was in Federer's forehand corner. Of Djokovic's 96 points, about half (42) came from Federer's unforced errors, and 24 of those came from the forehand, ostensibly the most feared shot of the last decade, at least as regards professional tennis. I have no more numbers to reinforce this, but it seemed that a very healthy proportion of those forehand errors came when Federer was forced to his right, and that most of the subsequent errors went long. This occurred regardless of whether the Swiss was sent scurrying for that corner, or obliged to dart merely a few steps. Along with Djokovic's unparalleled ability to stretch and return high-quality first serves onto his opponent's baseline – owing to some unholy alchemy of reflexes, hand-eye coordination and core strength – the relentless mistiming from Federer's forehand provides the key to unlocking the match.
The answer, if indeed there is a question, perhaps lies in their last match – the Cincinnati Masters final – which Federer dominated 6/0 7/6. The statistical breakdown that emerged from that match highlighted how well Federer controlled his own ad court with his forehand.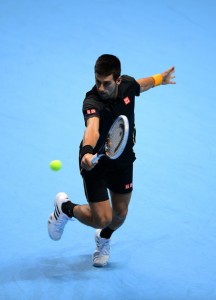 He was incredibly quick to run around it, so much so that Djokovic had a hell of a time even finding the Swiss man's backhand wing, for all that he endeavoured to all afternoon. Is it too fanciful to suppose that Djokovic learned a useful lesson that day, or that Marian Vajda did? Contrary to the expectations of some, Djokovic did not mount a sustained assault on Federer's backhand in today's final, and often only probed enough to open up the forehand wing.
Conversely, did Federer's success in Cincinnati prompt him to move prematurely to his backhand corner, with the result that he was easily caught out time and again? It certainly looked to be an issue of balance – in that Federer didn't have enough of it – and it wasn't as though he was being undone by searching backhands up the line. Indeed, Djokovic hit few of those at all, although there was a crucial one in the tiebreaker. Then again, it is a kind of indulgence to over-analyse these things, and Federer's form hasn't been so stellar of late that one needs to discover new reasons why he wasn't at his best. I've remarked on it before, but even when Djokovic was losing most of their encounters, he still had the ability to wrong-foot Federer without going near the lines.
Nevertheless, Federer was the one to maintain his intensity after that tight first set. He broke immediately, and rode this advantage almost to the end, surviving a particularly enthralling eighth game. Serving for the set at 5/4, he moved comfortably to 40-15. If this didn't already evoke uneasy memories of the 2011 US Open semifinal, then it certainly did after he made two fine first serves and yet lost both points. Again, under immense pressure, Djokovic refused to miss. The world No.1 broke back, and held for 6/5. Now serving to stay in it, Federer continued to defy Pippa's expectations that his forehand must come good at some point, and rapidly fell down 15-40. They were locked at 95 points apiece. Djokovic's 96th point, a backhand that scythed past the incoming Federer, secured him the title, and brought down the O2. Personally, I'm not one for chest-thumping bellows of self-approval, and I confess I sometimes find Djokovic's work in this area overwrought and excessively macho. But that shot, and this victory, more than merited it. If ever one is permitted to raise the roof, is it after crushing a desperate backhand pass to seal victory over Roger Federer in a thunderous stadium in the final match of the season.
And so ends the 2012 ATP season, especially the portion of it played indoors in Europe, otherwise known as the European Indoors. The ether will doubtless grow dense with summary in the coming weeks, and there's still the Davis Cup final to be contested.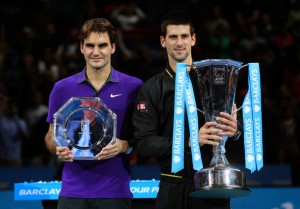 For now it is enough to say that although Federer wasn't able to reprise his usual autumn heroics, this hardly counts as a failure given that it came at the end of his best season in years. He was, after all, ranked No.1 until the very last week. He wasn't all that far from winning today.
Meanwhile Djokovic ending 2012 as he began it feels entirely appropriate. After today's final he suggested that this season was if anything more satisfying than his last, despite the fact that he was less dominant and won less stuff. There's a lot to be said for backing up the greatest performance of your life, and remaining on top in defiance of widespread expectation that you'll subside. One gets the feeling nothing thrills Djokovic more than proving his detractors very wrong. (That's surely why he doesn't miss when down match point, since a match point is nothing more than the score telling you you're about to lose.) If last year was the traditional fairy tale, then this year was the modern version. He didn't get a princess, but he did earn a visit from her more predatory sister.