World Tour Finals, Day Six
(6) del Potro d. (1) Federer, 7/6 4/6 6/3
(4) Ferrer d. (8) Tipsarevic, 4/6 6/3 6/1
The round robin phase of the 2012 World Tour Finals is now complete, with the upshots being that speculation on the final group standings can mercifully stop, and that any remaining ticket holders can rest assured they haven't paid top dollar to attend a match they wouldn't otherwise bother watching on television. In all, the round robin portion featured twelve matches, but there wasn't anything like an upset until the eleventh of these, in which Juan Martin del Potro defeated Roger Federer. The twelfth match saw David Ferrer eventually beat Janko Tipsarevic in a dead rubber. It is hardly my intention to level any disrespect at either of those guys, who are after all elite exponents of my preferred sport. But it's hard to avoid doing so when I say that for thousands of the fans in attendance it probably wasn't quite how they'd hoped to spend their Saturday night. For what it's worth, Sir Ian McKellan didn't bother to stick around. 
Luckily the match itself was sternly contested for a while, recalling the pair's excellent US Open quarterfinal, until it wasn't. In the end it seemed a fitting amble with which to conclude a round robin phase that never quite hit its stride.
Ferrer's victory did have ramifications for the final standings in Group B, with the wash-up being that Juan Martin del Potro, who'd earlier threatened to secure top spot after defeating Roger Federer, must make do with second. I confess I did not at the time grasp the various permutations whereby this matter might be decided. My fogged confusion was expertly deepened by Sky Sports, who did their soporific best to divest me of my will to care. Surprisingly, it turned out Greg Rusedski had the best and lengthiest read on it, though when it comes to keeping an audience enthralled he is hardly Peter Ustinov. Speaking nothing but common sense, Rusedski is unquestionably spell-binding, though unfortunately it's the same spell that knocked Sleeping Beauty out for a century. I confess I nodded off. It was all academic anyway, and now that Ferrer has beaten Tipsarevic it isn't even that. It's just what it is, and all the speculation on it was merely wasted breath. Del Potro will face Novak Djokovic in the first of the semifinals, an outcome that one assumes provides him with little solace.
It probably doesn't leave Djokovic's fans feeling terribly relaxed, either, for all that their man boasts a sterling record against the Argentinean. Like everyone else, Djokovic has been quite up and down this week, though the fact that he was mostly up against Tomas Berdych in his last match should instil a measure of comfort. But del Potro is certainly looking dangerous. Federer more or less ruined the early part of his season by providing an impenetrable roadblock to titles and later rounds from the Australian Open through to the French.
Del Potro thus won't have had the best laugh, but he'll undoubtedly have the last one, securing a couple of vital wins late in the season, and ensuring that Federer's usual practice of going unbeaten through the indoors won't continue. As an interesting quirk, del Potro remains the only man to have defeated Federer in the round robin phase at the O2 Arena. Now he's done it twice.
Federer, it must be said, has not quite looked himself since the early rounds of the US Open some months ago. Whatever issue hobbled him in Basel – he referred to 'niggles', from which his detractors reliably inferred poor sportsmanship  – has apparently not resolved itself in the weeks since. He can play well in patches, but too often the fine points are alloyed with sufficient rubbish that his opponent's moments of inspiration prove to be crucial. In all Federer hit 46 unforced errors today. Generally this isn't a stat that I find very useful, but many of these errors came in clumps at vital times, such as the first set tiebreaker. And too many came on shots that were never going to be winners, and could only generously be described as 'forcing'.
For Federer, any realistic assessment of his chances against a player like del Potro (or, say, Berdych) will include the anticipation of any number of spectacular forehands ploughing a furrow through the baseline, or monstrous first serves rupturing the service line. It's just going to happen, and it's not worth pretending that he defends as well as Djokovic or Andy Murray that he can reliably stop it. He defends well, but his great strength is in attack. For Federer, the recent problem with del Potro's game is neither its ferocity nor its regularity – which given the Argentinean's abilities are a given – it is that the Swiss player too frequently places himself in a position in which his opponent's great play becomes decisive.
The service game in which Federer was broken today, in the third set, provides a useful example. A 30/0 lead was carelessly yielded up, including an eminently makeable forehand of his own delivered forcefully into the net. It was at 30/30 that del Potro suddenly found his range, and then forced the break. But it was hard to shake the sense that Federer's mistakes had provided the platform from which del Potro launched his sortie.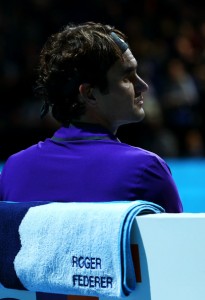 As I say, you can assume a player as powerfully accomplished as del Potro, fairly bristling with ordnance, is going to unleash an uncounterable assault at some stage. This was the case in all of their matches this year, including the handful that Federer won.
But just as Federer hasn't been at his best lately, due allowance should be made for the fact that del Potro often wasn't at his best then, with the quarterfinals at Indian Wells and Roland Garros particularly standing out. And just as Federer earned plaudits for those victories, so too should del Potro for these. Beating Federer at the O2 is hardly less audacious than beating him at home in the St Jakobshalle, and in both cases del Potro was fierce and fearless when it mattered most. He'll need to be both, and more, to beat Djokovic.
Nonetheless, due to his continued disinclination to lose to either Ferrer or Tipsarevic, Federer has topped the group. His reward, if one can call it that, is to face Andy Murray in the semifinals. As far as I can tell, this is the third time this year that Federer will face del Potro and Murray back to back. In Dubai he defeated the Argentinean and the Scot in the semifinal and the final respectively. At the Olympics, he very much didn't. This will also be the third time Federer and Murray will face off in London this year, having already split the finals of Wimbledon and the Olympics. Even for those of us who chose to be born outside of Britain, this match cannot help but assume a special significance.