Tokyo, Final
(8) Nishikori d. (6) Raonic, 7/6 3/6 6/0
Kei Nishikori defeated Milos Raonic in the final of the Rakuten Japan Open Tennis Championships, thereby becoming the first Japanese man to do so in the tournament's four decade history. I cannot imagine that anyone seriously disputed Nishikori's status as Japan's greatest ever male tennis player, but if they did, I assume they don't now.
It seems beyond reasonable quibble. Indeed, it was a pretty good afternoon for Japanese sports in general. Only an hour earlier Kamui Kobayashi achieved his first podium finish at Suzuka, narrowly edging out Jensen Button for third. With patriotic euphoria in the air, the capacity crowd in Tokyo's Ariake Colosseum was perfectly justified in roaring their approval the precise moment Raonic's last forehand drive volley found the net. Suddenly, there was noise.
The idea of preternatural Japanese politeness is of course a cliché, but it is one that is tethered firmly enough to reality. During the last game of today's final Nishikori was pushed wide to his forehand, whereupon he went for broke on a winner down the line. It was initially hard to tell if the ball was in or out, and, with no clear outcome to react to, the crowd went instantly and eerily silent as they anxiously awaited the outcome of the inevitable challenge. The outcome was that Nishikori's forehand had found the exact corner, and the colosseum erupted. To undisciplined Western ears, it almost sounded rehearsed in its precision, even though I don't question the spontaneity.
Given the afternoon's prevailing vibe of well-drilled inevitability, the fact that the final was delayed by some minutes seemed almost calamitous. Firstly it was raining, which meant the doubles final had to be played indoors.  Then it stopped raining, which prompted the tournament organisers to retract the roof – Wimbledon take note – although this encountered problems when the roof gave it up as a bad lot part way through. The gabbing faces on Sky Sports were forced to kill time, and typically sought to do it as painfully as possible. There was some leaden-fisted banter about the Japanese ironically being masters of technology – 'ho ho ho' – since any nation capable of building the shinkansen should apparently be immune to mechanical failure. They also essayed some confident predictions regarding Raonic's likely victory. These predictions were hard to argue with at the time – although it's surprisingly easy now that he has lost – given he'd beaten Andy Murray only twenty-four hours earlier.
As it happened, Raonic's defeat of Murray only twenty-four hours earlier, and of Janko Tipsarevic just a day before that, did prove decisive in its way. Both those matches had gone to third set tiebreakers, and required that match points be saved. This had exacted a physical and mental cost.
As the final's last set spiralled rapidly beyond his grasp, it was little wonder he began to grow ragged. This is not to imply that he would have won had he been fresh, since Nishikori was by this stage playing with a reckless virtuosity that at times lifted to unplayable levels, but I doubt whether a fresher Raonic would have been bagelled.
He had been broken only once in the tournament before the final, by Murray, but he was broken without relent by the end. Nishikori was now reading Raonic's monstrous serve well. 'Body' serves that almost decapitated him in the first set were now reflexed back into play, but fewer of them were finding the service box. Kick serves to the ad-court that would have earlier dragged Nishikori into the crowd lost a little of their bite. The Japanese man still had to leap for them, but not quite so far.
If Raonic's final ended enervatingly, then it began nervously. He was broken in his opening service game, from 40-0 up. It set a pattern early, which was that Nishikori would return almost anything he could lay a racquet on, and that if any point thereafter attained a neutral state, he would likely go on to win it. There was an early scare when the trainer and tournament doctor appeared on court to administer to Nishikori, who had sustained some corneal trauma from looking too closely at Raonic's Lacoste ensemble.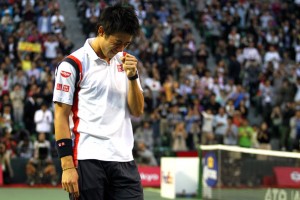 A less-disciplined crowd might have groaned from consternation, but not this one. He was pronounced fit to continue, whereupon he was broken back. The locals remained mostly composed even then, and when Nishikori went down 0-3 in the eventual tiebreaker.
I suppose they were right to be confident. Nishikori came back to take it, on his fourth or fifth set point. Then Raonic took the second, convincingly. But then Nishikori took the third, in the most convincing manner possible. It is the second year in a row that a three-set Tokyo final has ended in a blowout, a meaningless coincidence that only seems more coincidental by the consideration that either blowout, on paper, was supremely unlikely. It is Nishikori's first 500 level title, from his second attempt (he lost to Federer in Basel last year), while Raonic falls to 0-3 in finals at this level. Well beyond that status afforded it by the ATP, however, is that fact that it is a richly-pedigreed and very prestigious tournament in its own right. And beyond that is the fact that it is Tokyo, and that no Japanese man had ever won it before. David Ferrer has remarked that winning Barcelona, a similarly-rated tournament in his home country, would mean the world to him. For Kei Nishikori, that must have been exactly how it felt in that moment, as fifteen thousand of his staunchest compatriots rained down an adoring roar that was, finally, unrestrained.