Beijing and Tokyo, Quarterfinals
Perhaps it's just me, but I find it helpful that the Japanese and Chinese Opens are colour-coded. This enables those of us with multiple streams open to tell at a glance which city the action is taking place in. For the record, Tokyo is red and Beijing is blue, although the latter tennis centre, according to the official line, is green all the way.
Both events are staged in impressive and imposing facilities with vast central stadia worthy of hosting a Major final. Even respectable crowds are apt to get swallowed up, no matter how lustily they cheer, or how often they gasp at every single last dead netcord. Â Both facilities feature hectares of space around and behind the actual court, which some players find off-putting.
It can be dispiriting when first serves that normally slam into the backdrop are now bouncing twice before they reach it. In the Beijing Olympic Green Tennis Centre the show-courts have been given evocative titles like Diamond Court, Lotus Court, Moon Court, and Court 1. At Tokyo's modestly titled Ariake Colosseum they've opted for more traditional names. The centre court is called Center Court.
(8) Nishikori d. (2) Berdych, 7/5 6/4
Tokyo's Center Court is the only court Kei Nishikori is likely to play on for the immediate future. As Japan's highest ever ranked male player (by some margin), he features heavily in the promotional material for the local shindig. His nation is justifiably proud of his achievements, and certainly even more so now that he has upset Tomas Berdych to reach the semifinals with a quite wonderful display of aggressive hitting. Berdych was the defending champion at the blue tournament, but this year made the switch to red. One assumes a hefty appearance fee facilitated this decision, which the organisers might have regretted had the Czech not lost to the local favourite. David Ferrer, on the other hand, had switched from red to blue, but then withdrew in the first round against Yen-Hsun Lu. There was presumably a decent amount of money abetting that decision as well. Not all investments pay off. Indeed, the way the players tend to switch between the two tournaments from year to year is part of what makes them blend into each other, thus making the colour-coding useful. Anyway, Nishikori will play Marcos Baghdatis in the semifinal, which is not only winnable, but eminently so. Local hopes are high.
(1) Murray d. (7) Wawrinka, 6/2 3/6 6/2
There was never much doubt that Andy Murray would return to Tokyo to defend that title he took so completely last year, when he (eventually) dealt Rafael Nadal the most consummate of hidings, allowing the Spaniard just four points in the final set. Curiosity in Murray is intense, given that this is his first tournament since winning the US Open last month. There seems to be a prevailing expectation that his game would have changed somehow, that winning that maiden Slam was deeply transfigurative. It's an expectation I don't have much time for, and Murray thankfully seems unaltered. The commentators, however, could barely keep the wonder from their voices that the Scot's second serve is still his weakest stroke, and that Stan Wawrinka was merciless in going after it. But, but . . . everything was supposed to be different now. It allowed the Swiss to grab a set.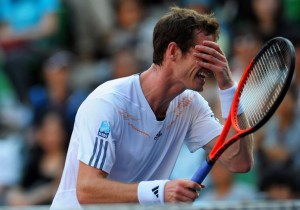 In the overwrought parlance of the times, this means that Murray was given a 'scare', the implication being that dropping a set propels any of the top four into a blind funk. Earlier in the week, in blue Beijing, Novak Djokovic was reduced to a quivering panic by Michael Berrer, though he somehow got through in the end.
Vying with 'scare' for the status of most over-used summary term is 'eased', as in Janko Tipsarevic eased by Gilles Simon. Aside from how often it is used, there is also some confusion over precisely what it means. Sometimes it is applied to a quick and simple 6/2 6/1 type thrashing, in which case I suppose it just means 'easy'. At other times it seems to be more or less synonymous with 'gingerly' or 'carefully', as in: 'With the foal in breech position, the farmer eased his callused hands into his prized mare's birth canal.'
(3) Tsonga d. Youzhny, 6/3 6/3
Jo-Wilfried Tsonga therefore eased past Mikhail Youzhny in the former sense, which was a shame for those of us hoping for a more protracted and dramatic affair. Through its initial going, to 3/3 in the first set, this match had the potential to become a classic, though after that it mainly served as a warning against getting your hopes up. Tsonga was snatching at his backhand, and Youzhny was ripping his, prompting Robbie Koenig in commentary to yodel an extended hymn in praise for that stroke. He said it was the hardest backhand he'd ever faced. With pleasant simultaneity, Wawrinka was even at this moment sacrificing Murray to the Lord of Eternal Terror by taking the second set.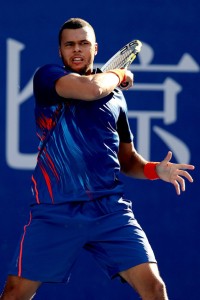 For aficionados of one-handed backhands, it was an embarrassment of pleasures. Even Tsonga got in on the act, removing his left hand on a few passing shots. The tennis was wonderfully all-court, but from the middle of the first set it was all Tsonga. He was typically athletic, and impenetrable on serve, meaning the Russian had no way back when the odd horrible game saw him broken. His beard is looking very fine, though, even if it hasn't quite regained the impressive volume and density of the season's early going. In Zagreb there were unsubstantiated reports of local children going missing in it.
(6) Raonic d. (3) Tipsarevic, 6/7 6/2 7/6
Back on the red court, and several hours earlier, Milos Raonic called on his samurai experience – and those, depressingly, are his words – to 'ease past' Tipsarevic in a third set tiebreaker. This was 'easing' in the second sense, although I suppose there's nothing gentle or circumspect about the Canadian's serve. It is careful in much the same way that performing a non-anaesthetised root canal with a pick-axe is. He saved a match point, but it was on his own serve, so it doesn't really count. Tipsarevic then did the same. Then Raonic had had enough, and ripped an enormous backhand winner down the line, the equivalent of reaching in with both hands and yanking the foal out in one go. I have it on good authority that this almost never works. But it did, and Raonic predictably served it out with an ace. He'll play the vestigially-terrified Murray in the semifinals. Easy.