Shanghai Masters, Third Round
Viewed from the outside, the main court at the Qi Zhong Tennis Centre in Shanghai bears an uncanny resemblance to a sports stadium mimicking a lotus flower. Viewed from within, the floral implications are less overt, especially when the roof irises shut to form a sinuously menacing mosaic. It looks more like the stylised blade of gigantic food processor, or part of the machine city from the third Matrix film, either of which which must be relaxing to play tennis under. Unlike Hamburg's Rothenbaum, over which the retractable sails seem liable to billow away given a sufficiently cataclysmic zephyr, the closed roof of Qi Zhong's centre court makes its immense weight apparent in a display of engineering bravura.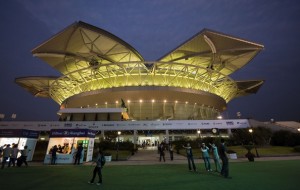 If, heaven forfend, the roof was to collapse, the victims would at least perish knowing they were crushed by science. Just how many victims there would be is another question.
Lower down, and the seating betrays a more European influence in the expensive sections adjacent to the court. Many Continental tennis arenas contrive to look half-empty even when they're rambunctiously full, by the cunning placement of low hoardings between each row (Philippe Chatrier), or by barricading off discrete little sections (the Caja Magica). As one glances quickly over the crowd, the resident biomass is visually broken up by lines of colour in a way similar to rows of empty seats. Elsewhere, lacking the funds or wherewithal to pull this off, they work a similar trick by simply not having anyone show up, like in St Petersburg. Shanghai has pursued this solution for the outside courts, with considerable success. If tennis is booming in China, why aren't more people turning up to see it?
They've at least been turning up for the last few night sessions, mostly because that's when Roger Federer has been scheduled to play. Even those who know nothing about tennis know about him. I know people who couldn't pick Rod Laver out of a police line-up, yet whose bucket lists include seeing Federer play, right there between swimming with dolphins, reading War and Peace, and other clichéd shit. However, on Wednesday night Federer played Taipei's Yen-Hsun Lu, and was therefore faced with the unusual situation of not being the crowd's clear favourite. This was hardly a unique event, however, even though some commentators apparently believed his legendary equanimity might be irreparably shattered. But he has played Nadal in Madrid, and Hewitt in Melbourne, and Murray in London, and it wasn't as though the crowd was actually hostile. They were mostly pleased that Lu gave a decent account of himself, and proved more than happy to see the world No.1 get through in straight sets.
The crowd – although I should stress that it was probably a different crowd composed mostly of different people – was rather more excited last night when Federer narrowly survived against an initially inspired Stan Wawrinka. Having narrowly survived, he then set about flourishing as his compatriot – the Swiss who loses – fell in a sorry heap. The upshot of this victory is that Federer will now certainly retain his top ranking for yet another week, and that this will be his 300th such week at the top.
Federer had remarked before the match that 300 doesn't really mean that much more than 299. Jason Goodall and Doug Adler debated the thruthiness of this statement on air, with the result being, I think, that 300 is a more important number to Doug Adler.
If much of professional tennis is being conducted in new soulless arenas, it is also being energised by old soulful men. Federer, as we all know, is 31. Radek Stepanek is even older at 33, and he has now defeated a couple of top 15 twenty-somethings in Richard Gasquet and John Isner to reach the quarterfinals. In the opening round he also saw off Lleyton Hewitt, although the Australian veteran is truly more machine now than man. Stepanek is more gargoyle than man, and can dress like a lost dare from the eighties, but when he's on he still brings an attractively attacking game, and doesn't seem to have slowed particularly in his advancing years. Stepanek, as is the way of things, has turned increasingly to doubles of late, but he remains a force when on his own. He has found form seemingly at the right time, with the Davis Cup final looming in the middle distance, where he will almost certainly be required every day. It's worth remembering that Stepanek once won a Davis Cup singles rubber in which his opponent Ivo Karlovic served the then-record number of aces for a match. That record is now held by Isner, and yesterday Stepanek withstood his monstrous serve with apparent ease. Once the ball was back in play, the Czech was almost embarrassingly superior.
Tommy Haas is even older than Stepanek, and by thrashing Janko Tipsarevic last night ensured he will return to the top twenty for the first time in over two years. Actually, a thrashing wasn't technically required – the rankings don't work that way and a mere beating would have sufficed – but Haas was in a stern mood. Tipsarevic, it should be said, didn't seem in a particularly competitive mood, and some of the many breaks were conceded quite perfunctorily with an easy recourse to the double-fault worthy of Fernando Verdasco. It wasn't quite the fight fans might expect from the world No.9, although his staunchness in the face of German aggression still looked Churchillian compared to Bernard Tomic's.
Upon winning Haas delivered a strangely non-erotic and very slow pelvic thrust, although I couldn't say which of the few dozen people in the stands it was intended for. Most of these formed into a knot behind the player's chairs, and began loudly and aggressively demanding that 'Tommy' sign their belongings.
With this victory Haas moved to 499 career wins on tour. To reach 500 he'll need to beat Novak Djokovic today (or I suppose somebody else some other time). Less likely things have happened, although I'd need to Google them. Djokovic has been in excellent form these last few weeks, and although he has had issues with Haas in the past, they were mostly a long time ago and mostly on grass, notwithstanding their terrific dust-up in Toronto a few months back. But this Shanghai court is grippy and slow and abets a sturdy defence, and there is none sturdier than the Serb's. Nonetheless, even reaching the quarterfinals of a Masters events, and returning to the top twenty, constitutes a marvellous effort for Haas. Just 16 months ago he wasn't even ranked. Now he's back in the top twenty, and he didn't get there by being merely satisfied with marvellous efforts.
I haven't even mentioned Andy Murray, Marin Cilic, Tomas Berdych or Jo-Wilfried Tsonga. Consider them mentioned. They're lovely.