US Open, Quarterfinals
I have a colleague at my workplace – that place I periodically adjourn to in order to recover from the rigours of unremunerated tennis blather – who to my knowledge cannot enjoy a meal without first drenching it in Tabasco sauce. Admittedly I've never breakfasted with him, and therefore cannot say how he takes his porridge. But he devoutly believes that any savoury dish only benefits from the addition of Tabasco, be it pizza, souvlaki, a hamburger, fish and chips, or even a simple sandwich.
I think sushi is the only hard and fast exemption from this practice, given that he smothers it instead with wasabi. But otherwise, he is adamant that it is only through the profligate application of capsaicin that a meal's potential is fully realised.
Now, instead of Tabasco, substitute famous people, and instead of food, substitute everything. You have now neatly summed up the American mainstream media's attitude to celebrity endorsement, which is sustained by an unquenchable faith that every facet of human endeavour is instantly improved by liberally sprinkling high profile citizens atop it, with no heed paid to their relevancy or even basic competency at the task. Thus we have presidential elections in which the candidates maintain formation with any rock stars who profess support for their platform. Thus we have a US Open quarterfinal between Novak Djokovic and Juan Martin del Potro preceded by a doubles exhibition match featuring Adam Sandler and Kevin James. To be fair, this is probably no more bizarre than Will Smith rewarding Roger Federer with a framed suit in Madrid, but the rules of good taste were long ago suspended in Ion Tiriac's Magic Box.
Notwithstanding that this doubles match was in aid of a charitable cause, you'd have to wonder what, say, the Bryan Brothers made of it, having laboured away on Louis Armstrong Stadium earlier in the day. Big spirited lads that they are, perhaps they were just thrilled that men's doubles was featuring in a centre court night match. At least we now have an easy rebuttal the next time a doubles player complains they're receiving second-class treatment. In fact, we could point out that doubles is invariably the format of choice for celebrities. The ATP could use that in the marketing.
As for the match itself, it was about what you might expect, which is to say shorter and therefore preferable to watching one of Sandler or James' movies. I'd be lying if I said I haven't willingly endured an Adam Sandler film, since Punch Drunk Love was decent, but most of my viewing experiences have been conducted in undisclosed locations in western Latvia whilst chained to a chair and loomed over by burly men, until I cracked. Red hot pincers were on hand, but they never proved necessary. The Waterboy had me willing to confess to anything soon after the opening credits. I honestly haven't watched a Kevin James film, however, and therefore must admit that my determination not to is based on pure hearsay. I'll watch one when Peter Jackson agrees to film an eleven hour epic version of The King of Queens – The Return of the King of Queens – and not before. Only Jackson boasts the skill to sustain the palpable fantasy whereby James is married to Leah Rimini.
(4) Ferrer d. (8) Tipsarevic, 6/3 6/7 2/6 6/3 7/6
The exhibition by Sandler and James seemed especially superfluous given the superb and sinuous quarterfinal that immediately preceded it – a true epic – in which David Ferrer recovered to defeat Janko Tipsarevic in a fifth set tiebreak.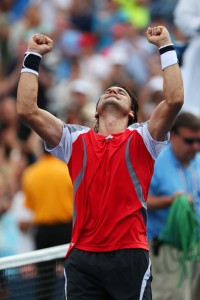 This match should have been an adequate warm-up act for anyone, or even, dare I say it, entirely worthy unto itself. I believe it to be the match of the tournament so far.
Tipsarevic led by two sets to one, and then by a break in the fifth. Yet, somehow, he could never quite convince the Spaniard to stop running, no matter how stridently he made the suggestion, nor how compelling he made the case for giving up look. Even as the match entered its fifth hour, and as his opponent began to tumble wearily about the court, Ferrer never seemed to tire, thanks to a transcendent level of fitness not even John McEnroe could legitimately question.
The match was conducted in a fine sporting spirit, with the only brief moment of controversy coming well-into the fifth, when Tipsarevic went over heavily on his ankle or leg, and fell to 15-40 on serve. He limped to the chair, and asked for an immediate medical timeout. The trainer appeared as if summoned via sorcery – although with Kevin James soon to take the court one imagines the medical staff were already on high alert – and commenced strapping the Serbian's strapping thigh. Upon re-emerging, Tipsarevic saved both break points, and then held aggressively, in a manner that would have had Fabio Fognini cheering and Albert Montanes rocking traumatically, assuming either or both were watching. Tipsarevic's movement freed up after that, although exhaustion was clearly hobbling him somewhat, in much the same way it wasn't for Ferrer. The crowd bestowed a standing ovation upon the players at the commencement of the final set tiebreaker, giving full voice to their relief that as day-ticket holders, they weren't obliged to hang around for the 'entertainment'.
(2) Djokovic d. (7) del Potro, 6/2 7/6 6/4
By the time a wearily determined Juan Martin del Potro executed an outrageous running backhand pass in the final game of his loss to Novak Djokovic, a disappointing number of seats in Arthur Ashe Stadium were no longer occupied. I assume that most of the tickets had been sold, and at least the lower tiers had looked quite full through the early going. I also assume that the kind of person who forks out hard-earned currency to watch a tennis match – a person in many ways like me – has at least a passing interest in watching tennis, and therefore would not have assumed that the evening was only going to get worse once Sandler and James had finished causing every spectators' sides to split.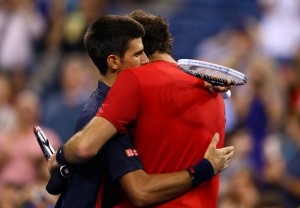 Interviewed by Brad Gilbert afterwards, Djokovic pointedly thanked those who'd stuck around until the end, who'd toughed out three entire sets of very high quality tennis.
The highest quality tennis came in the tortuous 84 minute second set, in which del Potro broke immediately, and then rode that advantage almost (but not quite) all the way until the end. Djokovic broke back as the Argentine served for it. In between they ran hard and far, and hit the ball hard and often, especially on any rally lasting longer than four shots, which usually ended when del Potro hit the ball hard and out. His best bet was to end points early, and he tellingly yielded back the break by failing to move forward behind a booming off forehand. By hanging back too often he permitted Djokovic's otherworldly defensive skills fully to flourish. The tiebreak reproduced the set in miniature, but with the intensity dialled all the way up. Del Potro found an early lead, but Djokovic finished the stronger. The point of the match, if not of the tournament, came at 5-3, as the defending champion sent his tiring opponent scurrying up and down and across the entire court twice, before del Potro finally made an error, then collapsed heaving onto the net. The set ended on the next point, when Djokovic redirected an excellent del Potro backhand up the line off his own backhand for the most pristine of winners. He was bellowing rather a lot by this time. So were the crowd.
From there it was unlikely that del Potro would find a way back, although he did eventually find his way back onto court after departing for an usually long to change his sodden clothes. Upon returning he double faulted, and was broken. Djokovic didn't precisely gallop away with the victory from there, and it was only by maintaining his stratospheric level that he wasn't eventually broken back. Del Potro, to his credit, never ceased toiling, and even in the final game was well into it.
Afterwards the Argentine was effusive in praising the world No.2, dubbing him, among other things, a 'warrior'. A similar sentiment was directed towards Ferrer after his earlier match, which the ATP website imaginatively declared to be a 'war'. Djokovic will certainly be the more favoured of the two warriors in their 'battle' on Super Saturday afternoon – I hope I'm getting the hang of these military metaphors – although the matter might be decided by the prowess of their respective partners. Bowing to pressure, the USTA has decided to repurpose the event as a mixed doubles match, and the men will be joined by an as-yet unspecified quantity of Kardashians – they're typically supplied by the yard – and Matthew Perry.