US Open, Day Nine
(4) Ferrer d. (13) Gasquet, 7/5 7/6 6/4
Following a long day spent watching almost no tennis, thanks to the onslaught of Hurricane Isaac's weakened vanguard, determined viewers of the US Open were this evening obliged to contemplate three men's matches conducted simultaneously, but only for an hour or so. Each ended in dispirited disarray when the rain wheeled around and came back to finish the job. A couple of Serbian favourites were up an early break, while Andy Roddick and Juan Martin del Potro were embarking on a promising tiebreak.
Earlier, in the drier part of the evening, a lone match had been completed.
Re-energised by an enforced break of several hours, David Ferrer and Richard Gasquet emerged for the completion of their fourth round match looking, respectively, purposeful and like a displaced hobo. Their hairstyles were a study in contrasts, as were their backhands. The match was delicately poised. Ferrer led by two sets to love, it's true, but Gasquet, if Nadia Petrova is to be believed, had the weather on his side. Things could therefore go either way. By now the belief that nothing alters momentum in a tennis match like water tumbling from the sky has established itself as uncontested orthodoxy, although some of Andy Murray's fans remain convinced that roof closure is equally as catastrophic.
Maria Sharapova later expressed a contrary view, one that was typically blunt yet resonated with the authority conferred by victory. Petrova thought Sharapova had gotten lucky with the rain. Sharapova didn't care what her countrywoman thought, since she'd won. In sport, pointing at the scoreboard often constitutes an uncounterable argument. Beyond that, however, her dismissal of Petrova's gripes reminded us that weather is a part of the sport, and that part of mastering the sport resides in one's capacity to deal with such things, unless you happen to be playing at one of those fine facilities with the wherewithal to insulate the players from the environment. The Billy Jean King National Tennis Center sadly boasts no such facility. When the US Open organisers adroitly rescheduled yesterday's night session to beat the incoming showers there was much appreciation of their quick thinking.
Someone essayed the opinion that stuffy old Wimbledon would never have done the same. The best response was that Wimbledon probably wouldn't  but nor would they have to. They would point not at the scoreboard, but at the roof, which they would then close, eventually.
Perhaps unsurprisingly, the person who was ahead before the rain delay (or before the roof was closed) quite often goes on to taste victory once the rain stops or the stadium seals itself hermetically. So it proved this evening. Ferrer was winning before, and then he was winning after, until he won finally, at which point he was permitted to rest. He was able to sustain his dominance through the break because it had never depended upon momentum. What we often mean when we say that the momentum changed was that one player was playing at a barely sustainable level, and that the inconvenient break in play ensured a fatal break in concentration. That is why Lukas Rosol's merciless composure in the final set against Rafael Nadal at Wimbledon was so unfathomable. He somehow continued to operate without discernible doubt even after he'd been granted the ideal opportunity to be crippled by it. If Rosol had duly collapsed, we might say that Nadal got lucky, and then move on, much as Petrova said of Sharapova.
Ferrer, however, had earlier established his lead over Gasquet by simply doing what he does well, that thing he does constantly that attracts canine metaphors like fleas. I won't go into it here, but it involves a lot of running, unrelenting pressure, and the promise to deal vigorously with any loose shots from his opponent. It is therefore easy enough to say he did nothing special, but this ignores the fact that few other guys can do it. It is special, even when it's not spectacular. The point is that he'd been playing fairly well within himself, even when he recovered from 3/5 in the second set, and saved a handful of set points. He had no real momentum to lose. He's just a bit better at tennis.
Gasquet, on the other hand, is a fundamentally streaky player with a proven ability to ride a wave for precisely as long as it maintains energy, but then nosedive into the sand, and be dragged back out to sea. Gasquet on a tear ranks among the better spectacles in tennis – a goes on winner benders – but today never much looked like being that kind of day. Faced with Ferrer at his least defatigable, it's hard to imagine the severity of the deluge that might have enabled Gasquet to turn the match around, unless you live in Bangladesh, and therefore prefer not to contemplate such things.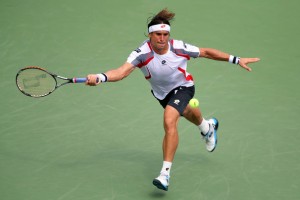 And notwithstanding the rococo brilliance of his backhand, his forehand, ever the true barometer of his form, needed to be better. In the end it was wrapped up quickly, and without undue pomp.
By losing today, Gasquet has completed his fourth round calendar year Grand Slam (R16CYGS), which I can only imagine must be a pretty rare achievement. In layman's terms this means that he reached the final sixteen in all four of the Majors played in 2012, but didn't win any of those matches. This feat may be unique in the wider sport – I haven't checked – but you'd have to think that Gasquet was always the man to pull it off. His record in fourth rounds is astonishingly poor: he has reached this round fourteen times, and won precisely once. This lone victory came at Wimbledon in 2007, when he went on to reach the semifinals, but lost to Federer. In order this year, he lost easily to Ferrer in Melbourne, took a set from Murray in Paris, and took another set from Florian Mayer at Wimbledon. The loss to Mayer on grass was especially lamentable, since it denied him the excuse of a bad draw, although he was rightly dressed down for a bad effort, since it was a tactical disaster. If nothing else, his failure to progress further suggests that Gasquet's perennial ranking in the mid-teens feels about right. For an ostensibly flaky player, he takes great care to always perform to his seeding. He is, ironically, a model of consistency that way.
Conversely, by winning David Ferrer became just the second Spaniard in the Open era to reach at least the quarterfinals of every Major in a single year, the other being of course Rafael Nadal. It's a strong achievement for a guy too readily decried as a mere clay-courter. In the quarterfinal he'll play the victor of Philipp Kohlschreiber and Janko Tipsarevic, who are good chance to complete their match sometime in the next few of weeks. Ferrer will be considered the favourite regardless of his opponent, and by winning would reach the semifinals. His quarter of the draw was patronisingly considered to be a rich opportunity for the other players in it. But Ferrer is proving, yet again, that it is mainly an opportunity for him. It's the kind of momentum that matters most.