US Open, Semifinal One
(3) Murray d. (6) Berdych, 5/7 6/2 6/1 7/6
It was 3/0 in the fourth set when the moment arrived, the moment that has come to feel integral to all Andy Murray victories. It is the moment when Murray's triumph feels so certain that even the British commentators let their collective guard down, loosen their belts, and whip off their cravats. Thus unbuttoned, they invariably grow breezily magnanimous, doling out praise or advice for the Scot's soon-to-be dispatched opponent. Of course, the praise and advice both arrive groaningly laden with subtext. If praise, the message is that the opponent has performed admirably just to make it competitive.
If advice, the valedictory ostinato of better-luck-next-time is unmistakable. In either case the message is the same: well done for showing up, but Our Andy is simply too good. The very best moment then comes when Murray is broken back, and the patronising flow temporarily dries up.
Today the opponent was Tomas Berdych, who narrowly avoided trapping himself down a double break at 0/3 in the fourth. The English voices on Eurosport graciously conceded that the Czech was 'a real fighter', which Berdych affirmed immediately by breaking back. Murray had no real cause to blame himself for this, but that has never stopped him from doing so. He'd already excoriated himself for almost every one of Berdych's winners, regularly counterpointing stern words with generalised howls and sharp blows to his own legs and head. His standards, we may be sure, are very high. On a day like today, in barely playable conditions, they were frankly unreasonable. Murray settled in for a fight. The disembodied voices describing what was happening on the screen grew slightly more pensive, and less lavish with their encouragement for Berdych.
Back at the start of the tournament I put forth the seemingly safe prediction that the 2012 US Open was unlikely to finish within its allotted two week span. I based this radical assessment upon historical precedent – there have been Monday finals for the last four years – and upon the biblically-themed hurricane that was even then reconfiguring parts of Louisiana. I then went on about it for a while. Through almost two weeks the event has boldly mocked my prediction. Threats of inclement weather came to nothing. Even Hurricane Isaac provided little assistance, as any time lost was easily recovered. All the quarterfinals were completed as scheduled. It looked for all the world as though the US Open would, at last, enjoy a Sunday final. If this was a horror film, Friday evening marked the traditional moment at which the smug protagonists would reason it was finally safe to relax their vigilance (even for a second). The tornado struck Queens in the late morning, driving lashing squalls ahead of it.
The first semifinal was delayed by an hour. With the tornado bearing down, the Billie Jean King National Tennis Centre was evacuated, and the second semifinal was abandoned, or postponed. I forget which. Either way, there will be no Sunday final. I'd had to call in a favour, but it was worth it.
Tennis is a lot more enjoyable in a high wind than, say, table tennis, but it still ranks a long way short of actual fun. If it rains, you simply don't play, but there is no 'wind rule' as such. After the first semifinal Mats Wilander and Barbara Schett agreed that there should be. Wilander felt that the conditions today had unfairly disfavoured Berdych, who would otherwise have been 'sure' he would beat Murray, which seemed like an overstated case to me. In any case, it was a day for careful footwork, abbreviated backswings, low ball tosses, myriad errors, good and bad ends, and at least one tantrum. These last I have termed 'filiblusters', with what I like to believe is a certain neologistic flair. Filibluster: to indulge in mid-match histrionic ranting owing to extreme wind.
Berdych's filibluster came fairly early in the first set, after Murray's hat blew off mid-point yet no hindrance penalty proved forthcoming. Pascal Maria believed that Murray's drop shot had won the point fairly, and that the dislodged cap hadn't made any difference.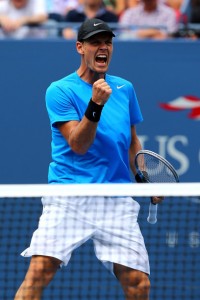 Berdych believed otherwise – human resources departments uselessly term this a 'difference of opinion' – and launched into a round of high-volume remonstrations that only ended when Murray sought to join in. Eventually the difference of opinion was resolved when Murray agreed to replay the point, since players are totally permitted to decide these things. The consensus among viewers was that Murray was a pretty swell guy, although I'd like to hear Ivan Lendl's thoughts, especially once his charge lost the replayed point, and was broken back. Berdych eventually broke late to take the 77 minute opening set 7/5, hitting flat and hard through the incessant breeze.
The wind provided most of the entertainment through the second and third sets, as umbrellas, drink bottles, garbage and chairs gambolled merrily about the court. Berdych's stratospheric ball toss was buffeted without mercy, and he frequently pulled out of his service motion, ducking from the ball – for some reason he rarely caught it – and glaring at it balefully. When his serve did go in he was broken almost relentlessly by Murray, whose higher-margin game was proving inherently more suited to the conditions. He made two unforced errors in the third set, to eleven from Berdych. His defence, it must be said, was often spectacular.
By the time the Scot gained break points at 3/0 in the fourth set, he had won fifteen of the last eighteen games, and Berdych's righteous outrage at being compared to Lukas Rosol was coming to seem a trifle less justified. The English commentators could be forgiven for a momentary lapse into complacency. Everyone else assumed the match was more or less over. Berdych of course saved that game, and then broke back. Eventually they reached the tiebreaker. The Czech flew to an early 5-2 lead, but Murray won the next three points. Suddenly Berdych's belted forehands were careening long. Murray saved a set point at 5-6, then Berdych saved one match point, but not a second. It ended on another forehand error. I was momentarily startled by Murray's jubilence upon achieving victory. He only barely stopped short of high-fiving the front row adjacent to the court.
Then I reminded myself that he had just reached another Major final – his second in a row – and that this is kind of a big deal, for anyone. Somehow, owing to the wind and the onrushing tornado, the magnitude of the occasion had been misplaced. Saturday wasn't quite Super enough.
Watching on television, it is easy to understate how difficult such conditions are to play through, especially for two guys who hadn't once forgotten where they were. Interviewed immediately afterwards, Murray looked exhausted: 'It was brutal; you had to focus for every single point and get yourself in the right position for every shot. The ball was sometimes stopping and moving the other way, chairs were sometimes flying on court. It was some of the toughest conditions I've ever played in, and I'm from Scotland.' After that he got to meet Sean Connery, and therefore had an ideal excuse to make small talk about the weather.
On Monday Murray will once again try to win his first Major title, from his fifth final. Presumably no one has forgotten that Lendl also lost his first four major finals. It's a coincidence, of course, but such things still matter. The Scot will face the winner of the second final, in which David Ferrer surprisingly leads a filiblustering Novak Djokovic by five games to two in the opening set. It is commonly said that wind is the great equaliser in tennis. It turns out extreme wind enables Ferrer to more than equal the reigning champion. Sadly for him, the forecast for tomorrow is for clarity and stillness. It's little wonder the Spaniard looked so uncharacteristically frustrated as the players were hustled from the court. The crowd erupted in an unsympathetic roar, before it too disintegrated and streamed for the exits, and then hurried home.