World Group Semifinals
Czech Republic d. Argentina, 3-2
Spain d. USA, 3-1
Spain will face the Czech Republic in the 2012 Davis Cup final, which I fervently hope is more engaging than either of this weekend's two semifinals turned out to be. It is often the case that the Davis Cup semifinals are disappointingly lopsided. Mostly this owes to the fact that most nations don't have anything like a full roster of available players, and that only for Spain is this not an issue.
This deep into the tennis season, and following on so close after the US Open, there are always going to be issues with injuries, and these will almost always prove decisive one way or another.
Of the four teams competing in the semifinals this weekend, only the Czechs were at full strength, although even this is a relative assessment, given that the Czech Republic essentially fields a two man squad (I use the word 'man' here in its broadest sense, given that Radek Stepanek is a kind of sentient golem, while Tomas Berdych is lucky Rick Deckard never made it to Ostrava). These two are ably supported by a shadowy cast of extras who only ever leave the bench when dead rubbers need to be deprived of further oxygen. Today that task fell to Ivo Minar, who lost comfortably to Juan Monaco in the meaningless fifth match.
Prior to that gripping encounter, Berdych clinched the tie by defeating Carlos Berloqc in a match that was easier than those who'd say it was closer than it looked insisted. I suppose I should untangle that grammatical snarl. It was a straightforward win for Berdych, but it was the kind of win in which a gallant but over-matched player acquits himself admirably, but cannot take whatever chances he had to make it closer. There was never much danger of Berdych losing to Berlocq, unless he rediscovered the execrable form he'd shown between Roland Garros and the US Open, when he proved capable of and willing to lose to just about anyone. Admittedly he'd appeared willing enough to lose to Monaco on Friday, but had been fortunate to discover an opponent able to head him off at every turn. There were no depths to which Berdych might sink that he wouldn't discover Monaco already setting up camp. It was very demoralising for Berdych. It was a long match – somewhere over four hours – but it wasn't a very good one.
The other match played on Friday was shorter, although for Argentinean fans the ramifications turned out to be far more long-reaching. Juan Martin del Potro saw off Stepanek pretty handily, but in doing so managed seriously to injure whatever tendons were still holding his left wrist in place. He has been instructed not to use the wrist for ten days, although he'd also been advised not to play the tie at all. He has therefore entered himself into a high-stakes celebrity arm-wresting tournament for the weekend.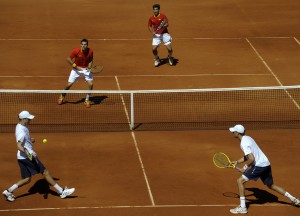 In any case, del Potro's wrist explained Berlocq's debut in the first of the reverse singles, which in turn put the tie rather beyond doubt even in the event that Argentina snuck out a win in the doubles, which they didn't.
The USA did manage a win in the doubles, thanks to those fabulously reliable and frighteningly up-tempo Bryan twins, but that was the only rubber they could find against Spain. Again, it wasn't taxing to see how this one would play out. Isner today provided a momentary thrill by taking the first set from Ferrer, but after that he couldn't convince the Spaniard to stop breaking his serve. Sam Querrey was equally unpersuasive on the opening day. On clay, in Spain, Ferrer has so far proved to be unbeatable. But I suspect that the hosts would have won this tie even without him, and even had the American squad included Roddick and Fish, who were out for various reasons, including but not limited to retirement and an intrinsic aversion to the European mainland.
World Group Play-Offs
As is often the case, the best of the year's third weekend of Davis Cup was found in the World Group play-offs being staged at various flashpoints across the globe, and in one instance within a super-villain hideout in a hollowed-out volcano, cunningly set-dressed to look like the Rothenbaum. Roger Federer led Switzerland to a comfortable win over The Netherlands, winning both singles matches.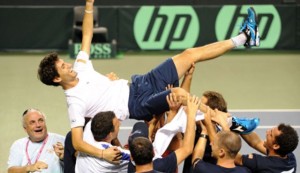 Meanwhile Brazil effortlessly accounted for a spectacularly weak Russian team, dropping one set for the entire weekend. At least Alex Bogomolov Jr is realising his Davis Cup dream, assuming that dream is to lose dead rubbers in straight sets.
Israel travelled to Japan, but has since left. Whilst there it defeated the host nation, thanks mainly to Amir Weintraub, who won both of his singles matches over vastly higher ranked players (Tatsuma Ito and Go Soeda). Davis Cup brings something to Weintraub's game that he lacks in regular tournament play (his ranking has fallen back beyond the top 200). I think it would be worth his while finding out what that thing is. It would be a start. His backhand was, as ever, lovely. That could be part of it. The highlight of this tie was Kei Nishikori nursing his damaged shoulder through a five set victory over Dudi Sela to keep Japan's chances alive on the final morning. For Nishikori the low-light was presumably when it all came to nought. For everyone else it was Soeda's questionable decision to call for the trainer while Weintraub served for the tie.
Meanwhile in Hamburg's 'Rothenbaum' a second-string German squad – Florian Mayer as spearhead in the absence of Philipp Kohlschreiber and Tommy Haas – saw off a full strength Australia. Again, these are relative terms. It is wrong to say that Australian men's tennis lacks depth at the moment, since that's really all it has. Most of its players are ranked very deep indeed. What Australia needs is someone up on the surface, making waves. Instead we had Bernard Tomic, who contrived to look all at sea, even on red dirt. He fought back well to defeat Cedrik-Marcel Stebe on the opening day, and therefore won Australia's only singles rubber.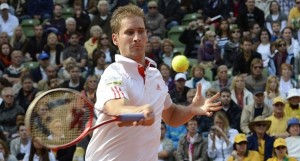 This is important to bear in mind as we get down to the business of lynching him for his supposedly lack-lustre efforts, even as we honour Lleyton Hewitt for toiling on into his twilight years.
The tie was dominated by Mayer, who was at his unorthodox best. He didn't drop a set, and for vast swathes of both his singles matches he had both Australians at his mercy, jerking and prodding their unwilling frames around the court. That leaping double-fisted backhand dropshot that he hits deserves to be named in his honour. It most certainly isn't a thing of beauty, but it is his and it is utterly effective. Nevertheless, the visitors won the doubles – Chris Guccione has a stellar record in Davis Cup doubles – and entered the final weekend with a 2-1 advantage. Tomic was rapidly outfoxed by Mayer, which allowed John Fitzgerald ample opportunity to rehearse his tone of paternal disappointment in the young Australian, which he only interrupted in order to point out that Tony Roche was doing the same more vehemently from extreme close range. Pat Rafter was having a go, too. Everyone was in Tomic's ear, but it did no good.
There was a momentary possibility that Philipp Petzschner would replace Stebe to face Hewitt in the deciding rubber, but to the consternation of the home crowd he was ruled out with injury. Then, for the second time in two years, Australia's most capped Davis Cup veteran was upset in the fifth and deciding rubber, miring his country for yet another year in the zonal play-offs. It was over in straight sets. Stebe was ecstatic. In commentary, Fitzgerald's recurring trope for this match was 'the tank', and just how little Hewitt had remaining in his, after three days of play, and fifteen years grinding away on the tour. He remarked on this so frequently that I began to suspect some sort of wager was involved. Fitzgerald served as Davis Cup captain before Rafter, and it was clear he was shattered, by the loss of the tie, but also by the comprehensiveness with which Hewitt had been outplayed by Stebe, a player he would have once dispatched without trouble, on any surface. It wasn't just that Stebe had outhit Hewitt. He'd hit through him. The end feels close.
I switched the channel. Downfall was showing on another channel, hopefully by coincidence. It was a useful reminder that even worse fates can befall a country than losing a Davis Cup tie. On my computer and in Parque Roca Berdych and Berlocq were already going at it.