The location is Rod Laver Arena. The situation is the semifinal of the Australian Open. The year is 2005. The month is January. It was a simpler time, and we all spoke in much shorter sentences. The protagonists are Andy Roddick and Lleyton Hewitt, who according to the official rankings are the second and third best tennis players on the planet. The American is irritated and fidgety. The Australian is florid-faced and sleeveless. The local crowd has been whipped to a patriotic lather by Alicia Molik's earlier victory in the final of the Women's Doubles, and by the presence of Olivia Newton-John and Shane Warne in Hewitt player's box. Our Lleyton breaks serve, and mimes starting a lawn mower. Roddick furiously adjusts his sleeves, which in his entire career have never once settled into an ideal position of their own accord.
The noise is deafening. In the televisised version, the commentators cross to Todd Woodbridge, seated in the stands, though nowhere near me. They ask him about the crowd noise. An expert at such things, Woodbridge confirms that it is indeed very loud.
After a year of decline, Hewitt had posted a resurgent year in 2004, one that saw him return to the top of the sport as a considerably more rounded player than he'd been when ranked No.1. At the top he discovered that his former whipping boy Roger Federer had elevated men's tennis to a frightening new level. Hewitt's 2004 had ended with pastings at Federer's hands in the finals of the US Open and the Masters Cup. He'd also been overpowered by Marat Safin in the Paris Indoors. The issue, for the hitherto modestly proportioned Australian, was one of power, and where he might find more of it. With this in mind, and perhaps inspired by Brad Pitt's recent transformation in Troy, Hewitt had invested sufficient time in the gym that his jaws now had biceps. His biceps looked like thighs. This was his response to the challenge that Federer had laid down, but appeared incapable of losing. Others had different responses.
Roddick, for example, went the other way. Serve aside, he commenced a long retreat from power and risk, a rear-guard action against the assertive and optimistic style that initially propelled him to the top ranking and a US Open title. He very gradually fashioned himself into a defensive baseliner, for all that he'd never been an especially accomplished defender. Opinion remains divided over whether he was right to do this. Some insist that this measured approach – in which half-paced rallying was periodically punctuated by suicidal forays at the net – kept him in the top ten for many years. They're probably right. We had assumed that his erstwhile exuberance was natural, but whether it was or not, Roddick set about tempering it so that he might more reliably continue to defeat those ranked below him, even as it meant he was less equipped to challenge those ranked higher. It seemed like a strategy tailored to keep him in the top ten, but not the top five, and it worked. This seems borne out by the fact that every one of Roddick's deep runs at Majors after 2007 felt unlikely, as did his visits to the finals of Indian Wells and Miami in 2010.
Others insist that while continued aggression would have produced wild fluctuations in his ranking, he might have won more of the events that matter most. The peaks would have been higher, even if the valleys were deeper. I am partial to this theory. Would Safin have traded his second Major – this very 2005 Australian Open – for greater consistency? I doubt it. I'm not the first to suggest Roddick might have won a second Slam had he only realised he had less to lose than it seemed. Now that he has retired from the sport, contemplating his career mostly leaves me with a vague sadness at what might have been had he been willing to risk more.
Roddick vigorously thrust his way into public consciousness in 2001 by beating defending champion Pete Sampras in Miami. Suddenly everyone was talking about his serve, among the biggest and strangest anyone had ever seen, although level heads knowingly suggested that his right shoulder would inevitably detach within a few years, since there's no way that motion could be sustained. When we weren't talking about his serve we were talking about the forehand with which he backed it up. Sampras had demonstrated for over decade that the limitations inherent in a style based around devastating serve-forehand combinations backed up by world-class athleticism weren't especially limiting when done right. Roddick looked to be the apotheosis of that style. His serve was bigger, and his forehand, while less astonishingly explosive on the run, seemed just about as potent. The future of American's men's tennis looked fairly well assured, on the slim chance that his shoulder didn't tear clean off, and assuming he ever learned to volley.
It was this game that swept him through the US Summer in 2003, cleaning up in Montreal, Cincinnati and New York. In the US Open final he dismantled the new No.1 Juan Carlos Ferrer in three very straight sets, although he'd been exceedingly fortunate to survive David Nalbandian in the semifinal. Roddick would go on to finish 2003 as the world's No.1 player.
Even by Wimbledon the following year, when he and Federer met in the final, Roddick's name remained a by-word for reckless attack. He also had a beard, which I thought suited him. Asked beforehand how he thought the final would play out, Roddick remarked that Federer would no doubt employ considerable variety, all-court artistry and grass-court nous, while he himself would just go out and try to beat the crap out of the ball, or words to that effect.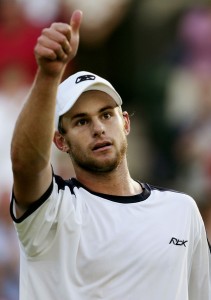 That's how it played out, and Roddick managed to overwhelm the defending champion for a set and a half. Ultimately it didn't quite work – 'I threw the kitchen sink at him but he went to the bathroom and got his tub' – but that was no reason to think he was on the wrong track. Indeed, he confessed that he took heart from how he'd taken it to the world No.1, and that only a few points here or there had decided things.  Nevertheless, it was from around this time that a different, more circumspect Roddick began to emerge, even if it's tricky to pinpoint the precise moment when he gave up on beating the crap out of the ball. It's tempting to think there was one crucial loss too many.
Certainly by the Australian Open of the following year he was playing with greater margin. Hewitt's absurdly enhanced musculature enabled him to mostly out-hit Roddick from the baseline in their semifinal, although to be fair the American wasn't at his best. But it was still interesting to see, since it ran counter to everything I thought I knew about the American's game. I was startled by how 'not-hard' he was hitting the ball.'Not-hard' was a usefully negative phrase used by Jim Courier to describe Roddick's rallying style some years later.
Commentating on Roddick's fourth round loss to Stanislas Wawrinka at the 2010 Australian Open, Courier aired the unusual opinion that perhaps Roddick didn't realise just how not-hard he was in fact hitting the ball. Perhaps Roddick thought he was really beating the crap out of it. This seemed faintly ridiculous on the face of it. Surely he had noticed how his forehands into the open court would be tracked down by all but the most ponderous of opponents? Surely the experts he employed to tell him this kind of thing were actually telling him this kind of thing? Courier had just been appointed to the Davis Cup captaincy. I never did find out whether he aired this matter with Roddick. One suspects he would not have found a receptive ear. Roddick always seemed very resistant to this kind of analysis.
Very occasionally in the final years Roddick would play the way he used to, and achieve a striking result, such as his defeat of Federer in Miami this year, or of David Ferrer at last year's US Open, or of Rafael Nadal in Miami in 2010. Yet afterwards he would essay some sarcastic comment to the effect that it was amazing how no one criticised his approach when he was winning. It was almost as though he didn't realise how he'd won, that he really believed he'd just been noodling about the same as ever. To everyone else difference was so blindingly obvious that it was hard to look at. But sometimes after the fact even ostensibly reckless flight stands revealed as a carefully planned escape. Even to the very end this contrast was apparent.
At the recently concluded US Open the match he played to demolish Bernard Tomic was not the same one he played against Fabio Fognini a round later. He still beat Fognini handily, it's true, and it's churlish to suggest he went about it the wrong way. But imagine how exciting it would have been if he'd instead played the way he did the round before. Imagine if he'd gone out playing like that against Juan Martin del Potro. Imagine if he'd played like that for the last seven or eight years.
Todd Woodbridge wasn't wrong. The noise inside Rod Laver Arena was indeed 'very loud' that night in 2005. It was sufficient that very few individual voices could be picked out through the cascading aural wash, relentlessly gushing down onto the two scampering  young men. The umpire had a microphone, so we heard him. And Hewitt's frenzied bellows of 'C'mon' rang out clear, as did Roddick's anguished 'God damn it!' And from directly from my left came my partner's voice. She was blessed with a voice whose timbre can still traffic, a voice that laughs at the very idea of sound-proofing. Through the full-throttle patriotic chorus for Our Lleyton came her piercing cry of 'Go Andy!' The mob, offended to its core, redoubled its efforts. In the end they won, and Hewitt was on his knees with his improbably lumpy arms thrust aloft. A careworn Roddick trudged to the net. He had much to think on. Too much, it turned out.
I'll be back with another post on my favourite Roddick matches at some other time. In all of them, he went for broke when it mattered, even if it didn't always work out.