The final Major tournament of the 2012 season finished several days ago. It was held in New York, and concluded on a Monday, as is customary. Andy Murray won it. This news somehow feels more surprising now than it did when it happened.
Given time to sink in, it has sunk to that place where we blithely assumed every Major was a three-way race. I hope that has changed, for the good of the sport. Andy Murray is the US Open champion.
The delayed Monday final, which had been widely anticipated, was due directly to a tornado that visited Queens on Saturday, but indirectly to a series of controversial decisions on the tournament's part. One of these decisions was to retain the schedule whereby both men's semifinals would be played consecutively in that vast research facility known as Arthur Ashe Stadium, which for fifty weeks a year is used to study the effect of chaotic wind dynamics on rodents and birds. For two weeks each September, as typhoons circle impatiently in the Gulf, the researchers are permitted to use human subjects. This important function explains why the structure lacks a roof. It's science.
To my knowledge, the US Open remains the only Major in which the prize money is advertised during the trophy ceremony, perhaps in the belief that we peasants enjoy it when large sums of cash are made marginally less theoretical. Fortunately they've done away with novelty oversized cheques, since these can be used as weapons (a paper-cut from one is like being attacked with a blunt scimitar). There was also the small matter of the gripping US Open Series, which Djokovic apparently won, thereby supplementing his payout by a further half a million bucks. The Serb had the grace to smile awkwardly while this figure was read out to the crowd, who duly applauded. It's a tricky moment to navigate for a tennis player – they cannot seem too disinterested, yet nor can they imply that they toil for any reason but a noble love of competition – but Djokovic's gracious tilt of the head struck an appropriate balance.
In any case, we weren't given long to ruminate on this, since the trophy presentation lasted about 35 seconds. CBS had some vital evening programming to cut to, and weren't prepared to risk having one of the players attempt to thank their supporters in their native language. However, this did have the benefit of seriously curtailing the sponsors' speeches. One hopes the Australian Open takes a good look at this, and limits the time it grants to the CEO of Kia Motors, who after ten minutes with the microphone has barely exhausted his warm-up material.
Speaking of sponsors, Murray was granted a few additional moments to parade his hastily-located Rado watch, which was later interviewed by Sky Sports.
The commentary at the US Open was about as delightful as ever, meaning it provided a solid fortnight's fuel supply for those inclined to poke fun, a habit I largely avoid. I also largely avoided ESPN, and therefore missed the combined brilliance of the McEnroe brothers, including a notorious effort in Roger Federer's opening match against Donald Young. I've heard them before, of course, and am well-accustomed to the way their inclination to disapprove contrasts and circles before eventually joining rapturously, rather like the climax of La ci darem la mano (Patrick is Zerlina). The network told John to rein it in. Apparently he wasn't employed to complain, which seems counter-intuitive. Meanwhile Patrick, whose interests only grew more conflicted as the Taylor Townsend story broke part, received ESPN's unequivocal backing.
Can someone please explain the commentators' unwavering fascination with serve-speed? Al Trautwig in particular could barely permit any serve to smack into the back drop before letting us know precisely how rapidly it had got there. Over on US Open Radio they had better cause to recite such details, since they lacked visuals, but they were still prone to focussing on this number to the exclusion of any other. They very quickly ran out of creative ways to mention it.
Elsewhere Frew, Mats and the Eurosport gang remained the pick of the bunch, although Barbara Schett's interviews continue to pluck at the threads of sanity. The predominantly British personnel kept their heads even as the draw slimmed down and Murray emerged as a genuine contender. Operating under a more permissive mandate, Sky Sports didn't work the same trick. Boris Becker was presumably employed to provide some balance. The German is famous everywhere, but is notorious on Twitter for commenting on events a good day after they've transpired – much like I'm doing with this post – so the fast turnaround of his thoughts was a pleasant change. Becker's fellow booth-jockeys informed us that he'd absconded within minutes of Murray claiming the title, since he had a high-stakes poker game to get to somewhere in Europe (I'm not making this up). The subtext, I think, was that Le Chiffre doesn't like to be kept waiting.
Match of the Tournament
I am vaguely aware that, in certain countries, publicly denying that the men's final of the 2012 US Open was the greatest match of all time can result in a midnight visit from anonymous thugs wielding short lengths of pipe. Luckily for me those countries are concentrated in Great Britain, and are thus about seventeen thousand kilometres astern of my current location. My vague awareness thus doesn't have to become a painful one.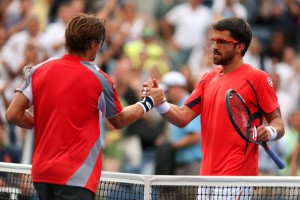 I can say with some certainty that the final was the best match played that day, or even over the extended final weekend. But the best match that I saw at this US Open was the quarterfinal between David Ferrer and Janko Tipsarevic, which the Spaniard eventually won in a fifth set tiebreak.
Ferrer trailed by a break early in that fifth set, but it would have been a brave punter who backed the Serbian in from that position. Tipsarevic was tiring rapidly, which made his frantic efforts only more commendable. Unfortunately for him, Ferrer has learned the knack of deriving sustenance from his opponent's exhaustion, and thereby gaining strength. They traded desperate points, mostly but not exclusively with Tipsarevic on offence and Ferrer scurrying. Afterwards they both knew they'd been part of something special. Ferrer remarked that either man should have won, which is the kind of thing winners are inclined say. Tipsarevic, rightly proud of his effort even in defeat, hoped the crowd had appreciated it, and now realised that excellent tennis was possible even in a quarter that lacked a member of the big four.
Players
If nothing else, Tomas Berdych's run to the final of Winston-Salem the week before the US Open demonstrated that these smaller lead-up tournaments, easily written off as being inconsequential, can still serve a valuable purpose for top players short on form. This is quite aside from their usual function, which is to tire out John Isner or Nicolas Almagro for the impending Major, thereby giving everyone else a chance. Prior to arriving in North Carolina Berdych had barely strung together consecutive wins since Roland Garros. After that he was something of a juggernaut, at least in the quarterfinal against Federer, and played commendably for parts of the semifinal in conditions that did not suit him at all.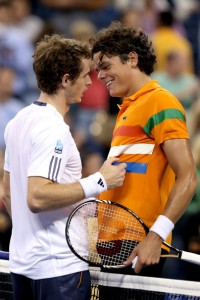 Conversely, a fetchingly stubbled Jo-Wilfried Tsonga reached the semifinals in Winston-Salem, but succumbed listlessly to Martin Klizan in the second round in New York. Klizan is playing the tennis of his life, but there are limits, especially given the Frenchman's recent heroics at Slam level. Even his disappointing exit in Melbourne was to Kei Nishikori in five sets.
Earlier, Milos Raonic approached his encounter with Murray boldly determined to prove he wasn't just an unreturnable serve, but then put in a performance that suggested he isn't even that. Murray dismantled him. I'm apparently alone in not caring that Raonic had a ready smile and cuddle for his opponent, although I confess I found his Lacoste t-shirt pretty offensive. James Blake, in mauling Marcel Granollers, reminded us why he used to mix it with the top five. He was then mauled by Raonic, who proved he can also smile amiably while dishing it out. You can't ask for more than that.
Mardy Fish narrowly avoided being smothered by a wounded Gilles Simon, his only lifeline the steady rhythm of Al Trautwig reciting the speed of each serve – '90mph, 93mph, 92mph . . .' – in much the same way chatting to coma-victims tenuously connects them to reality. Fish then pulled out of his fourth round against Federer. Federer denied that this walkover had anything to do with his subsequent loss to Berdych. Indeed, the world No.1 seemed at a loss to explain why it had happened at all. He just didn't play very well, and his opponent did. It happens, even to Federer. It wasn't the end of the world, even though it coincided with, and briefly eclipsed, the end of Andy Roddick's career. Roddick's career, which I'll discuss at length another time, ended against Juan Martin del Potro. The Argentine has since revealed that his niggling wrist injury might be as bad as we'd all feared. At least it's the other wrist, but it's still a damn shame.
I've realised that this is one of those posts that could theoretically go on forever – I haven't even mentioned Isner, Kohlschreiber, Zemlja or Baker – which is generally a good cue to finish. This is therefore the part where I'd normally close with a pithy statement. Please try to think of a good one you might have read elsewhere.