Cincinnati Masters, Quarterfinal
(1) Federer d. (10) Fish, 6/3 7/6
Roger Federer tonight defeated Mardy Fish in two highly entertaining sets of tennis at the Lindner Family Tennis Center, lest you retain any vestigial doubt as to the sport at which they competing, or the venue where it occurred.
(I don't know who the Lindners are, or why they'd need an entire tennis centre all to themselves, but I am grateful that they permit the ATP and WTA to stage concurrent tennis tournaments there each August.) Federer and Fish contested the final here two years ago. That match was longer, but this one was better.
This was aggressive, fast court tennis near its finest, for all the talk through the early part of the week was that Cincinnati's surface, hitherto among tour's quickest, had been slowed disastrously. The species of fan who endlessly laments this development in professional tennis wasted no time adding Cincinnati to the long list of tournaments that have allegedly bowed to the merciless directives of the governing body, which won't rest until every final lasts six hours, and every player's knees are reduced to  uncushioned husks. But then Federer remarked that the conditions were still quick, and bouncy. Presumably he's in on it, too, as head of the Player's Council. From where I was sitting – directly behind the court and across the Pacific Ocean – it seemed fast enough. Unquestionably it wasn't the fastest court I've ever seen, but it was fast enough to encourage attacking tennis like tonight's. I guess I'm in on it, as well.
Federer was peerless through the first set, in which he broke emphatically at the very beginning and imperiously at the very end. The first break came in the opening game amidst a hail of winners. The second was achieved with a backhand return up the line that Fish hardly moved for, then only paused for in order to register it kissing the line, before spinning and stalking to his chair, whereupon he abused the umpire for a while. I gather this is a technique the USTA instructs its players in from a formative age, and which will one day enable Ryan Harrison to surpass those of his fellows needlessly burdened by reticence.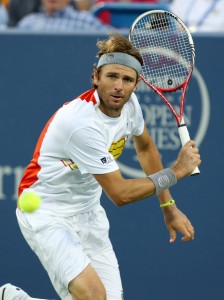 Mohamed Lahyani had indeed made an incorrect overrule earlier in the set, on a point that was in no way pivotal, and Fish wasn't going to rest until Mo had admitted his error publicly. It seemed important at the time.
It's possible that Fish's aggravation really owed to his having dropped serve again, from 30-0 up, although he had only himself to blame, having needlessly 'exposed himself' with a crosscourt forehand to the waiting Federer. 'It's not good to expose yourself on a tennis court,' remarked Doug Adler in the booth. 'Or anywhere, really,' replied Nick Lester. Words to live by.
For whatever reason, the American lifted perceptibly as the second set got under way, his first serve much improved, his footwork energised, his backhand unreadable. Lahyani overruled again, but correctly, on a ball that was at least half a foot in. Fish was having none of it, though, and challenged with the kind of perfunctory petulance Federer usually reserves for Hawkeye. Astoundingly, it was in. The tennis was superb from both men, however: many points covering the entire court, serves thundering down, passing shots flashing by, and winners coming in a steady torrent. It was hard to see how it could get much better.
Then Kiss Cam was unleashed at the next change of ends, proving that the only thing more engaging than high quality night-time tennis is cajoling American couples to smooch for the amusement of their peers. Federer later admitted that he sometimes finds the antics on Kiss Cam – they're people, and they're kissing – amusing enough that it almost breaks his concentration, although you wouldn't know it from his calmly reserved on-court demeanour. I sometimes wonder at the control he exerts in order to subsume his natural tendency towards goofy laughter.
Fish, his own serve now humming along nicely, began to inflict some dents on Federer's games. Several times Fish moved to 0-30, although I cannot recall that he ever made it further than that. Federer generally produced four excellent points to seal these games, although in one case his framed backhand pass inspired sufficient indecision in Fish that the American let it go, and was more dismayed than thrilled when it plonked in. Fish saved a match point in the twelfth game with a sharp serve up the T, just as he'd done on a set point in the first set.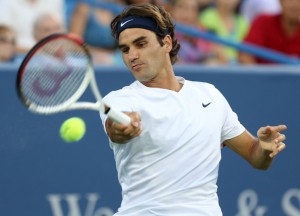 Then it was the tiebreak, and it was as taut and skilful as the rest of the set, except for a Fish backhand winner that missed the court by inches, and a backhand pass that clipped the tape and would have bounded wide had Federer not slammed it away for a winner.
Adler had by now grown a touch unhinged by the world No.1's numinous elegance, and commenced an overlong and not-especially original comparison of Federer to a ballet dancer. Robbie Koenig had relieved the affable Lester after the first set, but even his quaint determination to remark on the actual match proved powerless to impede his co-commentator's momentum, even when Federer was producing further miracles of torque and pace before their very eyes. 'Fish didn't think that was going over!' exclaimed Koenig. Adler was not to be distracted: 'No, of course not. He's like Baryshnikov. Floating.' Federer took the match on his third match point, with another typically balletic trip to the net behind the kind of scything crosscourt forehand that Vaslav Nijinsky was once renowned for. He and Fish exchanged warm sentiments at the net, although the merciful absence of Kiss Cam saved this from becoming truly awkward.
Fish reached the semifinals here last year, and will therefore shed some points by losing a round earlier. Indeed, he will fall outside the top twenty, and Andy Roddick will take over as the second ranked American (behind John Isner). It wasn't so long ago that it felt odd when Fish surpassed Roddick to become the top-ranked American. Now it feels vaguely unreal that he's fallen back below him. Apparently we've come a long way, but I cannot say in which direction. Federer will play Stanislas Wawrinka in the semifinals, who beat Milos Raonic in another excellent match earlier in the day. (Wawrinka, as ever, celebrated victory by nearly overloading Twitter with photos of himself, although he hasn't grown so proud that he doesn't take due care to retweet anyone's else pictures of him as well.) If Federer wins that match, and reaches the final, he is guaranteed to retain the No.1 ranking even if Novak Djokovic wins the title. Djokovic and Juan Martin del Potro will contest the other semifinal, which I suspect will be excellent.