Cincinnati Masters, Days One to Four
The big news this week at the Mason (Ohio) Masters was that Brian Baker won his first match on North American hardcourts, from only his fifth attempt. He defeated Philipp Kohlschreiber. According to some reports, this victory 'avenged' Baker's earlier loss to the German at Wimbledon, since a thirst for vengeance is assuredly the ideal thing for an elite athlete to cultivate as they approach any given match. He then lost his next match, to Bernard Tomic.
I imagine he'll have to extract revenge for that one at a later date. Hopefully he has a little notebook, so that he can keep track of all these vendettas. Given his recent dip in form, he's been racking up a few.
I'm not convinced Baker is that kind of guy. The early chapters of his storied comeback, which unfolded on Continental clay and English grass, were permeated by a sense of wonderment that any player could, from nowhere, win so many fine matches against so many fine players. The latter chapters, currently taking place on North America's hardcourts, are mostly characterised by bafflement that he can now barely beat anyone at all. He made it all look so easy, but it turns out professional tennis is actually pretty hard. One doubts whether Baker himself was ever likely to forget this, even as he pushed to the Nice final, or the Wimbledon fourth round, and as patriotic feature articles emerged daily from major news sites.
I'd guess a handy sense of perspective was instilled into his gradually reknitting sinews, muscles and bones even as he lay recuperating from his 253rd consecutive bout of surgery. He seems a firmly-grounded and off-handedly modest sort, so it is hard to see that he'll ever get ahead of himself. It is his newly accrued fans that need to be reined in, since some have surged very far ahead of themselves indeed. The merest stumble would see them crushed beneath his onrushing bandwagon, even if it is growing lighter and more rickety by the day. Such a vehicle can still break your back if you're caught under it, especially Baker's, which is powered by revenge, and is therefore a kind of post-apocalyptic Mad Max-type affair. Much like Lukáš Rosol, who audaciously upset Rafael Nadal in what might well turn out to be the Spaniard's last match for the season, Baker has discovered that the devoted following one attracts upon achieving a breakthrough win can evaporate almost as quickly if you don't sustain your form indefinitely. Most bandwagons start to steer a trifle wonkily by this point, as the suspension becomes irreparably shot from having so many people constantly jumping on and off. This, incidentally, is why you should never buy a bandwagon second-hand.
No one needs to tell Tommy Haas this. He has devoted the worst part of a decade illustrating just how hard tennis can be, especially on the shoulders and the soul. Few players' bandwagons have experienced more breakdowns and collisions. Haas' once mighty, purring Daimler engine has sputtered and coughed through recent years, and it was hard to see how it could keep going much longer. That's how it goes. Machines break down. But now, suddenly, it's as though the second law of thermodynamics has been temporarily suspended, or even reversed. He's back, and looking rather strikingly like a top ten player, which at the current rate of ascent he soon will be. For the second week in a row Haas defeated David Nalbandian – another veteran whose bandwagon as seen better days – although this week's instalment was superior. Haas again saved match points. It merits mention that Nalbandian has not won a match since the Queens final, which as I remember was utterly without incident. Anyway, Haas today lost to Juan Martin del Potro, which was a shame in at least one respect, since (I think) it would have propelled the German back into the top twenty.
Instead it was nice for del Potro, who has shrewdly chosen to remain in good form following the Olympics. Lucky fellow that he is, he'll now get to demonstrate this against Viktor Troicki.
Later on Roger Federer overcame Alex Bogomolov Jr in precisely one hour, which proved sightly too soon for the stirring comeback the Russian had planned. This wasn't his fault. As they changed over for the final time at 5/2, Bogomolov was heard demanding of the umpire how long the second set had thus far lasted.  The umpire must have been sorely tempted to reply 'not long,' but showed commendable restraint, especially given Bogomolov's challenging tone. It turned out the Russian was actually inquiring after the racquet he'd sent off for restringing after the first set. It hadn't come back. Two things became clear. Firstly, this was somehow the umpire's fault. Secondly, without his freshly restrung racquet, there would be no comeback. Federer was through, and it's entirely possible he didn't realise how lucky he'd been.
Federer will play Tomic in the third round. The young Australian has already beaten Ryan Harrison and Baker, and so should be amply prepared, come what may. He'll be keen on revenge for the Australian Open. Meanwhile Novak Djokovic has earned the right to face Nikolay Davydenko in what would have been a gripping third round encounter in late 2009.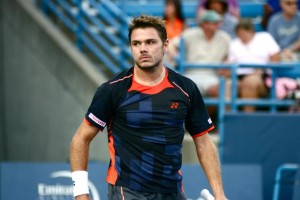 Davydenko used to beat everyone back then, but has since given that away, in order that he might fully explore other outcomes, namely losing a lot. Lots of people are settling debts.
Stan Wawrinka temporarily left off tweeting photos of himself in order to thrash David Ferrer. Wawrinka's rousing pride at this accomplishment was clearly evident in the next round of photos, which all featured him. Others have largely ignored Wawrinka's role in the outcome, and have instead taken it as an invitation to agonise over what this will mean for the US Open, since Ferrer will be seeded fourth there, owing to Nadal's withdrawal. What it will mean is that Federer and Djokovic, as top seeds, will be drawn to meet either Ferrer or Andy Murray in the semifinals. There appears to be broad consensus that, all else being equal, one would prefer to face the Spaniard than the Scot. What is mostly forgotten is that there's no guarantee anyone will face anyone. In other words, it's really not worth worrying about. The main thing is that Ferrer gets another shot at Wawrinka, and a chance at revenge.