Cincinnati Masters, Final
(1) Federer d. (2) Djokovic, 6/0 7/6
Prior to today's Cincinnati Masters final, Roger Federer and Novak Djokovic had played 82 sets in 27 matches, but in none of those sets had either man failed to win a single game. There'd never been a bagel. Twenty minutes after play commenced today, Federer inflicted the first of their rivalry. An hour after that, the world No.1 saved a lone set point with an easy overhead, and sealed his fifth Cincinnati title with a pair of winners, his 27th and 28th for the match. This is his third Masters victory of the year, and his 21st overall, which places him equal with Rafael Nadal once more.
It is the third time Federer has claimed a title without dropping serve, and the seventh tournament that he has won at least five times. As ever when he wins, records are broken, even if, increasingly, the broken records were already his own. As ever when he wins, there's fun to be had merely in recounting the numbers. I know I've said this before. I suspect I'll say it again.
It's always tricky to work out just how well a given player is playing when his opponent isn't playing well at all – the reverse is also true – and especially so when the top players face each other. Federer's fans will insist he was majestic. Djokovic's fans will believe their man was execrable. The two positions aren't necessarily mutually exclusive, but the truth generally resides somewhere in between. I may be inviting stern remonstrations by saying so, but I don't think it is really possible for any of the top four to bagel each other if both men are at (or near) their best. Ivan Ljubicic remarked perceptively that whatever else, these guys are at the top because they're supreme defenders, and, on his day, Djokovic's defence is arguably the most creative and impenetrable of all.
Defensively and offensively, Djokovic lingered some considerable distance from his best in today's first set (50% first serves, four double faults, and winning 10% on second serve), while Federer approached his (thirteen winners to just four unforced errors, and 100% success behind his second serve). Producing a 6/0 set thus required them both to work in a kind of partnership. With that common goal in mind, achieving it didn't take long. These guys are pros, after all. Gratifyingly, Federer more or less agreed with me. Quizzed about the opening set on court afterwards he remarked that 'Novak obviously didn't play that well. He did donate me some double faults and some easy forehand errors and maybe some backhand errors he normally doesn't do.' By contrast, the world No.1 was untouchable on serve, unpassable at the net, and dominant in rallies long and short.
As yet another forehand found the corner, and the players strutted and strolled to their respective chairs, social media exploded in bagel-related puns. There aren't many of these, all told, and once you've heard a few you've heard them all. And so we heard them all, again and again. Tropologically, they did not did not exceed the following parameters:
'The Federer bakery is open today!' (synecdoche);
'Djokovic is surely savouring this treat!' (irony);
'Federer must be hungry to serve up such tasty baked goods!' (idiocy, and betraying a basic misunderstanding of what hunger is).
Bud Collins, who coined the term 'bagel', has much to answer for.
The Serbian held serve to open the second set, however, and the feeling, suddenly, was that battle was belatedly joined. If not the best point, then the funnest point of the match came in the next game, when Djokovic steamed in behind a fine approach but failed to put away four successive volleys before he was finally passed.
'Oh, that's brilliant!' erupted Robbie Koenig in the commentary box, 'That's circa 1985 at its very best. Djokovic patrolling the net like a Rottweiler!' Federer went on to hold.
In fact, Federer held every game in the second set, just as he'd held every game in the first set, and in his first four matches. Indeed, only Alex Bogomolov Jr and Stan Wawrinka even contrived break points against him – three between them – though neither proved up to the task of taking one. It's worth pointing out that Djokovic hadn't been broken before the final, either, and he set about demonstrating why as the second set tore forward into the tiebreak. Suddenly they were both playing well. Djokovic demonstrated the depth of his engagement via a series of frustrated bellows, culminating in an anguished cry of 'Da li je moguće?!' 'Is that possible?!'
Djokovic has always seemed particularly vulnerable towards the close of tight sets, and as far as I can tell he loses 7/5 more often than he should. I confess I have no sound statistical evidence to back this up, but as recently as the Olympics, he lost three such sets in his last two matches. Three years ago in the Cincinnati final he fell to Federer 6/1 7/5. It's possible that this resonant score line was echoing around in the Serbian's mind as he served at 5/5. Possible, but frankly unlikely, although it would explain the purposeful aplomb with which he held serve to 15 that game, with a pair of crosscourt forehand winners, and a backhand up the line to roughly the same spot, which Federer not only could watch, but did.
Momentum slouched about drunkenly in the tiebreak, first cadging money off Djokovic, then trying it on with Federer's wife, before throwing up behind the couch. Djokovic set momentum straight with a stern dressing-down, and then saved a match point with the coiled aggression he typically reserves for such moments.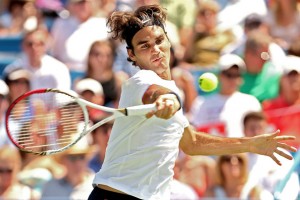 He then blew his own set point with a quite ill-advised topspin lob, which his opponent dispatched gratefully. Two points and a pair of Federer forehand winners later, and it was done. The Swiss, true to his word, did not leap into his player's box.
It is Federer's fifth Cincinnati Masters title. Consequently, he now owns a number of those daft urns, meaning he's finally equipped to inter the remains of all the tiny sailors should his eldritch Dubai flotilla meet a gruesome end. Does it even need to be said that he has become the first man to win Cincinnati five times? This was also his 76th career title, which moves him to one behind John McEnroe, who is third on the all-time list. I'm going to venture out on a very shaky limb, and suggest that Federer will exceed McEnroe's count before he eventually retires. As solid as my conviction is, I must confess that I haven't always believed in the strength of it. This is what I wrote after the Stockholm final in 2010:
For the record, it was Federer's 64th Tour level title, meaning that he is now tied with Pete Sampras at 4th on the all-time list, behind Connors (109), Lendl (94), and McEnroe (77). The question has been bandied about: Will he pass McEnroe? The answer is no, probably not. For him to get another 14 titles, he would have to start playing more of these little 250 events, at precisely the age when that's the last thing he should be doing. Not gonna happen.
I stand corrected. Presuming to know what Federer would do based on his age was my first error. Believing that only minor titles would enable him to pass McEnroe was my second. My third was using the word 'bandied', and the phrase 'Not gonna happen'. Only the last mistake is unforgivable, since Federer has for some time been demonstrating that every avowed expert was wrong about the allegedly purpling twilight of his career. He is the world No.1, and will be top seed at next week's US Open, where Djokovic is the defending champion. Indeed, with today's victory over Djokovic Federer has extended his lead such that he will remain No.1 even if he decides to give New York a miss. Not gonna happen.