Hamburg, Final
(3) Monaco d. Haas, 7/5 6/4
For better or worse, online gambling on tennis is now an intrinsic part of the sport. This was clear enough during Channel Seven's coverage of Wimbledon, which would periodically cross to the proprietor of a local betting site, who would justify his latest odds by dressing up common knowledge as dreary analysis, which in turn explained why his odds looked more or less like everyone else's. It was even clearer today after the Hamburg final, as tournament director Michael Stich's endless stream of German was periodically broken up by the phrase 'bet at home', three words that apparently want for Teutonic equivalents. Of course, bet-at-home is the tournament's primary sponsor.
I presume at least some in the crowd lacked sufficient English that the sponsor's miraculous message was lost on them. The miraculous message is that you can now gamble on sports from anywhere, without undergoing acute soul-erosion in an actual betting parlour.
Closer to home – the home from which I may now safely conduct wagers – TAB Sportsbet proclaims itself to be Australia's premier sports betting organisation. I am privy to no market-share data that suggests otherwise, so will not quibble at their assertion. Sportsbet has for some time been running an advertising campaign in Australia extolling the various advantages of online gambling, the chief virtue of which is that discerning punters aren't obliged to consort with the weirdos who bet on sports in situ, archly implying that you somehow aren't one of them. This is a common enough conceit in advertising, but no less effective for that. It helps that anecdotal evidence from my youth bears it out. Betting parlours really are horrible.
Yet on some level the local TAB shop was a seductive space as a child, since I vaguely associated it with Tab cola, which was the diet Coke from before Diet Coke (though it was only ever supplied by adults who couldn't get the simplest things right, like buying actual Coke).† I would peer expectantly into these TAB venues and would suddenly understand despair.
If Tab cola didn't taste quite right, the local TAB just smelled wrong. The drink was disappointing, but this was something else. For many Australian children – though I assume this isn't limited to here – it was our first whiff of abject failure, and the tang of it was sour and male. Sometimes I'd spot men I knew in there, perhaps the father of a school friend. Only when I was older would I understand why little Jimmy Peterson only ever brought water crackers for lunch.
Anyway, this was the reverie in which I lost myself as I watched the final of the bet-at-home Open in Hamburg, streamed live via the Bet365 website, during an ad for the new SkyBet app. I was saddened that my children would not know this experience. As our society is increasingly atomised by technology, the number of spaces in which grown men might congregate and discover they understand neither statistics nor horse racing, in the process bringing ruin to their families, are lessened. The local betting parlours, once filled with collective despair, are now empty with it. Is it wrong that I'm saddened by this? I doubt whether the Jimmy Petersons are eating any better. Anyway, onward to tennis.
Had Philipp Kohlschreiber defeated Nicolas Almagro in the gamble-from-your-couch Hamburg quarterfinals the other day, he would have entered the top twenty in the ATP rankings for the first time. It was an excellent opportunity for an exciting player, one who I number among my favourites. It would have been a worthy reward for a guy who has lately supplemented his capacity to belt winners with a determination to belt winners in. Alas, Kohlschreiber lost, and remains stranded at No.21, although this is still a career high ranking. To get over that top twenty hump you have to earn it. You also have to not get broken while attempting to stay in the set, twice. He also served for the second set, but was broken. Almagro served for the first, but was broken. It was that kind of match, although it was also the kind that is brim-full of glorious backhand rallies, suicidal trips to the net, and deft touch.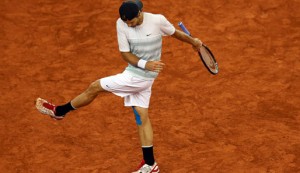 The German came in more, which meant the Spaniard passed more. Almagro followed this up by losing to Juan Monaco in a tight semifinal.
A Kohlschreiber victory would also have been in keeping with the custom whereby Germans produce their best results at home (as opposed to, say, Stalingrad). Tommy Haas remains the custodian of this tradition. He moved through to the wager-from-the-lavatory Hamburg final with a fine win over Marin Cilic, although the Croatian phoned it in towards the end, presumably via the SkyBet app. Nonetheless, it was a vintage performance from Haas, recalling 1999, 2001, 2002, 2007 and 2009. He moved to a provisional ranking of No.35. You will recall he was compelled to qualify for the French Open, and that it was only by the grace of the AELTC that he wasn't required to do so at Wimbledon. If he'd won the Hamburg final he would have entered the top 30, meaning a seeding for the US Open. That's staggering, and owes in large part to stellar results on home soil, including the title in Halle, and a semifinal back in Munich. It's probably no coincidence that his only Masters series title came in Stuttgart (2001), during one of his early comebacks.
He didn't win, though he went down fighting. Monaco did win, also while fighting. It was a scrap, and a very entertaining one. Haas flew out to early leads in both sets, but was reined rapidly in each time. With the possible exception of Gilles Simon in the second round, Haas hadn't faced anyone as quick as Monaco this week, and it began to tell as the match wore on. The German was belting everything from both wings, but he was having a hell of time getting anything past his opponent, which has always proved the surest way to drive Tommy Haas round the bend. His wife began to scream at him to focus. Haas nodded. It was technically coaching, but at least he stopped tossing his racquet about for a bit.
It seemed clear that the epic seventh game of the second set would turn out to be pivotal. Haas fought off a succession of break points with daring net play (although the last of the exquisite drop volley winners was executed from near the service line), but Monaco eventually broke through. Then Haas broke back, sealing the eighth game with a ferocious backhand up the line.
His animalistic bellow preceded the crowd's roar by only a moment. Then he was broken again, which was a bit deflating for the crowd, who didn't roar nearly so lustily. This turned out to be the pivotal moment. The Argentine served it out, and collapsed onto his back. It was his turn to roar, and then to dart away into the stands.
Haas won't re-enter the top thirty just yet, but Monaco will enter the top ten for the first time in his career. He is the eleventh Argentine to achieve this feat in the Open Era, and the third among active players. The bet-your-home Open German Tennis Championships is the biggest title of his career, notwithstanding that he was canonised as the US Mens Clay Court Champion as recently as April of this year. Perhaps most encouragingly of all, fears that the ankle injury Monaco sustained on Monte Carlo's treacherous red clay would wreck his good form – as injury did in 2007 – have proved to be unfounded. There's no especially good reason to think he'll remain in the top ten for long, since the sparseness of points in that range make it something of a rankings trout-farm, but it's still a nice moment, and stranger things have happened. He and Haas received stylised propellers in lieu of trophies. No explanation was given.
† TAB stands for Totalisator Agency Board, amply evoking its whimsy.