Wimbledon, Day Three
Channel Seven's broadcast of the 2012 Wimbledon Championships was last night as curiously free of John Newcombe's presence as the singles draw is of Australian men. These two phenomena are not unrelated.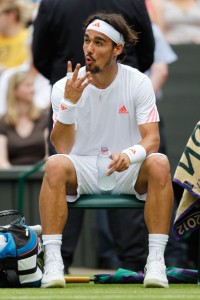 Indeed, one presumes that this was a key component of Newcombe's contract, that he'll only tarry so long as he can rhapsodise glowingly about those young men who selected their country of origin with adequate care.
The word is that this marks the first time no Australian man has progressed to the second round of the Championships since we Australian men first emerged from the primordial muck in the late Devonian period. Other Australian men, whose task it is to aggrandise or excoriate the nation's athletes in national newspapers, have relished the opportunity to bemoan this rare achievement.  Today Sam Stosur was upset by Aranxta Rus, which has seen the disparate moans unite and swell to an ululating wail, rather like having a squadron of Ju-87s descending on you. As reigning US Open champion, she is supposed to do what our men could not. She did, but only for a round. Failure this comprehensive, it is reasoned, points to structural issues, which are easier to talk about than the nebulous idea that sometimes tennis players just lose. Meanwhile Channel Seven, incensed and rudderless, inflicted Caroline Wozniacki on us until we begged them to stop.
(Q) Janowicz d. Gulbis, 2/6 6/4 3/6 7/6 9/7
Sometimes tennis players lose a lot, and they lose in fascinatingly predictable ways. Ernests Gulbis' affable suggestion that he could follow-up his superb victory over Tomas Berdych by losing to Jerzy Janowicz was greeted with the knowing amusement everyone felt it merited, even though it has since turned out to be depressingly accurate.
At the time it was hard to take the Latvian too seriously, because it was in a press conference and his editions of those are less than dour, but also because his airy prediction languished beneath much talk of new leaves being upended, corners turned, and other clichés that sound less trite when you've just straight-setted the seventh seed on Centre Court.
To be fair, it did look somewhat like a new Gulbis that fell to Janowicz, although it wasn't quite the new Gulbis that had seen off Berdych two days earlier. Still, this Gulbis was committed, and actually played quite well, where the old one would have merely flailed about disinterestedly. Janowicz is a large unit, with a powerful and varied serve well-suited to grass, which began to figure increasingly as the fifth set wore down. Gulbis won more points overall, but not in that crucial game deep in the fifth, when the Pole started to guess on return, and to guess right.
(31) Mayer d. Petzschner, 3/6 3/6 6/4 6/2 6/4
Janowicz will play Florian Mayer in the next round, which one imagines is not an ideal match-up for him, although Mayer has mostly under-achieved on grass. Mayer took out Philipp Petzschner in a relatively quick five setter. Before you knew it, Petzschner had blown a two set to love lead, which is kind of his specialty; thereby proving that with practice comes efficiency. Apparently he now has the career grand slam in this area. It's something to be proud of, I suppose, although any man wearing knee-socks has conceivably ventured beyond pride. As ever when these two play, I am reminded that both men hail from Bayreuth, yet I search in vain for a suitably Wagnerian angle. (I've used Rossini's famous dismissals of Wagner before, though I ache to use them again.†) Wimbledon will only consider an error unforced if you stand at the net with the ball in your hand, drop it over and somehow miss the court. Consequently the statistics in this area can be safely disregarded. This match was nowhere as clean as the stats suggest. It was frankly a bit of a mess. Like Die Walküre. That'll have to do.
(3) Federer d. Fognini, 6/1 6/3 6/2
Roger Federer was beyond clean in his consummate thrashing of Fabio Fognini (although even in this case the tally of 8 unforced errors recorded by the tournament was surely generous). Given the Italian's celebrated dramatic gifts, it proved wise on Federer's part to permit him insufficient time and space in which to perform. After recovering from 0-30 in his opening service game, Federer hardly relented. Fognini was under immense pressure the entire time. Although this periodically spurred him to audacious winners – I can think of three backhands in particular, all completely different, since even he found them to be unrepeatable – it mostly left him frustrated, which in his case is generally a recipe for disinterest. Fognini's gift for theatre requires a suitable moment in which to flourish. His true gift is for noting this moment as it arrives, when the tension might be cranked up to an unbearable level, whereupon he'll call for a medical timeout, or serve four aces, or drop his trousers. But Federer was today so powerful and precise that no such moment arrived. There was no late comeback, no escalating series of holds, no tiebreaks. Fognini achieved a perfect record on break point conversions: 0/0.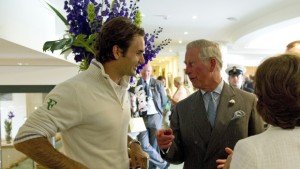 The most dramatic moment came when Federer fell late in proceedings and appeared to twist his left knee. Apparently it wasn't serious, and it didn't help Fognini. This is one of those matches for which I can happily recommend highlights, since even an edited package won't feel qualitatively different from watching the match.
Afterwards Federer granted Prince Charles an audience. I cannot say what was said, since the Wimbledon website has been typically slow in providing a transcript. Astute royal watchers will recall that slightly goofy moment when Jim Courier forced Federer to address Prince William on court in Melbourne a few years ago: 'Welcome to the world of tennis, Your Highness.' (It's at 3:36 in this clip.) Even without Courier presiding, I pray Federer had the grace to bring that moment up while chatting to William's dad, and remembered to welcome His Royal Highness to the world of tennis.
†'Wagner is a composer who has beautiful moments but awful quarter hours,' or;
'One cannot judge Lohengrin after a first hearing, and I certainly don't intend to hear it a second time.'