Wimbledon, Day One
Gulbis d. (7) Berdych, 7/6 7/6 7/6
'Some have pointed to Berdych v Gulbis, leaving one to wonder just how long the Latvian has to underperform before he isn't considered a threat.'  During the course of a lengthy Wimbledon draw analysis, in which I strayed edifyingly through a number of unrelated areas and used the phrase 'sleep around' a lot, this was about as close as I came to actually making any kind of prediction. Glib though it was, I was quite confident. Ernests Gulbis of course upset Tomas Berdych in three sets today (all impeccable tiebreaks), thereby meting out hubristic damnation on me and generating an exhausting torrent of punning headlines elsewhere. In my defence, there was surely no way of knowing that this was going to happen, and that it would happen on the world's most famous tennis court to a world No.7 who was actually playing very well.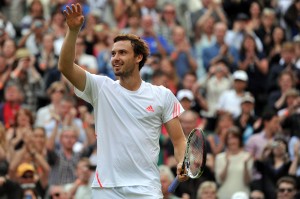 Berdych's complicated expression of sickly disappointment during the handshake said it all: self-disgust, layered atop frustration at a freakishly unlucky draw, bafflement and relief that Gulbis doesn't play this well all the time, and an urge to quit the scene immediately, in pursuit of a stiff drink.
Gulbis struck 62 winners, featuring 30 aces (several on second serves), in just three sets. The winners that weren't aces were usefully spread across forehands (he's changed his swing), backhands, and net play. Indeed, it is to Berdych's credit that all three sets reached tiebreakers, especially the third one, when he had to save several match points on serve at 4/5. Gulbis afterwards suggested that it had actually helped him to draw a big name player on Centre Court first up, with the corollary being that his next match, against a qualifier on an outer paddock court, will be eminently losable. Or not. I'd relish seeing him go further, playing like this. Either way, I'm not making any predictions.
From my remote command centre in Melbourne, the choices of what to watch were broad, although as ever greater choice did not necessarily guarantee greater satisfaction. I had a comprehensive array of streams at my disposal, a kind of endlessly buffering panopticon. Fox Sports always feels underdone and seems to show the wrong thing. And, for that heady cocktail of cringe-inducing hilarity, there was of course Channel Seven, ably anchored by the preternaturally cheerful Todd Woodbridge.
Seven typically kicked off its coverage with a comprehensive round-up of those few Australians who'd by varying means stumbled into the main draw, followed by a skewed analysis of which of them would progress farthest through it. John Newcombe, always keen to prove that nationalistic derangement and tennis commentary aren't mutually exclusive, essayed the confident opinion that Lleyton Hewitt was about a 40% chance to take out Jo-Wilfried Tsonga in their first round match. Woodbridge, lurking beside him, said little at the time, although later during commentary he upgraded Our Lleyton's chances to 50%, suggesting that whatever Newcombe spiked his drink with took about an hour to metabolise.
Seven then put the question of which Australian would go farthest (out of Sam Stosur, Bernard Tomic and Hewitt) to the viewers. 62% of those viewers who can be bothered to respond to this kind of thing – a startlingly large proportion – believed in Stosur, while 35% had faith in Tomic. This left an impressive 3% of viewers supporting Hewitt.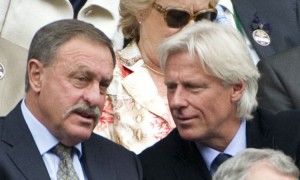 We were sternly reminded that this was the 10th anniversary of his Wimbledon triumph, but the numbers remained firm, which seemed fair enough. After all, it's the 60th anniversary of Frank Sedgman's title, and no one is giving him much of a chance, either.
It was to Channel Seven's profound ire that two of the three Australians permitted to grace televised courts today were scheduled to play at the same time. While they'll happily abandon, say, Federer versus Djokovic to shows us Jelena Dokic hitting against a wall, they will never abandon Our Sam while any strength remains in the director's body. Not for long anyway. We were periodically torn away from Stosur's hiding of Carla Stepanek Navarro to witness key moments in Jarmila Gjadosova's straightforward loss to Ayumi Morita, with each cross prefaced by the phrase, 'Well, it's more bad news for Jarmila.' Later on it was more bad news for Anastasia Rodionova, who has never quite captured the imagination of Australian tennis fans, and was dealt the ultimate insult when the broadcaster bumped her match for Federer's.
Initially it seemed like pretty bad news for Mikhail Youzhny, as he fell down a set and a break to Donald Young, before the good doctor remembered that Young isn't actually that good, whereupon the Russian commenced dispatching lovely backhand winners all over the place, volleying beautifully, looking fiery (if sadly beardless) and winning most of the games. Young unleashed his full repertoire of despondent body language. He is the Roger Federer of shoulder slumps. At about the same time Richard Gasquet saw off the eternally underperforming Tobias Kamke with, I felt, surprising ease. (I harbour the same hopes for Kamke that others have for Gulbis, with even less reason.) There were, naturally, backhands. Fernando Verdasco was making rather a hash of it against Jimmy Wang, or as much of a hash as a straight sets win can be. Whenever I switched to his court the Spaniard was failing to serve out a set. I think he was broken while doing so every time.
With no way to show us Marinko Matosevic losing to Xavier Malisse, a frustrated Channel Seven was obliged to show Djokovic starting slowly – some of the early misses were horrendous – but finishing rapidly against Juan Carlos Ferrero. Since there were no Australians involved, even tangentially, Seven didn't bother to send a commentator along, and instead relayed Simon Reed and Boris Becker. As with Newcombe, Becker has been there and done it all at Wimbledon, much like Mats Wilander at Roland Garros.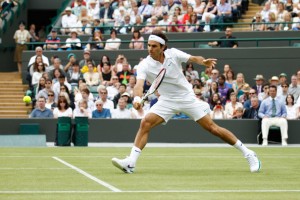 The level of insight was about the same. Occasionally an Australian voice would chime in, although not seamlessly, 'Well, it's more bad news for Marinko.' A score update would helpfully illustrate this bad news, which progressively got worse.
It was then demonstrated that even Federer isn't worth Newcombe's time, although there was little opportunity to reflect on this, as Federer set about proving that Albert Ramos wasn't worth much of his time, either: 6/1 6/1 6/1, in 79 minutes. According to the notoriously lenient Wimbledon stats, Federer hit 10 unforced errors. In truth, it felt like slightly more than that, but only slightly. Ramos, utterly outclassed and on the wrong surface, was lucky to escape a triple bagel. He only held serve twice, and he was fortunate to escape in one of those. Leaving the court, Ramos admittedly didn't look like he felt very lucky, although I can't imagine he'd expected to win. Federer received a standing ovation. Suddenly, despite all the bad news, it felt like Wimbledon was under way.