Wimbledon, Days Four and Five
The BFG was getting more distressed every moment. 'Oh bash my eyebones!' he cried, waving the jar in the air. 'I come all this way to get lovely golden dreams and what is I catching?'
'What are you catching?' Sophie said.
'I is catching a frightsome trogglehumper!' he cried. 'This is a bad bad dream! It is worse than a bad dream! This is a nightmare!'

Rosol d. (2) Nadal, 6/7 6/4 6/4 2/6 6/4
Fans of Rafael Nadal awoke this morning to discover that the player they adore above all others did indeed lose a tennis match to Lukas Rosol yesterday. It is a deflating realisation to wake up to, and its low-key squalor suggests something of how experiencing your favourite's loss is a delicate kind of grief, in the way it embroiders your idle moments, and in the way it insistently picks at your sense of time.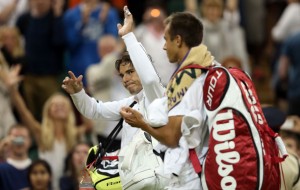 Causal threads snap, and you lose yourself in fruitless and aimless musings on what might have been; had he only made that return, or stood closer to the baseline, or had the roof closed quicker and the other guy choked the way he was meant to. The comfort of these musings grows frigid as you recall that musings are all they are. Time's arrow won't be deflected, certainly not by a mere effort of will. He really did lose. It isn't a dream, but you can't wake up.
Writing in another guise of other things, I once remarked that 'the inventory of perfect things he should have said grew definite in his mind, like figurines vigorously sanded and buffed until they were fitting ornaments, cherished knick-knacks on the mantelpiece of his sad torpor.' Setting aside the undoubted arrogance of quoting oneself and the immortal Roald Dahl in the same piece – I'll get some Shakespeare in before the end, just see if I don't – it hopefully evokes something of how these idle and pointless musings rapidly ossify into discrete objects, to the extent that they can only be altered with great effort. Many tennis fans then hone these objects to a fine point, take them to the internet, and hurl them at each other.
Anyway, such musings – useful musings – drew me to the fancy that we tennis fans apprehend entire matches in more or less the same way. Their dramatic coherence and identifiable narratives enable us to treat them like books or movies or ornaments, which is to say tangible and understandable entities in and of themselves.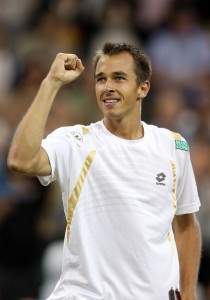 These can be meaningfully juxtaposed against each other, endlessly permutated and arranged into a kind of glass bead game.
Like the Big Friendly Giant's dreams – he is, fundamentally, a kind of protean dream nerd – our seminal matches are carefully catalogued and arranged. (If there's one activity nerds cherish, it is cataloguing their collections. Recall Rob in High Fidelity, who sought solace after a painful breakup by reorganising his vast record collection autobiographically.) The best matches go on the top shelf, like the best spirits at a bar. High atop my shelves sit the 2000 Wimbledon semifinal between Rafter and Agassi, and the incomparable 2006 Rome final, among the most pivotal matches of the era. Other matches are arrayed around and below these according to a complex system of associations and instinct and flavour. To take an obvious example, the 2001 Wimbledon semifinal between the same two protagonists – superficially similar but dramatically distant – is nearby, but not too close. As in a bar, the liquor gets worse as your gaze descends. Djokovic and Troicki's hopeless encounter from Bercy last year sits under the sink, labelled piratically, and is used to clean vomit out of the carpet. Nadal and Verdasco's match from Cincinnati is the vomit.
Whenever an important new match takes place we immediately cross-reference it against our collection, to see how it fits. After Nadal fell to Rosol, the immediate and obvious comparison was to Soderling at Roland Garros in 2009. Once this latest loss is bottled, space will surely be made for it nearby on the same shelf. Rosol's name – which has become smeared with a Soderling-like infamy among Nadal fans in the last 24 hours – has also established a resonance with those of other random and unlikely past vanquishers, such as Gilles Müller or Igor Andreev. From now on we'll be reliably and patiently informed of what a threat Rosol is, should they ever meet again, much like Muller and Andreev aren't.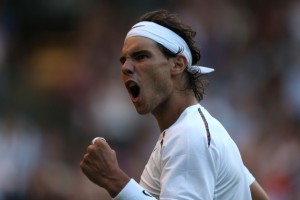 Now, I can of course see why the comparison to the Soderling match has been made, since in both cases they were unimagined upsets in which a big man simply and cruelly hit through Nadal with an utter disregard for the gravity of the moment. Soderling and Rosol are the Fleshlumpeater and the Butcher Boy of this ongoing saga. But I suspect there's a better spot on the shelves for this match.
I'm going to put it next to Martin Verkerk's astounding upset of Carlos Moya at the 2003 French Open, a key encounter in the Dutchman's frankly ridiculous run to the final that year. His straight sets dismantling of Guillermo Coria in the semifinals is probably more remembered, if only for the moment when the Argentine was nearly defaulted. But it's important to recall that Moya was considered a favourite for the Roland Garros title that year. It was blithely assumed that he would, with little trouble, halt this nonsensical Dutch sideshow in the quarterfinals. But Verkerk's performance that day was fearsome, fearless and pugnacious. He matched the Spaniard's intensity, and transcended it, demonstrating no appreciation of just how unlikely victory was, of how poor his movement was – he had the turning circle of an oil rig – and of how effortlessly Moya was supposed to dismantle him. He won, in five sets, by hitting the ball very powerfully into parts of the court where Moya wasn't, over and over again. Sound familiar? It was, frankly, Soderling-like. I mean Rosol-like. I mean . . . Thinking on it, perhaps those three matches can go together, on a special shelf of their own.
(3) Federer d. (29) Benneteau, 4/6 6/7 6/2 7/6 6/1
This brings us to Roger Federer's stirring recovery at Wimbledon today, in which he trailed Julien Benneteau by two sets to love, before defeating him by three sets to two. Federer has now achieved this feat eight times in his career, although, mercifully, it hasn't always been against Benneteau.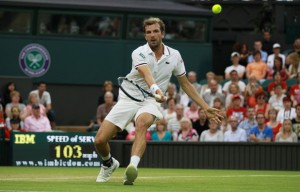 The Frenchman's angry tears as Federer gained match points suggested that once is enough. As a match, it resists lazy taxonomy. Perhaps we just need more time.
For now, I've chosen to place it alongside Federer's similar recoveries against Alejandro Falla in the first round of Wimbledon two years ago, and against Tomas Berdych at the Australian Open in 2009. My reason for this is that, even at two sets to love down, I somehow couldn't imagine Federer actually losing. He probably felt differently, and many of his fans undoubtedly did, especially once that second set tiebreaker spiralled away vertiginously, following three missed set points. There was, naturally, the widespread assumption that Benneteau could not sustain his level of reckless brilliance. But Rosol had forcefully reminded us that one actually can, although Radek Stepanek had mounted a persuasive counter-argument some hours earlier, as he tumbled sharply against a surging Djokovic.
Honestly, Benneteau was brilliant, even more so than the time he beat Federer in Paris. Each of those set points was saved with a winner – forehand, ace, drop volley – and he was overcoming Federer in most of the baseline exchanges. Federer was playing decently, except in that first tiebreak, but Benneteau was matching him, especially in that long crucial third game of the second set, in which Federer was laboriously broken back, to his audible dismay.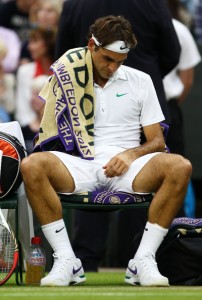 Federer fans twitched, and cleared some space near the 2008 Wimbledon final – a horrid trogglehumper, that one; awful and resplendent on a shelf of its own – uneasily recalling nightmares of second set breaks squandered.
There was always the sense that Federer had another gear to go to, to peddle cliché. As Agassi put it, Federer will periodically ascend 'to a place I don't recognise'. Once he got on top in the third set, it seemed clear he'd found that gear, and, furthermore, that any eventual five setter would favour him physically. Some dicey moments arrived at the end of the fourth set, when Federer had to fight to attain the tiebreaker, as a resurgent Benneteau proved resourceful in saving game points, but couldn't find the crucial shots in the deuce court. The tiebreaker was a glorious mess, and the Frenchman came within two points of the match, but still I didn't feel like Federer would allow Benneteau to win. His second serve grew monstrous, an ominous sign in a sport in which that's the thing you're allegedly only as good as. Once Federer had the fourth set in hand, like the Falla match from 2010, his opponent fell away, and the Swiss was inexorable. Benneteau's legs gave out. He received treatment for this, and copped more than a few stern words from the supervisor.
How high a shelf this match will occupy is up for debate, though it's the kind of debate that cannot be usefully conducted on short notice. Everyone tried that after the Australian Open final, and looked surprised when the highest shelf proved too fragile by half for so ponderous and hefty a bauble, and promptly collapsed, wounding a number of bystanders. A sense of perspective is imperative. I realise this is a fairly quixotic sentiment to maintain on the internet. It's usually best to sleep on it, even if for Benneteau his dreams might all be fearsome trogglehumpers. But dreams are what we're made of, and sleep rounds out our little lives. There's your Shakespeare. Tomorrow we'll know what it all meant, even if sometimes, nightmares aside, we'd prefer not to wake.