Wimbledon, Day Seven
Of the 128 men who more or less randomly populated the Wimbledon men's singles draw on the tournament's opening morning, fully 112 failed to last the week. They have since joined forces with the roughly three billion other men who never had any chance, a staggering tally that features yours truly, although not prominently.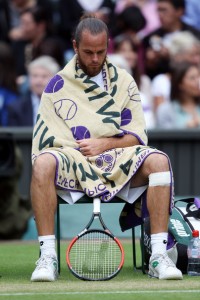 We are the rabble, for all that our number includes kings and captains, cabbages and Rafael Nadal. Sixteen men remained, and it is only by generously rounding up that I could even call them the one per cent, although doing so was a necessary step in cultivating my outrage. Their number included Roger Federer and Denis Istomin. They got to play in the second week. It's a privilege.
All sixteen men were scheduled to play today, ostensibly the greatest single day of tennis in the year – our sport's answer to Sandwich Day – which is surely a blow to the US Open organisers, who've gone to some lengths to dub their second Saturday 'Super'. Isn't it fitting that the second Monday at Wimbledon doesn't even have a name? Can you imagine an American event permitting that oversight to continue? Think of the wasted marketing potential, the value of which can be measured in 'Lobotomies per square mile'. My research department informs me that by failing properly to christen its second Monday, Wimbledon has foregone approximately 143,400 lobotomies in the Open Era. That's a lot of people who are still capable of independent thought. Frankly, it's too many.
With that in mind, I propose the formation of a working committee to address this issue. After all, a concept un-marketed is a concept wasted, a concession to the vacuum, and I vaguely recall reading somewhere that nature abhors those, although I might be thinking of gerbils. The first rule of naming anything is that, as with Superman's love-interests, one cannot go wrong with alliteration. That's presumably why Super Saturday is such an unalloyed success, since it cannot be due to the undoubted wisdom of scheduling both men's semifinals the afternoon before the final. Sadly, Mad Monday is already taken, although 'mad', like 'super' is suggestive. What it suggests is that whichever word is eventually chosen – following an extensive submission and shortlisting process – must lend itself to exclamation points, and to deployment in the kind of font that would flash up on screen whenever Adam West or Burt Ward punched people. Mental is therefore good. Mellow is not. Maximum might usefully be incorporated. Midget, not so much. Manic would work, if it hadn't been co-opted by the same women who ruined Egyptian perambulation for everyone. Anyway, submissions are open.
(3) Federer d. Malisse, 7/6 6/1 4/6 6/3
Mostly today was Meteorologically-Abbreviated Monday, which I don't expect will catch on, notwithstanding that England is the spot for it. Only three of the eight scheduled matches saw completion. The first of these, assessed chronologically and in terms of concern over Roger Federer's spine, was said player's scratchy, lurching, masterful, lumbar-inhibited victory over Xavier Malisse. Malisse Monday? Federer, as almost anyone who cares will presumably already know, was troubled from near the outset, especially in his movement, footwork, groundstrokes, volleys, and serve.
His hair was pretty good, and at one point he rocked the hell out of a fairly natty cream sweater. But he could barely push to his right, and his forehands were uncharacteristically feeble when stretched that way. Malisse duly stretched him to that side, but nowhere near often enough.
Initial bafflement among the faithful bloomed into heaving unease when Federer left the court leading 4/3 in the first set for a medical time-out. John Newcombe, commentating on Channel Seven, perceptively suggested that Federer might be sick. Malaise Monday? Darren Cahill over on ESPN had already identified a back issue. Federer returned eight minutes later, but hadn't improved. Malisse pushed him wide to the forehand, and broke. Then the Belgian made a tiny tactical error, although it was one that would ultimately cost him the set, if not the match. He stopped hitting the ball wide to Federer's forehand, and he stopped hitting the ball into the court. Federer was by now caressing his shots with a Tomic-like somnolence, and in several pivotal rallies merely goaded Malisse into over-hitting. These points were usefully interleaved with ripping backhand passes, deft hands, and brazen chip-charges. Anything but big forehands. The second set disappeared quickly. Once he'd broken back in the fourth, that one went quickly too. Malisse grabbed a set, too. Mercurial Monday?
(26) Youzhny d. Istomin, 6/3 5/7 6/4 6/7 7/5
That might usefully describe Mikhail Youzhny's fairly stirring win over Denis Istomin, who, had he won, would have seemed like a pretty unlikely Wimbledon quarterfinalists, in contrast to Youzhny, who has somehow never been there, either. This is surprising. It feels like Youzhny should have made the quarterfinals of Wimbledon before.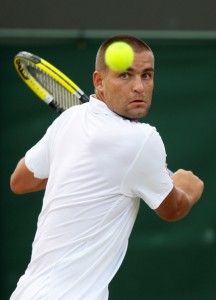 Indeed, there's no one particularly good reason why so elegant a grass-courter hasn't reached the final eight in a career's-worth of visits (he has done so at each of the other majors), although there are lots of little ones. Mostly he keeps losing in the fourth round. I suppose that's hard to argue with.
Anyway, The Colonel didn't lose today, but it was a close thing. Up two sets to one, it seemed quite likely that he'd finish it off, especially since Istomin's lone set had come against the run of play. Then Istomin augmented his lone set with another, further thumbling his nose at the run of play. Then he broke in the fifth – thereby blowing his nose on the run of play's favourite t-shirt – and nothing made sense anymore: Muddled Monday. Youzhny broke back, quite magnificently, and displayed typical reticence in broadcasting his satisfaction, looking as ever like he could bite the head off a chicken in his exultation. Again the hope that he'd push on was quashed, or at least forestalled, as Istomin kept finding break points, although Youzhny kept retrieving them – overhead winner, ace, forehand – in a long tenth game that Istomin otherwise spent supine on the turf. There was a persistent misty drizzle, and footing was not secure. Youzhny held, then eventually broke. He'll next face Federer, for the former a first Wimbledon quarterfinal, for the latter his tenth in a row.
(1) Djokovic d. Troicki, 6/3 6/1 6/3
The only other completed match saw Victor Troicki put in his usual effort when confronted with the towering Novak Djokovic – Matterhorn Monday – which is to say a perfunctory one, suggesting that Janko Tipsarevic's newfound determination to take it to the world No.1 isn't at risk of becoming a trend among his lesser compatriots. As ever, this lesser compatriot instead set about proving Henry Ford's famously inspirational maxim: 'Whether you think you can, or you think you can't – you're Viktor Troicki.' Being who he is, he probably wasn't going to beat Djokovic, who has the wherewithal to be what he is irrespective of our beliefs, but he could have given a far better account of himself. He needed to be a better Troicki than the one he invariably is when faced with the defending champion.
Djokovic looked tremendous, but it was the kind of tremendous that is almost troubling for a fan, since it's so good you immediately assume it isn't real, like watching someone nail every shot in target practice. Whether Troicki lurched to the net, or noodled about near the baseline, target practice was all he provided. Mismatch Monday.
The rest of the matches will be finished on Tuesday. Train-wreck. Torrential. Tangential . . . Â