The grass season, such as it is, has arrived.
Terre battue has, finally, given way to emerald sward, although in Halle the sward always looks at risk of being churned into muck. Although I'm partial to the event – I'd dearly love to see it elevated into a Masters – there's something about the arrangement and gradient of the stands that makes the court feel hemmed in and dank, almost mossy. Meanwhile across the channel at Queens the courts are so vibrant and verdant they throw the All England Club into shade. Suddenly Nicolas Mahut is winning matches, and not just against Andy Roddick. Ivo Karlovic is still losing them, but he's now doing so in the familiar triple-tiebreak format.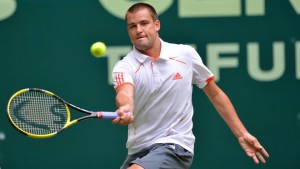 Players are venturing to the net of their own volition, as often as twice a set, and the volleys are actually being punched through the court, assuming the proponents remember how, which almost no one does. It is glorious, and it will be over too soon.
However, there must be balance in all things. So with the elation of noting that Grigor Dimitrov actually contrived a straight sets victory comes my profound sadness at Mikhail Youzhny's decision to shave off his beard. There was no official explanation provided, although one can hazard that it was intended as radical penance for his abject performance at Roland Garros, where he was unmanned by David Ferrer. It's a way of making his 'sorri' clear on his face. You must earn the right to wear a beard like that, and once in place, you must forever prove yourself worthy of its cultivation. Or maybe it was itchy. It's still a shame, since his magnificent thatch gave me another reason to appreciate one of my favourite players. Happily, the fiery assurance with which he eventually saw off Alex Dolgopolov in Halle today gave me enough to be going on with. The pace with which he was redirecting backhands off slickly skidding slices merited applause even in isolation, but within the context of each point it induced one's heart to sing. His sunnily diffident smile afterwards, so at odds with the rapt sternness of his countenance during general play, was as ever joyous, though it would have been more advantageously framed by a beard.
As I said, the grass season isn't long enough, and the preparation for Wimbledon is woefully inadequate. Unexpected support for this line of reasoning was masterminded by Ion Tiriac, who as ever works in nebulous ways. Many pundits felt that it was unreasonable to plonk a fast blue clay event into the schedule three weeks before a major, reasoning that this would upset the natural flow of things, and fatally hamper the top players' preparations for Roland Garros. These fears seemed a trifle overblown when Nadal, Federer and Djokovic all reached the semifinals in Rome the following week, and in Paris a few weeks after that. You cannot have it both ways. Either two weeks isn't enough preparation, or it is. Furthermore, there were also several weeks of red clay before Madrid, and – aside from Yen-Hsun Lu and the Americans – every professional tennis player spends ample time on this surface in their formative years.
By contrast, hardly anyone ever sees a grass court while growing up, and even as pros the exposure is limited to the two weeks before Wimbledon, and however long they last once there, which for most of them isn't very long at all. I think the preparation for Roland Garros is longer than it needs to be, while the preparation for Wimbledon is too short.
The upshot is that Wimbledon, ostensibly the flagship event in the sport, is nowhere near as good as it should be, and the best results are achieved by those who prove themselves the most adept at limiting the impact the grass has on their natural game. The top players have proven themselves to be the best at this. Related to this is of course the issue of the grass itself – slower and more tailored to baseliners – but I'm not going to go into that here. Even given the courts as they are now, I suspect that the standard of play could be much higher, and more imaginative, individualised and exciting, with a lengthier preparation. Those mid-tier players whose styles are suited to grass – players like Mahut or Petzschner – would have extra time to hone their specialised skills properly, which would in turn compel those ranked above them to adapt. Adapt is a revealing word here, but as it stands it isn't necessarily one to be proud of. Nadal is in Halle already, for which he is to be commended, since he has ample reasons not to be, and they haven't named a street after him yet. But really, he's not there to master grass court tennis. Like everyone else, he's there to adapt to it as quickly as he can, to limit its detrimental impact on his natural game.
There needs to be a grass court Masters.