French Open, Day 16
(2) Nadal d. (1) Djokovic, 6/4 6/3 2/6 7/5
Rafael Nadal has won Roland Garros for the seventh time, which is the most times anyone has ever done it. There is presumably no one interested in tennis who remains unaware of this. It's a big story, and not lessened by the bigger story it forestalled.
Nadal eventually defeated Novak Djokovic in four sets, one of which was close, and all of which were long. Coming in at somewhere over 23 hours, I believe I'm right in saying this is the longest match these two have ever played, easily eclipsing the record they set in Australia, although there were admittedly one or two breaks due to bad weather conditions.
The longest of these breaks came between Sunday and Monday, when played was controversially called off due to total darkness. Parisians term this meteorological phenomenon nuit (literally 'not-daytime'). As bad weather conditions go it is even worse than rain. Had the finalists forged on through the not-daytime, valiantly and tentatively, blundering awkwardly through the shadows of the evening sun, it's a dicey question who would have been best served.† My money was on Djokovic, who in staging a late comeback from two sets and a break down had already proven his ability to excel in the wet. Eight straight games and some fifteen thousand Nadal fans suffering simultaneous strokes bore testament to Djokovic's mastery. Then again, Nadal won his first Wimbledon at night, so who can say.
Those who've previously suggested that Nadal prefers slow conditions will hopefully absorb the lesson. He enjoys bouncy conditions, and the speed of the court, though related, is largely secondary to the amount of pop he can gain from it. His relatively poor indoor record speaks for itself. Recall what happened in Indian Wells, when the damp and wind drained the fizz from his groundstrokes, and he was cut to pieces. A similar thing happened on Sunday. After dominating a care-laden Djokovic for a touch over two sets, the drizzle established its incumbency, and the clay turned to mud (boue: another astonishing local phenomenon). The wet balls grew dense, and resistant to doing Nadal's bidding where before they'd been eager to oblige, rather like children when they enter their surly teenager years. Meanwhile, Djokovic's flatter groundstrokes and capacity to penetrate off the backhand proved telling. Battling a resurgent nemesis, his feet mired in sludge, and faced with recalcitrant equipment – 'You don't understand me!' the balls yodelled as they stormed out – is it any wonder Nadal began to lose his way? His camp looked livid. The Djokovic clan was in full voice.
When you're thus beset, the best thing you can do, really, is sleep on it. Everything looks better when the sun comes back. Having romped through the third set – thereby spoiling Nadal's chance at a third French Open without dropping a set – Djokovic broke to open the fourth, and began to look like spoiling any chance at victory at all.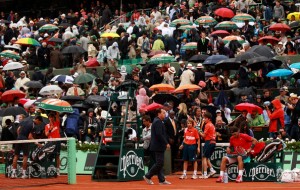 Nadal later admitted that holding for 1/2 was crucial. To Nadal's satisfaction, play was suspended, cruelly denying us the spectacle of night tennis. Djokovic was, unsurprisingly, willing to continue, but he didn't raise a fuss.
It wasn't quite a new Nadal that emerged this afternoon. In fact, it was more or less the same one we'd seen through the first two sets: determined and reserved, and, by his standards, slightly dishevelled. His first order of business was to retrieve the break. Djokovic, tentative when he needed to be bold, yielded it up with inadequate struggle. The players settled into a pattern of holds. Nadal was doing it easier – a few love holds late in the set implied the defending champion had the momentum – though Djokovic was doing enough. The tennis was better than the day before, but it still wasn't great, by any stretch. As the fourth set wore on, Nadal's backhand began to fall short and lose sting, and Djokovic, as he had in the US Open final, began to pound it until it cracked. For some reason he hasn't returned to that attacking strategy much this year, and he didn't stay with it today, for all that it mostly worked when he did. At 5/5, with Nadal serving, the match was poised. Suddenly, seemingly from nowhere – although later reports suggested it came from the sky – the sun burst through.
For no good reason, my mind immediately returned to another overcast final at a major marred by weather: Wimbledon 2007. I recalled how in that match, at its most crucial moment, tied up in the fifth set, the sun finally broke free for the first time in the match, seemingly for the first time in days, cutting in low over the Centre Court stands, that year topless for the first and last time. That day Nadal – already a three time Roland Garros champion but still pursuing his first Wimbledon – was the better player for most of the match. Federer seemed to be saving break points in every other service game. Serving at 2/2 Nadal had only faced four break points across the entire match. Yet at that moment, as the oblique shadows sprang forth, Jimmy Connors remarked with the utmost perceptiveness: 'Do you have a little feeling here that Nadal's had his shot?' Under that sudden wash of light, Nadal would not win another game. Afterwards, the Spaniard would claim it as his most disappointing loss. A year later he would take the Wimbledon title in darkness, pierced through by a thousand flashes in the gloom.
That's where my mind wandered, deep in the fourth set during today's final, as the sun bustled in with sudden splendour, like Le Roi Soleil, momentarily overwhelming the polarising filters in the cameras. And I reflected upon how things change. This time, five years on, the sun was exactly what Nadal needed. Tight, pressed to 30-30, he surged, and constructed a mighty point to hold. For the second time, Djokovic was compelled to serve for survival. Typical ferocity moved him to 30-15. The unbidden thought came to me that this rendered it mechanically impossible for him to fall down consecutive match points in this game.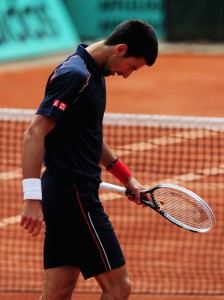 This was a problem. 15-40 is when he traditionally hits his stride. (15-40 is his talisman. If he didn't have 'Nole' embroidered on his gear, he would have that.) An error brought the score to 30-30. A chain of three big forehands brought Nadal to championship point. One championship point. As he had in Rome, Djokovic double faulted. His armature collapsed partially, and, head bowed, he ambled dejectedly to the net, there to patiently await the greatest clay-courter of them all.
The greatest clay-courter of them all spun to his family, collapsed to his knees, and bowed his forehead to the dirt. He quickly rose, freed his sodden hair, and jogged to the net, taking due care not to step on the service line. He was in the stands soon after that – lavish with the hugs – and then on the podium moments later, hoisting and nibbling the Coupe des Mousquetaires, which he received from Mats Wilander, who'd himself narrowly escaped the Eurosport commentary booth. This was, Nadal insisted, one of the most special moments of his career. It didn't sound like hyperbole. Indeed, compared to his endless dazzling smile, it seemed like an understatement.
This is Nadal's eleventh major title, and his seventh at Roland Garros, from the last eight years. Robin Soderling remains the only man ever to defeat Nadal at this venue (or indeed in any best-of-five clay court match). Everyone else has lost, and most of them have lost very badly. For the third time, he has denied a reigning world No.1 the opportunity of holding all four majors at the same time, proving himself to be a final and insurmountable hurdle to achieving the rarest prize in the sport. I'm guessing this is some kind of record, too. Djokovic had won 27 straight matches at this level. But to win the necessary 28th he needed to become the first man to defeat Rafael Nadal in a Roland Garros final, to storm the very court of the Sun King.
† My thanks to Robert Smith (I'm certain he's reading), and to the reader who inspired this line's inclusion.