Halle, Semifinals
The finalists at both Queens and Halle have been decided, and the line-up is about what one might expect, assuming you have just emerged from a decade-long coma. (If you have, then allow me to be the first to apologise for Justin Bieber, and admit that it's a mystery how he became secretary-general of the UN. Also, check out that Old Spice ad, and know that when Michael Jackson died, he became a force of pure light who visits us in our dreams. I think that brings you up to speed.) Roger Federer will face Tommy Haas in the Halle final, a match that will ultimately hinge on which player's walking frame can best negotiate the rutted and ruined baseline.
The Germans have superior engineering, but the Swiss have precision, and Federer is notoriously easy on his equipment. Meanwhile at Queens David Nalbandian will endeavour finally to win a grass court tournament, after a decade spent falling just short. His previous grass final was Wimbledon 2002, and I remember that he beat Xavier Malisse on the way there. I note that he did the same this week in London. We may therefore assert with some confidence that Nalbandian cannot reach a grass final without beating Malisse. That's science. I should also add that in the final tomorrow the Argentine will face Marin Cilic, who was 13 in 2002, although he's older now. It's also horribly windy in Queens, which has severely affected the standard of play, especially Grigor Dimitrov's.
Before I get to the Halle semifinals, and therefore begin to treat this post with the gravity it merits, I will share one further brainwave, because I'm either drunk with power or flu medication. Wouldn't it be interesting if the eventual champions in Halle and Queens played each other, with the overall points adjusted such that the 'winner' received 1,000 points, and the runner-up 600. You can probably see where I'm going with this. Obviously there are serious issues – disastrous mash-up of seedings, draws, unfamiliar court for one of the finalists – but I wonder if it could be made to work, whether a kind of grass Masters event could be run across two separate tournaments concurrently.
(2) Federer d. Youzhny, 6/1 6/4
A mostly mighty Federer saw off Mikhail Youzhny in fairly quick time, until the end, which was momentarily delayed when the Russian, languishing hopelessly at 2/5 in the second, began to lash the lines with a reckless intensity worthy of Novak Djokovic. He broke Federer back to love, and then saved match points on his next service game. Tension aside, both guys seemed quite upbeat about it. Youzhny was grinning all over the place, although without his beard to soften it his smile is complicated, combining an unsettling intensity with childlike delight. Federer served for the match again at 5/4, and, following a moment's confusion, closed it out with a declamatory ace out wide. There were a few delightful backhand rallies, which is something of a specialty between these two. Tomorrow will be Federer's fifth final of the year, and he hasn't lost one yet.
(WC) Haas d. (8) Kohlschreiber, 7/6 7/5
In the final Federer will play Haas, who as far as I can recall was already staging comebacks in 2002. There was never much doubt Haas would receive a wildcard into this event, but it was touch and go whether he'd be granted one for Wimbledon. He has been, which is frankly excellent news, and he has  further justified it by his efforts in Germany this week. Fans will recall Haas taking the Halle title during his last stirring and unlikely comeback, three years ago, upsetting Djokovic in the final. Whether Haas has much hope against Federer is up for debate, although history provides some hope.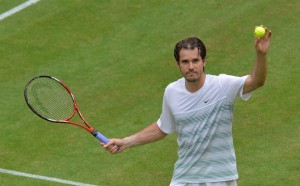 For the last two years the Halle champion has seen off the defending champion en route to the title. As precedents go I suppose it's not much, and Federer has long since exempted himself from such folly.
Today Haas beat the defending champion Philipp Kohlschreiber, which meant that, in terms of sumptuous backhand rallies, Federer and Youzhny were merely the entre. Indeed, it's rare to see four single-handed backhands in the final four of a tour event, although I imagine that a slick grass court like Halle's goes some way towards explaining it.* A tight and high-quality first set eventually attained the tiebreak, which Kohlschreiber looked certain to take. He led 4-1, and Haas could only find the bits of the court outside the lines. But then it turned. An effort of will was all it took. Haas took the next point with a tremendous backhand return winner, and this appeared to grant him a modicum of momentum as he and his opponent traded ends. Kohlschreiber would only win one more point, and the elder German – a proto-Teuton given his antiquity – sealed the breaker with a service winner up the T. The second set proved to be similar to the first, which means that it was tremendously exciting attacking fast-court tennis from both guys. At 5/5, Kohlschreiber unaccountably, which is to say characteristically, fell apart, and Haas broke, then served it out to love.
Tomorrow's final could be one for the ages, or at least the over-thirties.
* My research department has informed me that the last time this happened was actually on clay, in 2009. So much for that theory.