French Open, Third Round
'Pain doesn't kill me. I kill the pain.' These are the inspirational words that the generally likeable Svetlana Kuznetsova has inscribed into the flesh of her inner right bicep, thereby proving the adage that if you must subscribe to a solecism, you should at least do it in Latin. 'Dolor non occidatis me. Interficiam dolor,' has a certain ring to it – or at least the dull thud of obscurity – and at worst you could pretend that Seneca once uttered it, in a particularly uninspired mood. It has a vaguely Stoic quality to it, although for some reason I am more reminded of Steve Holt's motivational exhortations at Michael Bluth: 'There's no 'I' in 'Win!'' Kuznetsova's motto sounds suspiciously like something a burly man once hollered at her in the gym, while she endeavoured to max the envelope at 110%.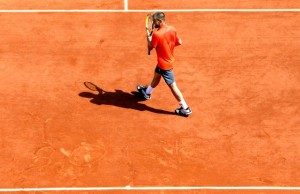 At least Janko Tipsarevic had the good sense to ink his left forearm with Dostoevsky, even if he inked it in Japanese rather than Russian, because he thought it looked better.
(6) Ferrer d. (27) Youzhny, 6/0 6/2 6/2
After comprehensively self-destructing against David Ferrer earlier today, Mikhail Youzhny might be tempted to find space for a tattoo saying 'Sorri', although given his history of self-inflicted punishment he might be more likely to chisel it into his own forehead. For now we'll have to settle for it scrawled onto the court surface with his shoe, early contrition for a match that was rapidly heading south. Ferrer proved once more that there are subtle gradations to 'solidity'. At the level he was operating at today, it even achieves a kind of virtuosity. He was almost impenetrable. Before the Russian applied his boot to the court, he applied his racquet to it with some force. Even the crowd seemed sympathetic. The 'Sorri' perhaps stemmed from gratitude at this moral support. It wasn't precisely on par with Gustavo Kuerten's giant heart, but it was a nice moment. Later Kaia Kanepi did inscribe a giant heart in the court, after finally seeing off Caroline Wozniacki. It was one of those days.
(17) Gasquet d. (Q) Haas, 6/7 6/3 6/0 6/0
It certainly was for Tommy Haas, who, up a set and level with Richard Gasquet in the second, probably felt like he was a decent chance of scoring the upset. He'd survived the qualifying draw in the back-lot, and here he was, battling it out in the third round on Lenglen. He then lost 15 games in a row, and it wasn't his fault. Gasquet entered that rare mode in which he cannot miss the court, in which he looks for all the world like its best player. When Haas wasn't forced into error, he was merely feeding the Frenchman balls from which to crush winners, which Gasquet duly did. Gasquet was understandably proud of his performance afterwards, although he airily dismissed any suggestion that local hopes should be nourished by this. Like the rest of us, he knows from long experience that it never lasts.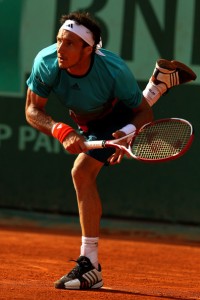 The godmode power-up is only ever temporary. He faces Andy Murray next, whom he beat in Rome a few weeks ago. The pain nearly finished the Scot off in the second round, but he appeared fine today, sporting a new tattoo: 'Virginia Wade doesn't kill me…'
Rafael Nadal still hasn't dropped a set on red clay this year, although he did permit Eduardo Schwank four games in one of them: a narrow escape. He'll play Juan Monaco in the next round, who eventually got past Milos Raonic in a decent five setter, one that was predictably determined by the serve. Monaco proved unbreakable. Despite recent heroics, or more likely because of them, Paul Henri Mathieu fell in five sets to Marcel Granollers, despite shinnying out of a two set hole. Both men looked pretty tired by the end, each fighting a desperate rearguard action against 'the pain'.
Speaking of dropped sets, it's easy to get caught up in this. When Roger Federer won the 2007 Australian Open without dropping a set, it was the first time a major had been claimed so cleanly in over twenty years. Since then it's become rather de rigueur – Nadal has done it several times – and fans who've come to the sport in recent years can be forgiven for believing that such outcomes are normal. At the very least, we've grown accustomed to the top players cruising untroubled through the early rounds in straights. The fact that Federer dropped a set in his second and his third round has therefore been deemed newsworthy, and a cause of anxiety for his fans. It probably wasn't worth Tony Godsick quitting IMG over. Then again, like Nadal, Djokovic hasn't dropped any sets either. He was so comfortable in seeing off Nicolas Devilder that he carefully synchronised the inevitable thrashing to the fading light, as precisely as one might score a film.
(5) Tsonga d. Fognini, 7/5 6/4 6/4
Fabio Fognini was rarely engaged during his straight sets loss to Jo-Wilfried Tsonga yesterday, although when he was he proved characteristically engaging. On the heels of two five set victories, I'm not sure his undivided attention would have realistically altered the result, so much as delayed it. More importantly, he wasn't sure, either. In between strutting about, admonishing the crowd, tossing racquets and tormenting the umpire, there were a few tremendous rallies. At one point he accidentally dropped his towel, and apologised to the ball kid. A small thing, but it marked a nice change from Guillermo Coria's day, when the Argentine would hurl racquets in their direction for a lark. Somewhere in the last decade Court Chatrier became child-friendly.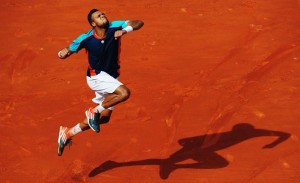 Tsonga will never be an authentic clay-courter, but he was still pretty good, athletic and joyous, but also admirably focussed given his opponent's wavering application.
(18) Wawrinka d. (11) Simon, 7/5 6/7 6/7 6/3 6/2
Stan Wawrinka was arguably even better in seeing off a particularly passive Gilles Simon, and that's saying something. Across five sets, the Frenchman struck a commendable 23 winners, although this was narrowly eclipsed by Wawrinka's tally of 82. Most of Wawrinka's were produced off the backhand, among the sport's heaviest, and it felt like most of those were directed up the line, which even Simon couldn't bring himself to cover. Wawrinka will play Tsonga next – one to watch.
(7) Berdych d. (31) Anderson, 6/4 3/6 6/7 6/4 6/4
Kevin Anderson pushed Tomas Berdych to five sets, and for great swathes through the middle outplayed him handily. Momentum only shifted in the fourth set, although IBM's frankly useless Slamtracker was typically slow to pick up on this. Perhaps it's ambitious to expect it to accurately reflect the flow of an actual tennis match, given that it can't even update the score in a timely fashion.
As ever when very tall men play, this viewer's perspective underwent a sharp revision, and everyone else on court began to look like a Hobbit. Berdych finished strong, and has earned the anticipated fourth round with Juan Martin del Potro. This was the fourth round match everyone yearned for the moment the draw was unleashed – especially Federer – and there's no reason to think it won't deliver, unless the Argentine's knee flares up. Remember Delpo, your knee doesn't kill you. You kill your knee. Or something.