French Open, Day Five
Fognini d. (28) Troicki, 6/2 3/6 4/6 6/3 8/6
Fabio Fognini saved two match points while defeating Viktor Troicki today – 8/6 in the fifth set – and it is reasonable to suppose he played the second of them with a cracked frame, having hurled it to the court upon conceding the previous point.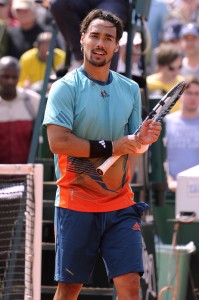 This has traditionally signalled the moment at which Fognini grows interested, so it proved something of a surprise when he subsequently broke for 7/6, and then served it out at love. Those of us who had hunkered down for an epic could be forgiven for feeling a little short-changed. Where was Troicki's counter break, amidst a flurry of foot faults? No cramps? Even the self-directed tirades, for all that they roamed through the more florid regions of several romance languages, were mostly delivered sotto voce.
If fans cannot rely on The Fog to instigate a melodramatic and farcically-extended classic, wither should they turn? Who remaining in the draw even had the pedigree? A short time later John Isner strode onto Chatrier, where he would remain for over five and a half hours. Denied the services of Nicolas Mahut, who is scheduled to face Roger Federer tomorrow, Isner had instead enlisted the equally unlikely Paul-Henri Mathieu. When Big John really has time to kill, it seems only aging also-ran Frenchmen need apply, although once you've met those basic requirements it's apparently a case of first come, first served-at. (Arnaud Clement, busily terrorising ball kids, missed his chance by mere hours. Utterly despondent, he immediately announced his retirement.)
(WC) Mathieu d. (10) Isner, 6/7 6/4 6/4 3/6 18/16
By now you doubtless know how it turned out. Doing anything more than recounting the scores does any of the first four sets too much justice. Each provided a timely reminder – timely is almost certainly the wrong term – that Isner's classics are not to be delectated for their individual moments, but only appreciated in their totality, like an extended work by Philip Glass. No one emerges from a performance of Einstein on the Beach unchanged, but nor do they necessarily recall that delightful bit in the third hour, unless it's years later, during therapy.
Steve Tignor, who was courtside, correctly suggested that a match like this one evokes the fleeting transience of human existence. He should try doing it through a frigid Melbourne night. Somewhere in there May became June, and it felt like it. A month had passed.
The match lurched to a kind of life in the fifth set, likely a ghastly simulacrum. Those parts of Mathieu's career not taken up with surgery and recovery have been mostly devoted to establishing his reputation for gagging at the big moments. He kicked things off nicely in the 2002 Davis Cup final, when he blew a two set lead – in Paris – to Mikhail Youzhny in the fifth and deciding rubber. For disappointment that's hard to top, which isn't to say he hasn't tried to at least match it in the long decade since. Still, he appears to have turned a corner of sorts. Two days ago he recovered from a two set deficit for the first time. Today he held his nerve admirably. Isner, it turns out, should have vetted his aging also-ran Frenchmen a little more closely.
When a fifth set lacks a tiebreaker – as it should – it's inevitable that fitness becomes decisive, especially on clay. At 6'9'', Isner will never be able to run all day. But Mathieu is still in the preliminary stages of his latest comeback, so there was no reason to believe he could either. Blunt weariness was thus decisive, but for a wonder it was the Frenchman who was holding more comfortably, and whose groundstrokes retained their sting. Isner should have been taking bigger cuts on his return games, undoubtedly, but Mathieu was admirably steadfast. And he was making Isner toil mightily to hold, doing everything he could to counter the American's beastly kick to the ad court. I don't wish to imply that the tennis was suddenly breathtaking. It wasn't, but at least Mathieu's break points were now match points, each holding out the promise of a final perfect cadence. Alas, this was Glass in a capricious mood, and every time the dominant chord would resolve imperfectly, sliding cruelly away, back into the churning minimalist coda. Isner saved six match points.
He didn't save the seventh, and Mathieu looked slightly less elated than stunned as Isner's final forehand drifted wide in the gathering murk. He too had given up hope of an end. His feet were in terrible shape – one of his toes is broken – and he must have been close to collapse, but he looked numb rather than wounded.
They both did, but Mathieu, once it had sunk in, was the one permitted to raise his leaden arms aloft for the delirious crowd.
If we weren't constantly reminded, it might be easy to forget that Isner was considered an outside chance to take the French Open this year. I was never sure whether this brazen assessment was based more heavily on his stirring Davis Cup efforts against Switzerland and France or his heroic first round loss to Nadal here last year. Either way, he has emphatically failed to impress since returning to Europe. It is with some dismay that we must admit that a strong run at the US Men's Clay Court Championships back in Atlanta does not necessarily guarantee triumph at Roland Garros. I suppose we had to find out sometime. Juan Monaco, who will face Milos Raonic in a few days, maintains some hope it doesn't therefore guarantee failure. Isner looked quite upset at this discovery, although initially his analysis remained measured, as though he was reading it from a coaching handbook: 'I felt like I got caught in patterns that weren't idea for me.' The issue, he suggested, was one of confidence. Fair enough. Then, finally, his disappointment broke through: 'I am just going to go home. I don't want to think about tennis right now.'
Mathieu has been denied the same luxury, for all that he must crave it at some level. Unfortunately, he is already home, and he won't be granted the freedom of oblivion. He must do it again in a few days, much of which will be spent in an ice bath, traditionally a difficult – although not impossible – place in which to savour victory. Whether that victory will prove Pyrrhic is the question. Fabio Fognini knows all about those, as does John Isner. Now Isner knows that they're still better than a loss.